October 27 – 29, 2020
Amadeus will be one of 80+ exhibitors at this year's CYBER HITEC, the world's largest hospitality technology conference. Look for our "Rethink Travel" themed booth in the exhibitor space as our team will be standing by to answer your questions, help inform your COVID-19 recovery strategies, as well as demo exciting new technology. This includes:
HotSOS Select
Streamline operations at your select service property with our newest addition to the Amadeus Service Optimization portfolio.
Health and safety are top of mind for travelers this year, putting increased pressure on hoteliers to adopt scrupulous cleaning programs. This can be difficult with a limited staff and budget, which is why we developed HotSOS Select. Designed specifically for select service properties, the user-friendly, cloud-based operations solution helps hoteliers manage sanitization, maintenance, inspections, and other daily tasks through automation.
Learn more about HotSOS Select at CYBER HITEC along with our full portfolio of Service Optimization solutions, now with limited time pricing to support industry recovery.
Recovery Insight Tool
A truly unrivaled, up-to-the-minute view of market performance for Demand360® enterprise customers.
Amadeus has powerful, industry-leading business intelligence solutions to inform your hotel or chain's revenue strategy.
New this year is the Recovery Insight tool for Demand360® enterprise customers, which aggregates demand data for over 30,000 global providers, including performance by market, country, and region to display daily occupancy pick-up (DOP) trends. The tool also enables users to track market trends for booking channels and market segments, booking lead times compared to last year along and weekly rolling occupancy averages – providing the most comprehensive, real-time view of the industry.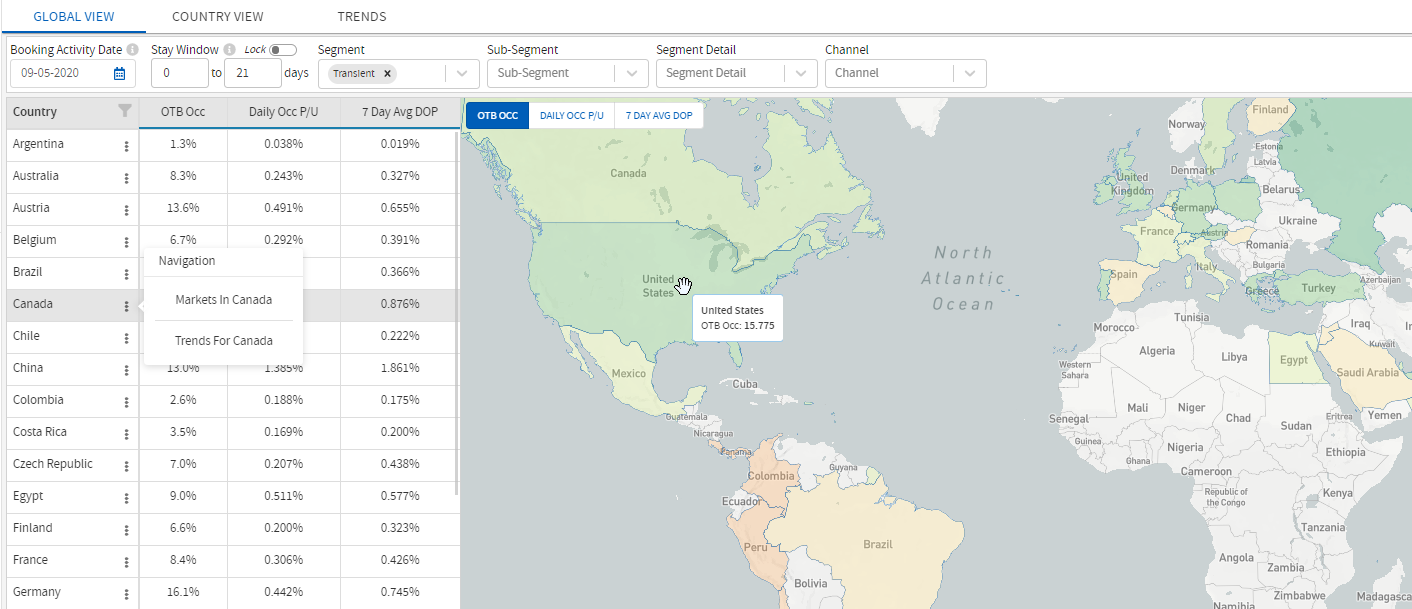 The latest innovation for Demand360® property level users includes an in-depth look at transient segmentation. Hoteliers can more easily pinpoint the types of leisure travelers booking their property as well as their competitive set's and leverage the information to produce winning sales and marketing campaigns.
Other recent innovations include the Corporate/Agency Association feature within Agency360® as well as the industry-first alternative accommodations solution, which provides hoteliers insight into forward looking booking data for 27 million home-sharing listings worldwide. This platform is currently available for Rate360® or Demand360® customers.
Amadeus Integrated Booking Suite
The only end-to-end e-Commerce experience to maximize direct conversion and revenue per guest.
Acquire, convert, and retain guests while efficiently managing the nuts and bolts of your hotel's distribution strategy, web design, and guest communications. The Amadeus Integrated Booking Suite solves these challenges by combining our award-winning Reservations, Guest Management, and Web solutions to deliver a consistent, user-friendly experience for guests and simplified management for hoteliers.
Amadeus Digital Media Solutions
Engage your most profitable audiences at every stage of the buyer's cycle with data-driven digital marketing campaigns.
Driving demand through the slower fall and winter seasons will be critical for hoteliers during COVID-19. Ensure you have a strong, prominent presence on the channels where leisure travelers and travel agents are booking. Learn how our media campaign managers can help you build the most effective strategies with our proprietary data, hospitality expertise, and industry partnerships. Increase profitability by influencing travel agents and potential guests with targeted, persuasive messaging that builds brand awareness, relationships, and bookings.
CYBER HITEC Demo Schedule
      Date                                    Time                                       Session                                     Link to Join
October 27                                 12:15 – 12:45PM ET                   Amadeus Integrated Booking Suite                               Webex
October 27                                   2:00 – 2:30PM ET                  Amadeus Business Intelligence Overview                        Webex
October 28                                  11:00 – 11:30AM ET                        Amadeus HotSOS Select                                          Webex
We'll have so much information to share with you at CYBER HITEC. Make sure to visit our booth or request a free demo. We look forward to supporting your needs now and in the future.