How Moxy is reaching a new audience through distribution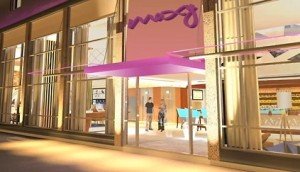 Moxy hotels is the new 'economy lifestyle' brand from Marriott, geared predominantly towards the millennial customer. This timely move comes as the hotel industry needs to adapt to a new demographic of consumers who place more value on technology, socializing and personalisation of services than ever before.
With this in mind, I spoke recently to Ramesh Jackson about the Moxy brand, and how they're specifically aiming to personalize their offer for a millennial audience. As Marriott already distributes through Amadeus, this is an exciting time for Moxy, as their content goes live on the Amadeus GDS.
Hi Ramesh, let's start with two related questions: how is Moxy different from other Marriott hotels; and how does it compare to other hotels more generally?
Ramesh: Well, to start with, the whole concept of Moxy was centered on a European market. With all other Marriott hotels being planned and built within the US, this is really something new for Marriott, as we've shaped the brand for an entirely new consumer pool. Not only this, but we've tried to create an economy hotel which also has a lifestyle segment to it, and this is a unique offering in the market. We want Moxy hotels to have character and purpose beyond that of simply using a bed for the night.
If you were talking to a hotel booker right now, how would you describe the Moxy difference for millennials?
R: As a brand, Moxy has been designed with millennials in mind, personalizing features for their individual requirements. We know that millennials want more from their hotel than just sleeping quarters, so we've designed several zones within our hotels that cater to their every need. There are social areas which will have cozy fireplaces and lounge seating to encourage people to hang out outside of their rooms and socialize, as well as party areas which have the capacity to host DJ nights and really let people unwind. This is great as it caters for people who want to leave their hotel room and make the most of their stay.
We also know that millennials are more likely to go away on business and book an extra day or so to actually explore the country they're visiting. For guests on business trips, or guests who need to do a little office-work while they're on holiday, we've got all bases covered. As well as Wi-Fi throughout the hotel, we've also installed USB charging points so guests don't even have to remember to bring an adaptor plug, they can just plug in their device and work straight from the bed or desk.
How will you be using your distribution channels to reach Moxy's audiences?
R: The GDS is huge for us, because we're planning on promoting Moxy as a stand-alone brand. Although we aren't using the Marriott brand name, we'll still be relying heavily on Marriot's GDS sales distribution, which is powered by Amadeus. To create some brand recognition for Moxy among bookers, we're actually running an ad campaign in our main markets through the Amadeus GDS, so every time bookers use the system, they'll see an ad for our properties. When you're launching a hotel brand from scratch, this kind of recognition within the booker community is invaluable, because we expect fewer direct bookings in the beginning.
In terms of pricing, how do you balance all the amazing amenities and events you offer with the 'economy' tag?
R: We really wanted to provide our customers with an economy price without feeling cheap. So, in addition to the in-room IT solutions we've installed, we have also pared down any unnecessary amenities to enable our consumers to have more of what they use and less of what they don't use. For example, we've discovered through market research that 85% of our customers don't actually use the wardrobe in their rooms! To reflect this consumer preference, we've just installed a simple clothes hanger for shirts or dresses and given our guests more space in the room for working or relaxing. Following on from this streamlined approach, we'll be providing our guests with just two products in the bathroom, but they'll be from luxury brand Rituals, which means our guests still feel as though they are getting a special experience, but with an affordable price tag.
The streamlined approach also extends to our pricing. We only offer three packages across all our sales channels, including Amadeus, so it's quicker and easier for bookers to decide which one is the right option. We've tried to make our packages a little bit different from most traditional hotel deals, for example, extras such as Wi-Fi are now expected as a given from younger customers, and we only offer two types of room to keep things simple. And we've ensured that mobile bookings are available, as research has shown that increasing numbers of millennial are choosing to purchase holidays and hotels via their smartphone or tablet.
But whether you're a millennial or not, we'd love to welcome you to our first Moxy property which just opened in Milan!
(Content originally posted on the Amadeus Blog)