Originally published in What's New in R29, Training & Help for Amadeus Sales & Event Management Advanced.
What's new in R29?
With users coming and going all the time, administrators need a fast, efficient way to stay on top of this turnaround. With R29, we're pleased to provide you with a brand new user management experience, where you can assign properties and permission sets to your users from one central location. If you manage a large org, you're going to love the new multi-edit options!
Take a few minutes to learn more about this new feature and review the R29 release notes for additional information on the issue.
Enhanced user management
Typically, users are managed from one of three places:
Advanced (Delphi.fdc) Settings page > User Property Access link
Property page > Property Users related list > Grant User Access button
Setup > Users > User page > Custom Links section > Manage User Property Access button
The process begins by clicking the New User button, filling in the usual fields, and clicking Save. Then, you'll scroll down to the Custom Links section and click Manage User Property Access. The user created will automatically be selected at the top of the list. Click Edit to assign them the appropriate properties and permission sets.  You can also assign the user a default property rather than rely on them to do so. You'll be able to complete what used to be a time-consuming process, requiring visits to multiple windows, in just a few short steps.
We've also updated how we describe the different access levels that are available at a property:
| | |
| --- | --- |
| Prior to R29 | Now |
| Read Only | Edit Owned Records |
| Read/Write | Edit All Records |
We hope this approach is more intuitive and clears up any confusion related to how the different access levels work.
If you're onboarding new users, you may find it helpful to filter the user list to show only those users without property access. You can then use the Multi-Edit Properties, Multi-Edit Permission Sets, and Multi-Edit Default Properties buttons to simultaneously assign the appropriate rights to those users. This streamlined workflow saves you from having to perform the same repetitive tasks for each and every user—that's time right back in your day.
Also included with this feature is the new Property/User Recap report, which is a great audit tool that shows a list of all properties in the org and the users assigned to those properties.  Any discrepancies are shown in red if there are problems in how a user is granted access to a property. You'll see a description of each type of problem at the end of the report as well. You can then click that user's name to fix the issue without missing a beat.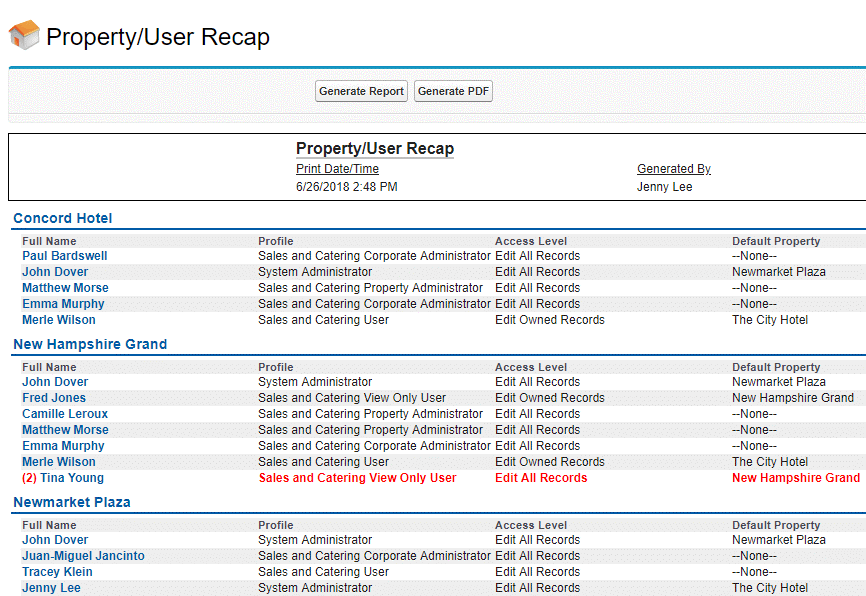 Good to Know
If you prefer to modify user access by property, click the Switch to Property View button.
The permission sets that are available to assign are determined by the user's license. If you're multi-editing users with different licenses (for example, a Corporate Administrator and a Sales & Catering User), only those permission sets they have in common will be available to select from.
Upgrade to the latest release today by having your corporate administrator contact Support.
Learn more about all of the new features and fixes in the latest release, R29 release notes.