The iPlan Interactive Floor Plans platform (iPlan platform) is a cloud-based, mobile accessible diagramming solution. It helps venues of all sizes drive more business and execute successful events through the interactive representation of room plans.
Based on 30 years of diagramming experience delivered through MeetingMatrix, iPlan Venue is the latest enhancement to the iPlan platform that leverages a highly visual and interactive user interface in the management, organization, and creation of room plans.
Key Features include:
Robust diagram management
Creation of basic and highly detailed custom room plans
Import of diagrams created in MeetingMatrix 2010 and iPlan Website
iPlan works the way venues work by streamlining existing processes and introducing new capabilities that results in improved staff productivity and better collaboration with Planners. Sales and catering staff benefit when using iPlan Venue by being able to work more effectively with both experienced as well as casual Planners.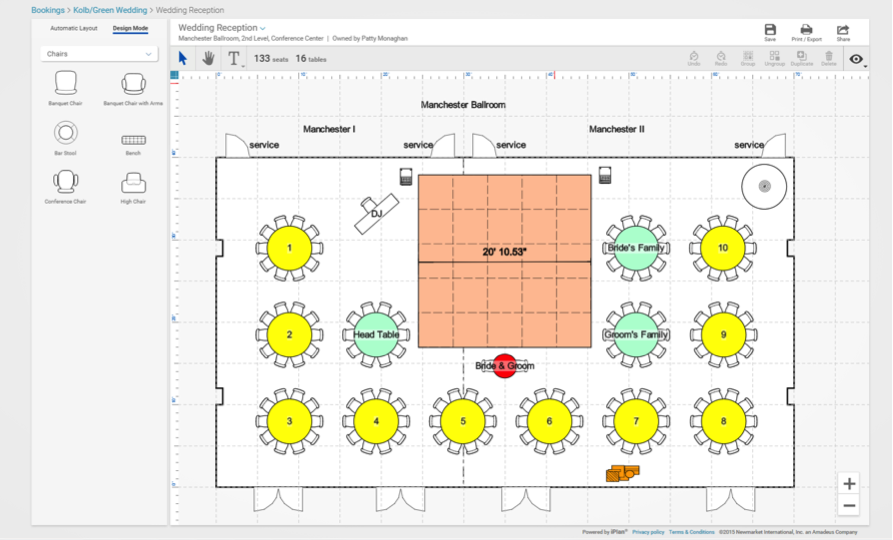 With the ability to quickly create basic room plans, discussions with Planners can focus on choosing the most appropriate meeting space and room setup. Once that has been determined, close collaboration can occur to develop a final, highly detailed and accurate room plan.  With clear direction provided by this room plan to the banquet staff, costly resets due to a misunderstanding of the Planner's vision is eliminated thus creating the foundation for a successful and painless execution of the event. Ultimately, the successful event will create stronger relationships and lead to more future revenue opportunities with the Planner.

Complimentary Webinar:
iPlan Venue – a new way to collaborate with planners
Get an exclusive first look at iPlan Venue!