UK and Ireland Forward-Looking Data Insights
Booking trends in the UK & Ireland: how far have we come and what's on the horizon?
Hotel bookings continue to return faster than flight bookings
As expected, domestic tourism is leading the majority of current business in the U.K. and Ireland. Since restrictions eased in May, hotel bookings returned faster than flight bookings, and continue to do so. With second and third waves occurring across Europe and globally, we can expect this to be the trend for the coming months. As a hotelier, keep creating marketing strategies that target your local market, reiterating health and safety measures you're taking to ease guest concerns. However, if you have a property in London, you may want to expand targeted messages to neighbouring markets. Almost half of scheduled flights for London in October and November are expected from Spain, Italy and Germany.
More than half of bookings are made within the same week of travel 
On average, 50% of bookings are currently made in the 0-7-day window. For some cities, as of the first week of October, this percentage increases, with 62% of bookings in Birmingham and 57% in the East Midlands made during that window. In comparison, only around 30% of bookings were made within this timeframe in 2019. As a hotel, it's important to think of ways you can attract customers with last minute bookings, without dropping rates. Channel mix plays an important role here. Bookings from OTAs remain higher than 2019, so think about how you can create last-minute offers that drive traffic to your website.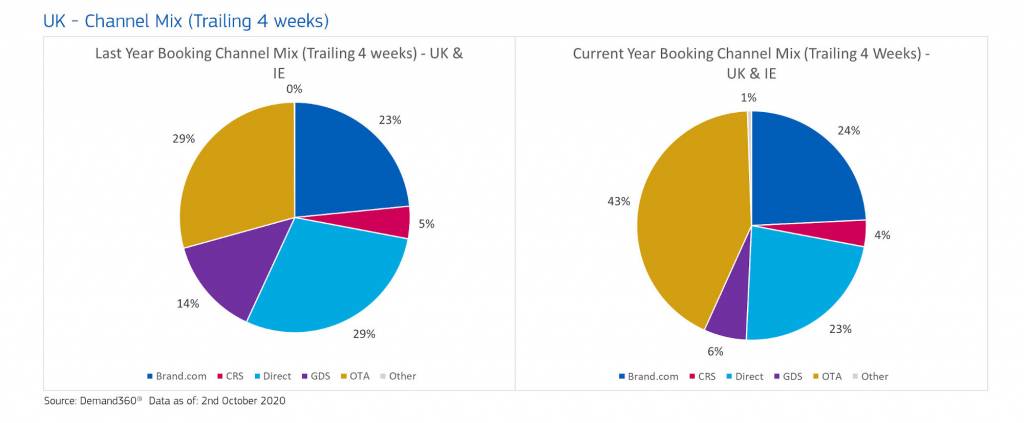 Travellers are opting for smaller cities and countryside destinations
Throughout the summer months, as everyone sought to escape the daily routine, occupancy in seaside destinations was on the up. During the autumn months, travellers continue to book smaller cities and rural destinations. Throughout September, Newcastle, Belfast and the East Midlands each had occupancy of around and above 40%. Though this number drops as we look into October, remember that around half of bookings are currently made last minute. If you have properties in these areas, keep a close eye to see if this trend continues. For those with properties in larger cities such as London and Birmingham, consider how you can attract demand through capitalising on trends such as working from home and the need for remote offices.
If you want to learn more about what booking trends are showing in your market, a member of the UK & Ireland team would be happy to provide a complimentary overview! Contact us today to arrange your personalised session.