UK and Ireland Forward-Looking Data Insights 2020
As temperatures drop, bookings in key cities begin to rise
With COVID-19 cases fluctuating globally and continued governmental guideline adjustments, it can be difficult to look on the bright side of life. But our forward-looking data shows that there are signs of opportunities to be had within the hospitality industry. We explain below what some of the latest trends Amadeus Demand360® data is showing us as we head further into autumn.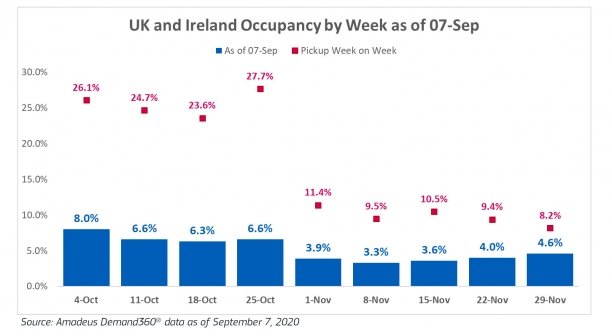 Week-on-week occupancy continues to rise
Numbers are not yet hitting 2019 levels, but we are seeing a continued increase in occupancy. As we look ahead to October and November, despite a slight dip early November, week-on-week occupancy is higher than in previous weeks. An important point to note here is the impact of lead times. For now, lead times remain shorter, with almost half of bookings made in the 0-7 day window. However, this trend is slowly shifting towards 2019 patterns, with more bookings made within one and two weeks of travel. As you consider your marketing plans for the next few months, keep in mind promotions that capture both longer-term and last-minute demand.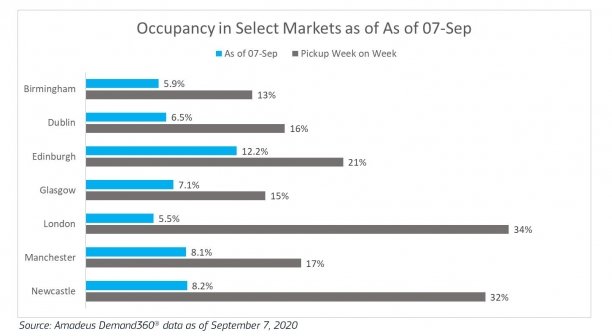 What about target audience?
In terms of source market, unsurprisingly, the majority of bookings continue to come from within the United Kingdom. However, an important change to note here is the choice of destination. Preference for metropolitan areas is on the rise, with occupancy pick up growing double digits week-on-week in the first weeks of September. For those with properties in cities such as London, Newcastle and Edinburgh, this presents an opportunity to ramp up advertising in order to capture potential interest.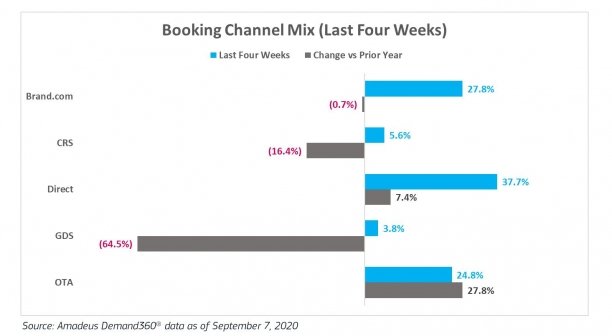 OTA bookings continue to outperform 2019
Looking at channel mix, with restrictions still in place for business travel, GDS bookings remain lower than 2019. As leisure travel continues to be the focus for the coming months, hoteliers need to prioritise driving bookings through more profitable channels. The positive news is that Brand.com and direct hold the largest share of bookings, however hoteliers should keep an eye on the numer of bookings from Online Travel Agencies (OTA).  Despite a lower share, this channel has the highest growth year-on-year versus any other.
To help hoteliers drive more bookings direct, we've created The Direct Bookings Playbook. In this guide, you can understand helpful steps and strategies to drive more guests to your website, and maximise conversions.