The New Golden Rules of Meetings and Events
Discover the new golden rules you need to succeed
Golden Rule #1: Know Your Market
As each global region recovers at its own pace, hotels are now required to have
a more in-depth understanding of their feeder markets, booking patterns, and
changes in traveler's expectations. Find out more here.
Golden Rule #2: Master Your New Group Business Mix
In a time of both continued change and opportunity, this is an important time to assess which segments are booking to best adapt and anticipate the new needs
of your customers. Find out more here.
As the world of travel evolves, meetings and events are changing with it. There's no doubt that people want to return to more face-to-face interactions.
The question is: under what circumstances?
In this series, we've combined insights from global hospitality experts,
Amadeus business intelligence data, and industry best practices to examine
the new forces shaping hotel meetings and events. We hope the findings from
our extensive market research will help you make thoughtful, informed decisions
as you chart your own course in preparing for the return of group business.
Discover the new rules you need to succeed now.
Golden Rule #3: Address Labor and Safety Concerns
As the expectations of global travelers continue to shift, hoteliers should be evaluating how to reimagine the kind of event experiences that guests can
feel good about. Read more here.
Golden Rule #4: Go the Distance
It's clear that people want to reconnect again in more traditional ways and
return to in-person experiences. While some will have bias towards the familiar,
others will look to engage and experience the world differently. More details here.
Golden Rule #5: Lean into
Macro Trends,
Sustainability, F&B and Wellness
The pandemic ushered in an unprecedented velocity of change, acting as a major catalyst for changes in human behavior. Our internal compass guiding the way we work and travel was suddenly disrupted, leaving many to emerge with a newfound view of wellness, food & beverage, and sustainability. Find out more here.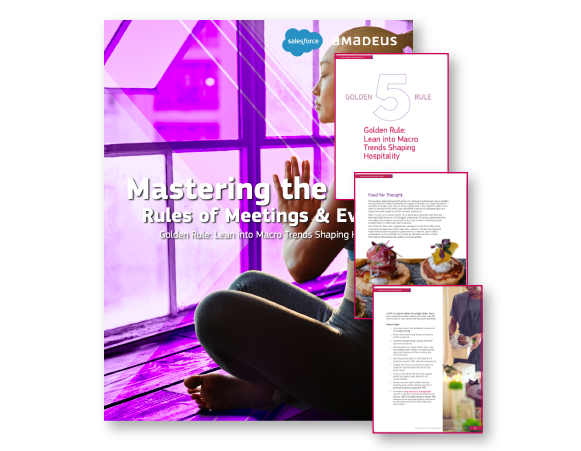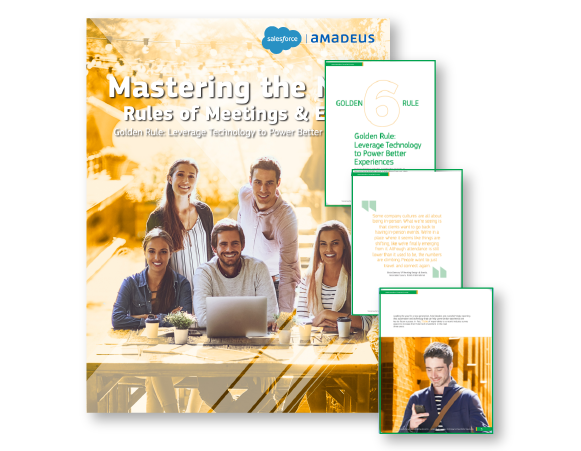 Golden Rule #6: Leverage Technology
to Power Better Experiences
An ever-changing world has propelled the necessity to become more digitally savvy
in everything from our daily lives to the way we work, connect, and travel. It has also
brought a newfound understanding about how technology really can support
individual capabilities at a higher level. Read more here.