UK and Ireland Forward-Looking Data Insights 2020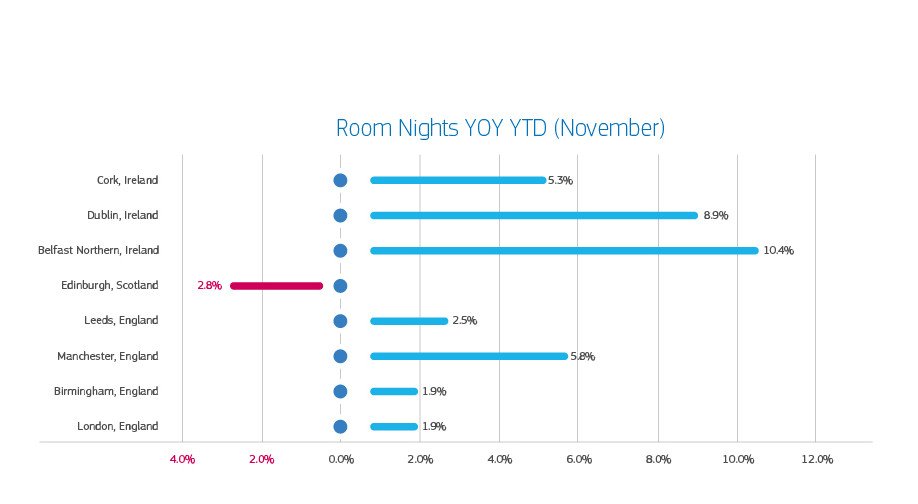 A strong start ahead for hotel bookings in 2020
It's a big year ahead for the U.K and Ireland with movement on the horizon for Brexit. The good news is that the hotel sector has and will continue to perform strongly. Analysing the latest historic and forward-looking UK data from their Business Intelligence solutions, Amadeus looks back at 2019, and what's on the horizon in early 2020.
Global Distribution System (GDS) room nights are stable, and regional markets are growing in popularity
When comparing year over year January to November 2018 versus 2019, GDS room nights have increased by 2.3%, showing stability even in the face of uncertainty.  Regional markets also continue to see positive YOY growth, with Manchester increasing by 5.8% and Bristol 4.3%. This is great news for hotels both high and low, with opportunities to target travellers looking for city breaks or nature escapes.
Looking ahead, hotels should focus on transient business
Focusing on the first quarter of this year, occupancy is on the rise, particularly in January and February. As many seek an escape from the January blues, transient business is to thank for this, and is set to account for 86% of bookings over the next six months. Of this, 38% of bookings are expected from OTAs. Amadeus' recommendation? This channel provides the lowest Average Daily Rate (ADR), so hotels should think about diversifying their channel mix to attract higher priced bookings or employ rate parity practices on remaining bookings to help drive up ADR. Find out more about how to improve rate parity practices in our handy guide!