UK and Ireland Forward-Looking Data Insights
The return of lockdown: what can we learn from the first-time round?  
A return to lockdown is not what any of us wanted, both personally and professionally. As hoteliers consider how to plan ahead, using
Demand360® data, Amadeus has put together key learnings from the first lockdown and what you need to keep in mind over the coming weeks.
Design promotions around flexibility and traveller needs
Over the past few months, more than 50% of bookings have been made within less than one week. With continued uncertainty, travellers have come to expect more flexibility, and are actively seeking trips with refundable or extended cancellation policies. As lockdown two ends, maintain this however possible, and show potential guests that you recognize the importance of greater flexibility during this time.
Focus on unique value propositions
Similarly, only 25% of travellers cite price as a key driver of bookings (Destination X, Amadeus), and 80% view properties equally in quality, when the price is the same (Expedia). Hoteliers who focused on the unique value propositions of their properties over price, and tailored promotions to meet the current needs of travellers were more likely to see better success coming out of lockdown one. For example, over the summer months, AirBnB's top 10 wishlist stays in the UK were largely nature and seaside related. We therefore saw higher occupancy in these markets, than in cities. With lockdown two expected to end early December, and temperatures dropping and Christmas on the horizon, think about what will motivate travel, such as family reunions and ways to celebrate the holiday season. Build your promotions and messaging with this in mind.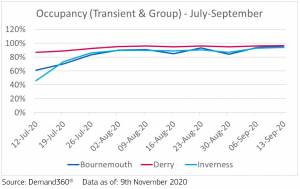 Generation Clean can make or break bookings
When properties first opened a few months back, communicating and implementing new protocols was essential to appease Generation Clean – the age agnostic group that prioritises hygiene measures over everything else. But as the saying goes – seeing is believing. That all-important first trip can make or break whether a guest identifies cleaning measures in place. Online reviews are playing a big role here, with many quick to take to social media if stays didn't meet expectations. Research shows that 75% of consumer's today will look at reviews before booking (Expedia), so if you've had successful stays at your property before the second lockdown, seek out positive reviews or ask for feedback. Use this in your communications, and on your channels (web, social) to ease concerns and drive more bookings. It's also important for all properties to continue dedicating time and effort on health and safety protocols. If possible, use the time now to keep training staff, so they return more prepared than ever before.
Pay special attention to your target audience
When restrictions eased in June, domestic, leisure recovery was predicted to be the driver of most bookings. This expectation proved to be true, and many hotels rightfully shifted their advertising and targeting to local markets. As we look ahead, keep an eye on how restrictions develop, with Europe looking to use the traffic light system as a way to reduce or limit quarantine numbers. Following lockdown one, those that did travel into the UK & Ireland, were more likely to come from neighbouring countries, such as Spain and Italy. If travel corridors begin to open after lockdown two, consider expanding your targeting to the top countries with flights scheduled, to capture more demand ahead of your competition.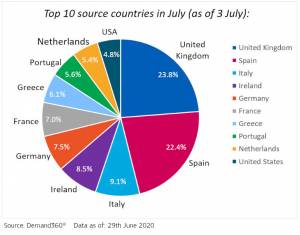 Several key trends are emerging as a result of COVID-19, bringing changes to the traveller journey.
If you'd like to find more about this, visit our Evolving Traveler Journey hub.
At Amadeus, we are also actively using our data to continue to monitor how booking and demand behaviour shifts over the next month. If you are unsure how to adapt your strategy moving ahead, or just want some advice, feel free to reach out to us. We are happy to provide a complimentary analysis of your market with one of our local experts.