The ultimate guide to grow hotel events and group business
No matter how familiar you are with event and group business, effectively growing and managing your hotel's sales and catering operations can substantially increase your revenue, grow your customer base, and generate repeat business.
Group business can generate significant revenue, so it's no surprise hoteliers are increasingly interested in the business of meetings, events, and social-related bookings.
Whether you're new to the world of events or have a long track record, read this guide for an all-encompassing rundown of hotel events and group business best practices.
Industry Masters: The Future of Meetings & Events
The world of meetings and events is undergoing significant transformation but how can industry professionals best navigate this changing space? We've asked 7 top global meeting, event and hospitality leaders to share their thoughts about the future of live travel and events.
Hotel events and group business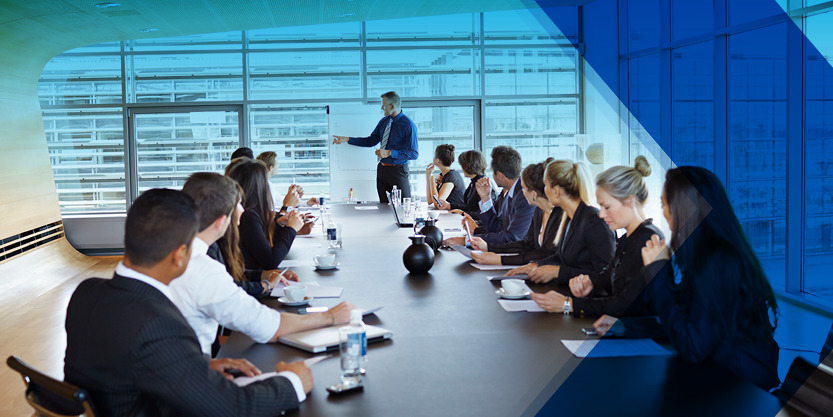 Hotel events and group business
What is hotel events and group business?
Hotel group business is an important segment of your hotel's business mix. Whether it's large groups with multiple room night blocks and function space or smaller room-only bookings, group business refers to the generation and conversion of a sales and catering lead, and when there's a meeting or event component, managing and executing through to completion.
This includes quickly responding to customer inquiries, requests for proposals, contracting new business, managing relationships and executing on and managing events. To better track the ongoing performance and effectively manage all of the moving parts of group business, hotels are increasingly leveraging the help of sales and event management technology to improve these processes.
Some hotels also sell their room and function space inventory to groups through online listings on venue marketplaces, where planners can connect to view your floorplans, photos, amenities, and other specific hotel offerings. Hotels can also further segment these audiences such as business or social as a way to make even more compelling and personalized offers.
Grow events and group business
Why is hotel events and group business important?
Group business can generate significant revenue, so it's no surprise hoteliers are anxiously awaiting the return of the meetings, events, and social-related bookings.
Before the pandemic, events, meetings and group business made up anywhere from 30-35% of hotel business globally. It's often the highest rated business because it typically comes with ancillary spend on things like food and beverage, meeting space rental, audio/visual, etc.
Groups are a high priority segment for most properties, not only for the income they generate, but for the potential of repeat business. Targeting different group market segments can also help to balance room inventory and room rates during need periods like during the week with higher demand weekends. Historically, groups also book with longer lead times which can help your hotel get on-the-books occupancy well in advance and maintain a healthy flow of business spread throughout the year.
The changing dynamics of events and group business
The changing dynamics of events and group business
Meetings and events were perhaps more impacted by COVID-19 than any other segment of hospitality. In this section we uncover how events and group business hase changed since the pandemic.
The changing dynamics of events and group business
How COVID-19 has impacted group business
Meetings and events are perhaps more impacted by COVID-19 than any other segment of hospitality. The pandemic has been a long road for hoteliers, especially for the properties dependent on selling corporate volume contracts or hosting groups in their meeting and event space. While the market has seen many ups and downs over time, the challenges hoteliers have had to face have tested even the most seasoned and focused sales teams globally.
An uptick in leisure travel during the pandemic replaced the more traditional business mix, including corporate and social groups, with many hotels having to pivot business strategies to capture demand from different audiences than they used to.
During the hardest times of the pandemic, many hoteliers have followed some best practices to manage group business during uncertain times, such as optimizing their cancellation or rescheduling policies, investing in their team and spaces, updating collateral to reflect new structured programs, or preparing reopening campaigns.
Hotels have also adapted to new ways of adressing the widely recognized concern of community spread by adapting their spaces and service and by implementing meetings and events strategies in times of social distancing.
Now as furloughed event planners return to hotels and global restrictions begin to ease, studies show that both consumers and industry professionals are indeed eager to resume face-to-face events, showing growing positivity for the industry.
The changing dynamics of events and group business
Today what is promising is that group performance has been consistently improving in recent months. To adequately prepare for the return of group travel, now is the time for hotels to build new strategies to capture available group business in the short- and long-term.
Understanding who is meeting in your market, where business is coming from, clearly communicating your Duty of Care processes, and maintaining strong relationships will be critical. While there is no exact blueprint for how the recovery will unfold, we have created a framework to help guide your decision-making process as you develop a strategy for your sales team.
One important dynamic for selling group business today is determining whether leisure or corporate groups feel comfortable hosting in-person events. Try reaching out to contacts to gauge their interest level in booking a meeting or event in the coming months.
Additionally, sales collateral can be updated with COVID-19 protocols to highlight attendee safety measures, and consider investing in new technology to support the ability to host these new hybrid programs to capture incremental revenue until large events return.
As consumer confidence and group meetings in hotels slowly makes a return across the world, it is important to understand how the group and events business has changed compared to the past years. Hotels must be prepared to accommodate the new requirements to support new, evolving trends, along with fundamental changes to the overall event experience.
The changing dynamics of events and group business
Looking towards the future of group travel
Even as physical events resume and as travel rebuilds, virtual and hybrid events will remain an important business component in the post-pandemic era. Hotel sales teams are pivoting their strategy not only to focus on prospecting corporate accounts and volume contracts, but also to diversify their offering and search for new creative opportunities and adjust their approach so they are more in line with new traveler behaviors.
While we ponder what recovery may look like in the event space, we can plan alternate strategies now for both revenue streams as well as for smaller events. From becoming a preferred location to host meetings for remote teams, to offering "bleisure" packages, to enabling small group bookings directly online, many new opportunities arise for hotel sales teams to better serve new traveler expectations.
There is also an opportunity to fill the newly created void in face-to-face interactions that are no longer occurring in offices as remote working has become an accepted norm. With optional offices and remote work gaining momentum, sales teams should consider how to position their property as a preferred location to host meetups for remote teams or for local businesses that have closed office space but still require a physical location to meet clients.
In our recently published article: High-tech vs high-touch: How to emerge stronger amid the crossroads of two hospitality trends, we discuss how hospitality professionals are presented with an opportunity to reemerge stronger from Covid-19 by harnessing new digitalization and guest experience trends.
Finally, you have a growing range of technology choices when it comes to building occupancy. Hoteliers that invest in the right meeting and events technology will be best prepared to effectively upsell, connect with customers, respond to RFPs faster, and win more business.
Prospecting events and group business
Prospecting events and group business
Your property's success now hinges on your ability to prospect, uncover leads, and find new revenue sources more effectively than their competition. In this section we dive in to recommended strategies to capture more events and group business.
Strategies for prospecting events and group business
Enticing companies into partnering with you
Prospecting and finding new revenue sources from groups and events are key for any hotel.
And as events bounce back, hoteliers will have to adapt to the new needs of customers while differentiating their offerings from the competition. Based on Amadeus research and industry insights, here are five new tactics your sales and event teams can employ now to win more business in 2022 and to convert more opportunities into revenue.
We have put together a 7-step checklist for data-driven group business prospecting to help you and your sales team brush up on your data-driven prospecting skills. In this article we stress the importance of using an adecuate customer relationship management (CRM) solution, as this can be helpful to collect, analyze and act on your customer insights.
Also, in order to gain a clear view of where your marketplace is today, and where it will be tomorrow, you need access to forward-looking demand hotel data. This information can help you determine when peak occupancy is and when demand is weak, so you can make much smarter business decisions and price your rooms with confidence.
Another way to entice companies into partnering with your property is through local negotiated rates (LNR) or volume contracts. These deals have benefits that go way beyond just putting heads in beds such as "guaranteed" pick up, predictability, the opportunity to create repeat business.
Strategies for prospecting events and group business
Digitization of the event planning and booking process
Before 2020, there was already a growing trend to digitally transform the event planning and booking process. The industry was seeing increased demand for virtual site tours and fewer in-person proposal and contract reviews. Venues that found a way to market and sell these events, while decreasing the personal interactions necessary in the booking and planning process found themselves at an advantage compared to venues that did not.
For venues looking to host and sell meetings, consider these five steps to reduce direct contact in the booking process. Doing so will allow your offerings to appeal to a broader audience, help your staff feel safer and happier, and increase your chances of closing more business.
And in anticipation of the significant increase in mobile traffic and purchases over the next few years, it is also smart to turn our focus to not just online booking, but mobile hotel group booking. Starting with booking small events on mobile, you can help your hotel get ahead of the curve with the early adopters of this functionality – and increase your conversion.
There are other ways that the hospitality industry can use hotel digital transformation strategies to help event planners throughout the entire booking process. This should be looked at as a journey for an event planner. The hotel/venue website can be used as a valuable asset along this journey by implementing digital strategies that create a clear path to the planner's destination — the event!
Strategies for prospecting events and group business
Giving the right first impression online
With online research on the rise and with a majority of planners getting most of their information from a venue's website, your website plays a key role in increasing the number of qualified leads you receive.  It needs to not only showcase beautiful photos but also to help you convert event business by being informative, easy to navigate, and visually appealing to help you increase the number of qualified leads and decrease the friction to convert on your website.
Just like your lobby, your hotel website and event spaces appearance immediately conveys the type of experience a traveler can expect during their stay and can inspire repeat business, or oppositely drive guests away with one glance. So ensure you really make a first great impression to your prospects and visitors.
One great way to improve your online experience and increase your group business is by investing in digital lead-generating and automation software. However, new technology often requires finding and making the case for the budget. In most properties and management companies, the chief marketing officer (CMO) or similar role manages the website team, and thus the budget. If you're looking to make a pitch about investing in your online experience, here are a few ideas on how to pitch digital group business software to your CMO. It's all about return on investment (ROI).
An alternative to promoting through your website is allowing meeting planners to directly book their events using an online event booking tool for hotels. These enable meetings and events to be booked online—all the way to menu and guestroom block selection. Adding it to your website makes it easier for meeting planners to do business with you through a streamlined, self-service model with the added instant gratification of securing their event.
Best practices to closing hotel events and group business
Best practices to closing hotel events and group business
Once your hotel has made it on the shortlist for that big group or event, the final mission is to close the deal. But even sales professionals know a door can easily slam shut or stall, leaving your team on the hook for group business stuck in the pipeline.
Best practices to closing hotel events and group business
In the hotel industry, an RFP (or request for proposal) is a document that is submitted by a buyer (in many cases this is an event planner) intended to clearly outline everything that the buyer is looking for including meeting space requirements, the length of the event, and the expected number of attendees.
As events grow again in popularity and frequency, hotels and other venues need to manage inbound RFPs efficiently so they know which opportunities to pursue. Technology plays a key role here as it can help address heightened demand and manage the shrinking lead times that come along with it. We can expect hotel technology to further speed up the RFP workflow significantly for both venues and planners.
Planners are also likely to be juggling multiple events at once and need options to book group business even faster, and sometimes last minute. In this context, technology can help providers bridge that gap through time-saving features that provide planners with everything they need to optimize the booking process.
To learn more, read these 5 hotel RFP management software strategies so you can respond fast and win more bids.
Best practices to closing hotel events and group business
Evaluation of inbound RFPs
Once your hotel receives an RFP, your sales team is faced with the challenge of qualifying and responding to it quickly and effectively.
But with the constant barrage of incoming RFPs (hotels receive about 4 RFPs per week on average) coming from a variety of sources (website, global sales teams, or booking channels).
It is important to quickly determine which business is the best fit for your venue and then provide a compelling response.
To help you with this undertaking, here are 3 ways to evaluate and manage inbound RFPs.
Best practices to closing hotel events and group business
Responding to RFPs with the right proposal
Once you have chosen which RFP to respond to, you'll need to respond with an event planning proposal that "wows" the planner and checks off all of their boxes. An event planning proposal is a venue's response to an RFP from an event planner or meeting planner. Here we share our top 5 tips on creating responses to an RFP that will help you stand out above the competition, respond faster to inquiries and ultimately, win the business.
How you finesse the proposal is everything. Here are our top 10 tips for closing group business to win more deals. Indeed, a well-created event proposal will allow you to promote your venue in a compelling way and prove that you're the best destination for the group. The proposal should be a comprehensive document that outlines the details of the event and the services you're able to provide. The more detailed the event proposal is, the better this potential client will understand your capabilities and the unique guest experience you're able to offer. Here are more tips you can follow to create an event planning proposal that wins business.
Also, hotels are in one of the most competitive marketplaces in the world, so maintaining a cutting edge, proactive and seamless response is a given but there's more to it than that. Here are our 10 tips for writing a hotel sales proposal that wins group business. Creating your own template using the above information will definitely help you get event planning proposals out faster and easier. However, your proposal should still be unique so the client feels that you've included a level of personalization.
One quick and easy way to create a customized proposal that wins business is with event proposal software such as Amadeus' eProposal. It enables you to respond to RFPs with personalized, media-rich proposals and provides functionality that allows you to edit content, manage, and track your proposal's lifecycle.
Lastly, we have spotted some key mistakes hoteliers make when pitching group business. Most of the time, these fumbles are made with the best of intentions: trying to address a planner's every requirement, packing a proposal with useful information, or following up at the perceived right time. Rather than hold all of our cards, we have shared 5 event pitfalls your hotel should avoid along with solutions to win these hotel RFP deals.
Successful events and group business digital practices
Successful events and group business digital practices
As part of the growing trend of digital transformation in hospitality, there are several ways to reduce direct contact and provide frictionless experiences in the event planning process and throughout the customer journey. Here are a few ways to elevate your group business digital practices to gain a competitive edge in this new world of travel.
Successful events and group business digital practices
One strategy to helping event planners and venues collaborate throughout the booking lifecycle is the ability to design customized event floor plans and layouts. By providing event visualization capabilities that represent your space and your inventory, you can better deliver on the overall experience by planning events faster, easier, and more accurately.
Paper and PDF diagrams are a thing of the past and as event planners are busier and working on-the-go, having the right diagramming software is the way of the future. Online diagrams have countless benefits for both planners and venues:
As a venue space, you will impress clients, increase repeat business, and flawlessly execute their vision using diagramming software.
For clients, diagramming software will allow you to customize your event space, ensure accuracy in design, and collaborate with your venue all in one space.
Finally, Hospitality diagramming software now include new social distancing functionalities to provide confidence in the safety of events. Find out how to implement social distancing for your events and meetings with Amadeus Hospitality Diagramming.
Successful events and group business digital practices
Paperless proposals and digital contracts
Once you've collected a qualified event request for proposal, you still need to "wow" the planner. Statistics show that people's average attention span on any one topic is only about eight seconds, so every moment a planner looks at your proposal counts. Including beautiful photos and videos with an easily navigable online brochure could make the difference in enticing a planner to book.
You can also make the RFP process easy for both you and your planners by providing submission details that integrate directly with your sales and catering software. You can also leverage automation rules by routing the appropriate leads to the right sales team member, ensuring no lead is left behind. The only way to be competitive, especially when teams are lean, is to ensure your venue can respond quickly to submissions received.
Your digital experience should impress a planner in such a way that they'll know you'll deliver that same level of professional expertise and detail for their event. To make sure that you don't lose any time crafting this wow-worthy experience, there are software solutions that can pull information directly from RFPs and send responses quickly so you can close that business faster.
Eliminating paper contracts and authorization forms is another way to adapt to today's digital-driven world. While there are still some advantages to having hard copies of documents, it's worth incorporating digital tools into your business processes, specifically if they pertain to both contracts and payments, to maximize ROI at your organization.
Moving to a paperless way of doing business is beneficial to not just your organization, but also your current and future customers. Here are 5 ways you'll reap the benefits of going paperless with your contracts and authorization forms.
Successful events and group business digital practices
Another method to digitize and streamline the customer journey is using digital signatures.
Connecting your sales and catering software with a solution that offers eSignature means you can send a contract, and the planner can sign right online, even from their mobile device, without having to print and then scan or fax the contract back.
This is especially critical in today's context of remote work when many people are without their standard office setup of printers and scanners.
It also saves you time when you have to counter-sign and send the contract back to the planner.
Successful events and group business digital practices
Finally, reporting on your sales and catering activity can help you learn more about your business activity and improve the decision-making process for future investment of resources – both in time and money.
Reporting has been a core component of hospitality systems for years, but having access to data doesn't necessarily mean that data is digestible and actionable. In fact, being inundated with data across a variety of systems can cause "analysis paralysis," where the data becomes so complex and overwhelming that it is ignored in favor of gut decisions or preferences.
Find out how sales & catering reporting can enhance your business by walking through the event life cycle with our 4 P's – planning, prospecting, performance, and productivity.
Delivering memorable events
Delivering memorable events
With the new understanding that travel and events are unlikely to "go back to the way things were", it's time to truly think differently about what we can do to create confidence in executing meetings and events. While these gatherings may look different – whether it's socially distanced or a lot smaller than you're used to – in the hospitality industry, we still have the opportunity to bring people together safely and create memorable experiences.
Delivering memorable events
Organizing a unique, memorable and flawless event
The process of organizing a meeting from inception to execution requires strong communication and collaboration between all parties. Catering and event managers aspire to exceed planners' expectations and create an event guests will rave about. Whether it's an elaborate black-tie affair, an intimate party, or a corporate board meeting, numerous elements go into making an event memorable. With so many details to juggle, what should you focus on first? Here are 7 tips for creating a memorable catering event.
It is also important to consider that when it comes to hosting events, the expectations placed upon venues are ever increasing. Planner and attendee demographics are shifting, and new technology offerings are becoming available to help ease the complexities of planning processes.
As a venue, you must find new and innovative ways to differentiate your offering. In this context, how can you influence planner decisions and attendee behaviors? Consider finding new and innovative ways to differentiate your event offering such as delivering more experiential and immersive events, hosting your events in non-traditional locations or suggesting unique, personalized, or custom built events.
Delivering memorable events
Common event planning challenges
Event organizers and catering/convention services work through multiple touch points that, when not fully acted on, can result in missteps or errors. Communication and collaboration issues can easily end in disaster without careful and meticulous execution.
Planning and executing a successful event involves several moving parts and airtight communication. However, facilitating this collaboration between a venue and event organizer is easier said than done. Here are 3 common event planning challenges and how to overcome them.
Delivering memorable events
To ensure each event is planned and delivered flawlessly, catering and banquet service professionals rely on the details outlined in BEOs (or banquet event order, also called an event order). BEOs are essential documents that outline important specifics about the event, such as dates, timelines, catering needs, and other pieces of vital information.
But despite how helpful a BEO can be, it can be time-consuming to create and update. Fortunately, there are tools available — from free BEO templates to user friendly technology — that can help you streamline operations and improve your guests' experience.
There's a lot that goes into creating the perfect BEO so here's a complete overview of a banquet event order, what it should include, and how technology can assist in creating a BEO so that managing events can be easier than ever.
Banquet Event Order: Overview & Free Template
standard format to follow for every event
all details needed for flawless events
streamline your event operations
guarantee an optimal your guest experience
Delivering memorable events
Another useful document to ensure a well-executed event is a banquet check. A banquet check is a document provided by a venue or caterer that details all of the charges for an event or function.
The charges in a banquet check are itemized and grouped by department. You can create a banquet check for each individual event or as part of a packet for a booking with multiple events.
Here is an explanation of what to include in your banquet checks, as well as a free banquet check template to help you get started.
Ensure all necessary charge are included:
Food and beverage charges
Audiovisual charges
Rental/room charges
Invoice totals
Taxes and fees
Delivering memorable events
Hiring the right people for your events
Finally, you will need more than just great software to execute world-class events; you also need amazing people on your team.
For this reason, we have put together an event coordinator job description template to help you hire the right people for your events team.
You can also customize it to fit your brand and may be used to hire other relevant roles such as: event planners, event managers, conference managers, catering coordinators and more.
Event Coordinator Job Description
Hire the next superstar for your events team! This template may also be used for the following roles:
Event Planner
Event Manager
Conference Services
Catering Coordinator
Trends shaping events and group business
Trends shaping events and group business
With the new understanding that travel and events are unlikely to "go back to the way things were", it's time to truly think differently about what we can do to create confidence in executing meetings and events. While these gatherings may look different – whether it's socially distanced or a lot smaller than you're used to – in the hospitality industry, we still have the opportunity to bring people together safely and create memorable experiences.
Trends shaping events and group business
Personalization: the next frontier for group business
Many studies show a significant desire to deliver the personalization for groups, both social and corporate, even more so than personalization for individual travelers.
With increasing demand for a more personalized guest experience, group guests will soon expect no different, seeking that same great experience they would get having individually stayed at your hotel. Although it requires extra work, perfecting the group experience can not only lead to positive reviews, but to repeat bookings for both the individuals and groups involved.
Moreover, the majority of consumers now prefer brands knowing their interests and behaviors to provide them with relevant recommendations. To help you understand and explore the missed opportunity of group personalization we've created the eBook Delivering on Group Personalization- The New Rule Book for Executing and Enhancing Your Group's Guest Experiences. It identifies key opportunities for hoteliers to capitalize on during the group stay.
You can also follow these 5 steps to deliver events and group personalization including tips from Foxwoods Resort and Casino for putting group personalization into action by customizing the group experience and delivering the kind of memorable experience that will keep both groups and guests coming back again and again.
Trends shaping events and group business
Another rising trend, especially since the pandemic, is that small events are becoming more common.
This stems not only because of Covid-prevention measures but also because groups are increasingly looking for a sense of intimacy and attention to detail for specific purposes or time-sensitive objectives.
By offering separate, unique spaces within your venue, you can cater to a number of clients with varying event types. Find out more about why small meetings are big business.
Trends shaping events and group business
Group travel is being redefined with new traveler behaviors and aspirations towards more off-the-beaten-path destinations or more intimate experiences.
Health and safety concerns will continue to favor outdoor and open-air environments, and this will continue to affect both individual and group travel, giving rural and small-town destinations an opportunity to draw new visitors.
Speaking of group travel trends, the group tour market has always been one with a large senior segment. Now that people over 65 are being vaccinated, they are eager to travel and have already begun booking trips and traveling, as reported by the New York Times.
10 Questions You Need to Ask Before Buying Sales and Catering Software
Topics include:
A brief introduction to sales and catering software – what it is and why it matters
The benefits of sales and catering software for full-service hotels
The top questions to ask when comparing solutions and providers
Ready, Set, Grow events and group business!
Ready, Set, Grow events and group business!
We hope this Ultimate guide to grow events and group business was useful to you!
Many questions are on the minds of hospitality leaders as they strategize new, creative ways to generate revenue. While COVID-19 recovery has largely been driven by domestic, leisure travelers, groups, events and corporate bookings are returning in force.
As events bounce back, hoteliers will have to adapt to the new needs of customers while understanding how digitalization and automation can help support potential for growth at a higher level.
Success in this market will go to teams who are able to understand how to effectively grow and manage this business segment and leverage technology to best prepare for the return of group travel.
Also, you can access our other comprehensive guides for hoteliers:
We wish you a lot of success in your guest satisfaction strategies and please do not hesitate to contact us if you would like to discuss how to elevate your guest satisfaction strategies.
Back to top