Amadeus' Guest Management System
Guest Management for Hotels
Competition for hotel guests is more intense than ever. Understanding who your guests and prospects are and personalizing your communications with them dramatically improves your ability to build loyalty and drive repeat business – and edge out your competitors. Amadeus' Guest Management System (GMS) is more than just a customer relationship management (CRM) tool, it offers a comprehensive suite of marketing automation tools to engage your hotel guests and drive incremental revenue. Target guests with the right message at the right time, even as their behaviors change, and seamlessly customize your outreach before, during, and after their stay. Maximize the value of your guest data to continuously drive revenue and engagement for your hotel.
The New GMS Email Center
Discover all the new hospitality-specific features of the GMS Email Center that make it fast and easy to build elegant and impactful communications.
Learn More
Email Template Library for Hotels
Explore our library of downloadable email templates to suit all of your transactional, marketing, loyalty and promotional email communication needs.
Turbo-charge your hotel Guest Management System with elegant email designs that will attract, please et retain your guests.
Access our Hotel Email Library Here!
Communicate throughout the Guest Journey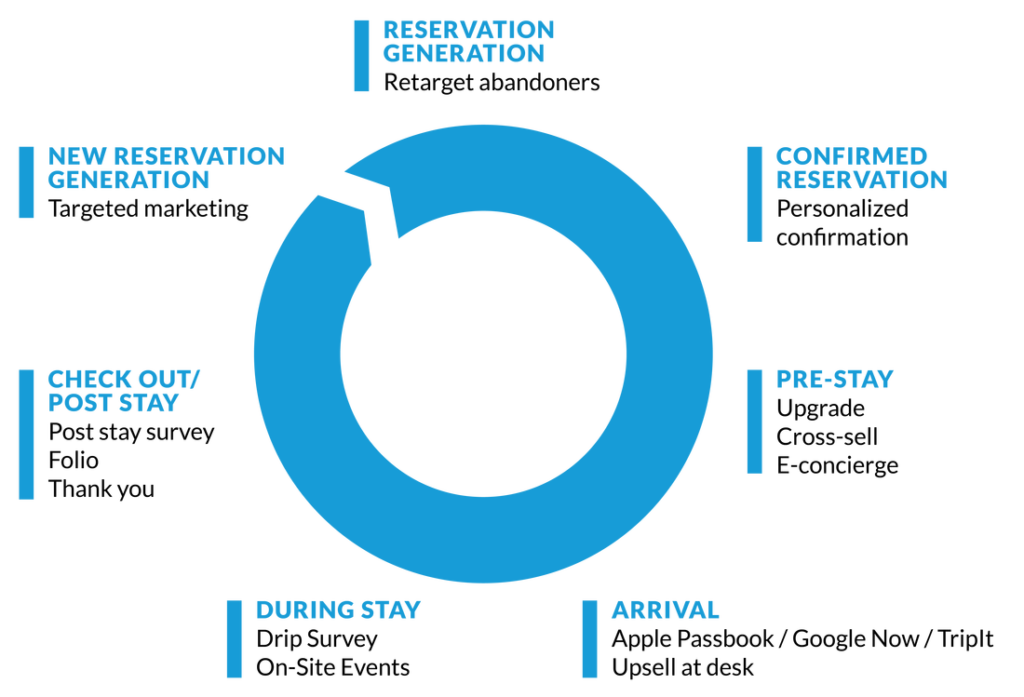 Main features
---
GuestView360® BI reporting
Dashboards to help you understand your hotel guests through the Hotelligence360® platform
Performance reporting
In-depth reporting on marketing including revenue reporting
Guest profiles
Central data warehouse of rich guest profiles
Data cleansing/merging
De-duplication that merges like profiles
Email marketing
End-to-end email marketing platform
Guest messenger
Messaging feature for conversations via Facebook, WeChat, SMS
Transactional communications
Customizable confirmations, cancellation, modifications, pre- and post-stay messages
Upgrade engine
Drive hotel revenue with room, package upgrades
Automation
Workflow engine to reduce work
Remarketing
Bring back those that visited your site to book
Loyalty program
Recognize returning guests
Guest satisfaction surveys & TripAdvisor & Google integration
Track and enhance hotel guest satisfaction
Key Benefits
---
Deep insights and a full view of your hotel guests
Targeted communications to increase engagement and drive revenue
Conversion of OTA guests to direct bookers
Guest communication on property through their preferred channel
Confident brand marketing to drive guest loyalty
Maximized revenue through upsell opportunities – 17% of guests upgrade after seeing an offer!
More time to focus on strategic Marketing efforts due to increased efficiencies
Guest Data
7M+ Monthly guest profiles created (2019)
Upsell
21% of travelers upgrade after seeing a GMS offer (2019)
Connections Matter
100+ Connections. We use industry standard HTNG interfaces and have bulk upload capabilities
A proven platform
​Used by over 2,200 properties worldwide
50,000+ Monthly reservations generated ​from email marketing (2019)
3.6M+ Monthly transactional emails sent (2019)
​50M+ Monthly marketing emails ​sent (2019)
IAC Awards
Best Hotel and Lodging Integrated Ad Campaign
Flemings Hotels clinched the "Best Hotel and Lodging Integrated Ad Campaign" award at the 2023 Internet Advertising Competition, hosted by the Web Marketing Association.
Their triumphant "Black Week" Pre-Holiday Bookings Campaign, powered by Amadeus GMS Solution, ingeniously incentivized both members and non-members to join their loyalty program.
The campaign deployed targeted marketing emails, promotional banners on their iHotelier® Booking Engine, and pop-up ads on their Amadeus Web Solutions homepage.
This strategic move led to a remarkable 109% growth surge compared to their summer campaigns and an impressive 98% Return on Ad Spend (ROAS) in just two weeks!