2022 IAC Entry - Amadeus and Flemings Hotels
Targeting pre-holiday bookings with a multi-channel promotions campaign.
Campaign Entry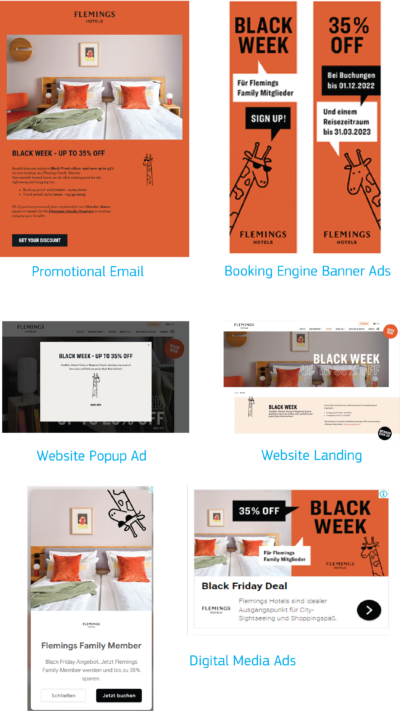 "Black Week" Pre-Holiday Bookings Campaign
Name of Entry
Amadeus Integrated Booking Suite + Demand Generation for Flemings Hotels
Name of product or service
"Black Week" pre-holiday booking campaign
Audience
Consumer
Category
Integrated Ad Campaign
Industry Category
Hotel and Lodging
About the Client
Flemings Hotels is a family-owned hotel group with unique mid and upscale hotels in Germany and Austria. Flemings Hotels utilized their newest Hotel IT partnership with Amadeus to expand the value of one of their campaigns through cross-functional product promotion capabilities.
Campaign Details
With the key objective of maintaining their customer-centric approach, while seeking to increase bookings, brand awareness, and drive repeat loyalty, Flemings Hotels deployed their annual "Black Week" campaign that coincides with the pre-holiday Black Friday rush. Utilizing Amadeus' Digital Media, iHotelier, Website, and Guest Management Solution integrations, they incentivized both member and non-member guests to join their "Flemings Family Program" for discounts up to 35% off.
To encourage this, they deployed email marketing newsletters to their existing customer base, showcased the offer using promotional banners merchandising the member-rate discounts on their booking engine and website, and displayed advertisements on Google and social media channels to encompass a broad range of users. No matter where or how the offer was presented, Flemings Hotels delivered a seamless brand marketing experience that was consistent across their multiple platforms, with the end goal of always driving the guest back to the website to unlock their member discounts.
By implementing these consistent and creative advertising tactics in a unified way using Amadeus' key hospitality solutions, Flemings Hotels generated a 109% increase in revenue compared to their summer campaign. Additionally, this campaign garnered a 98% increase in ROAS (return on ad spend), which was a considerable number based on their previous ad spend. Overall, the "Black Week" campaign was successful in driving direct bookings and increasing member sign-ups by a few thousand over the short period that the campaign ran from November 17th through December 1st.
Campaign Impact after 2 Weeks
Revenue lift: 109% increase versus summer travel season campaigns
Return On Ad Spend (ROAS): 98%