Engage & capture potential visitors along the full digital funnel
Plan your destination campaign, relying on Amadeus' traveler insights.
Expand your destination's reach across multiple digital channels, covering programmatic display & video, search engines, social media and mobile apps.
Allocate your budget more efficiently through our bespoke targeting services and machine learning algorithms.
Accurately measure conversions, and boost campaign ROI with technology that connects media impressions to visits to your destination.
Plan, execute and measure your digital media campaigns with Amadeus
Reach and attract potential visitors directly by running digital marketing campaigns across today's most relevant channels. DMOs and CVBs can uncover a strong return on ad spend (ROAS) demonstrating the economic value of their marketing efforts. Thanks to Amadeus' targeting capabilities, organizations will be able to generate profitable demand by targeting custom-built audiences and verify actual bookings thanks to our vast OTA and geolocation network. Once the traveler is on-location, increase visitor value and spend by promoting local attractions and events. From pre-trip planning to post-trip, we can ensure to advertise your destination's appeal and that it remains top-of-mind among travelers worldwide.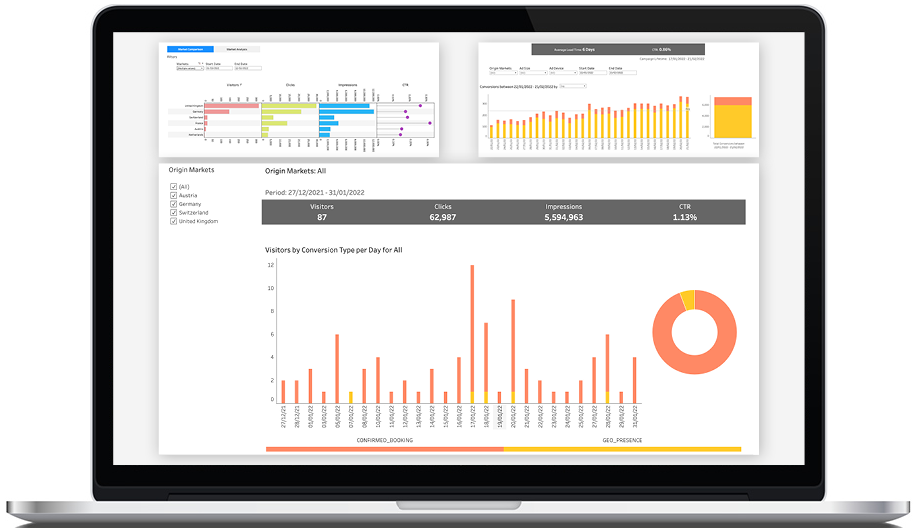 Recent customer testimonials
"Although Tenerife has long been on the map, the team at Amadeus understood immediately what we required to reposition our offering and put together a comprehensive solution that helped us reach new, year-round travelers from around the world that also match specific profiles and enjoy our value-added offer."
Laura Castro, Tourism Director,
Tenerife Council
David Pérez, Chief Executive Officer,
Turismo de Tenerife
"We've trusted several of our online campaigns to Amadeus as they truly deliver. Thanks to their knowledge and expertise, we've been able to increase our brand awareness and receive an influx of international travelers we otherwise wouldn't have received."

Zsófia Jakab
Deputy CEO
Hungarian Tourism Agency
"In the past, we had the challenge of promoting Jordan as a safe destination. It is great to see how technology can be a tool to change the perception of a region that has suffered from prejudice. Amadeus' solutions allow people to experience our culture from within, and the entire country benefits from it."
Hakim Ahmad Al Tamimi
Head of Adventure and Eco Unit
Jordan Tourism Board
Data-driven planning and optimization approach
Amadeus delivers proprietary solutions and meaningful insights that cover the end-to-end visitor journey to drive your strategic decision-making. Get the full picture of your destination, including air searches, air and hotel agency bookings, air traffic and hotel market performance, shedding light into the optimal time to launch and optimize campaigns.
We are the only provider of forward-looking, on-the-books accommodation and air search data so you can anticipate future demand for your destination.
Discover our offering by watching the below videos
Back to top