Unlock forward looking market demand data
The hospitality landscape has never been more competitive than it is now. Hoteliers are constantly trying to stay ahead of each other, while also trying to make the most profitable and strategic revenue decisions. This is exactly why leading hoteliers are embracing Amadeus Demand360 solution to help them stay ahead of competition and maximize revenue.
View Detailed Features
Key Benefits
Establish profitable revenue strategies with forward-looking demand data
Quickly identify and adjust pricing strategies for under-performing segments
Drive stronger revenue with higher-rated segments and lower-cost channels
Attract the most profitable business mix with confidence
Integrate with your RMS and PMS data for even deeper visibility into your performance
Full training with basic, intermediate, and advanced options with extensive support​
Understand your entire market
with Alternative Accommodations data
Gain even deeper insight into your entire competitive market with data from the rapidly expanding world of alternative accommodations, short-term rentals, flats, homes, etc.
Analyze and understand the vacation rentals competition in your area with access to 35 million listings worldwide, updated on a daily basis.
Optimize your occupancy and rates by reviewing forward-looking availability, rates, and pick up of local vacation rentals, keeping your guest rooms full.
Not all data is created equal
Why forward-looking data?
Our proprietary partnerships provide access to view real bookings made for a future date so you can understand forward-looking trends.
And who wants to look at historical data when you can look forward?
Gain access to one year of forward-looking occupancy data from the world's leading hospitality brands
View your forward-looking ADR and RevPAR rank compared to your competitive set for the next 30 and 90 days
Get advanced notice of trends, giving you time to adjust your strategy to shift share
More than 35,000 hotels globally – including major chains, small groups and influential independents – are participating ​Demand data providers.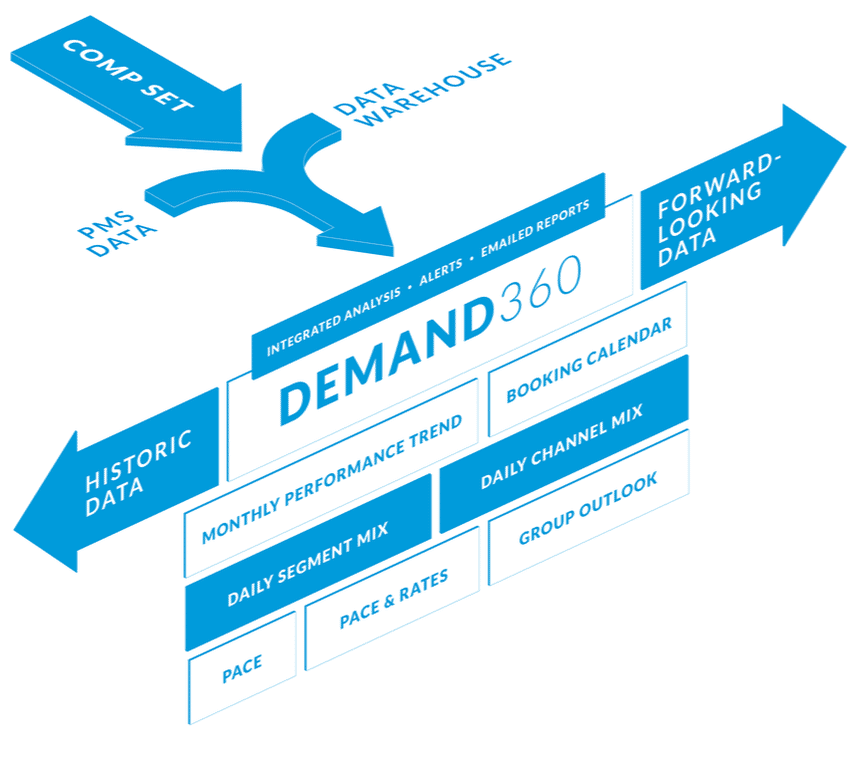 Organize your market data easily so you can focus on your strategy
Remove the manual effort it takes to filter and organize your aggregated historical and forward-looking demand data. Quickly and easily build multiple competitive sets for a deep understanding of your market. Track pace, performance, and pickup with each competitive set in order to quickly gain insight into where to proactively increase demand. Then, drill down into segment, sub-segment, and sub-channel trends in order to drive your business to higher rated segments and lower cost channels.
Refine your business mix over time and outpace competition
With all the insights you gain from your organized competitive sets, you can make much smarter revenue decisions. Optimize pricing and marketing strategies based on the performance of your business mix over time with real-time alerts and RevPAR rank comparison tools.
Expand your group business with confidence
Leverage the only source of future group business data that shows compression and pick up trends with groups that your competitive set has on the books. View soft months to find out where you can drive demand, and proactively engage with groups you know have longer lead times.
Same Time Last Year Minus 2 with Demand360
Demand360's latest feature provides enhanced insight into your market and performance data over time. Now with the ability to compare performance data across the past 3 years, you can find trends and make decisions with improved historical context. Demand360 allows you to compare your performance against your competitive set, visualize data to spot new trends, and make the most informed revenue strategy decisions possible.
10 Questions to Ask When Buying Business Intelligence
We know that data is the foundation of your decision-making, which means that choosing the right business intelligence provider is critical for your success. That's why we created a guide to help find the business intelligence provider that is right for you.
Gain a preview of Amadeus Business Intelligence data.
We offer three different report types Weekly Global Top Performing Hospitality Markets, Weekly Market Insights, and Monthly Market Insights powered by Amadeus Demand360 data. Start using this data now to inform your revenue management strategies.
Explore our other Business Intelligence solutions
Some of our valued customers