Reach travel professionals who recommend and sell trips to your destination's future visitors
Influence travel agents at the traveler's point of sale: on the three main Global Distribution Systems.
Build your destination's brand awareness in untapped markets.
Promote your destination's top attractions, latest news and special offers to a captive audience.
Showcase future events and festivals while attracting interest and bookings.
Upskill travel sellers to become experts on your destination by enrolling them in your educational platform.
Expand your reach on the main Global Distribution Systems
Optimize your presence on Global Distribution Systems (GDS'), travel agents' preferred booking channel.  With Amadeus Travel Seller Media, destinations can advertise to agents during the entire booking flow ensuring they become a part of their customers' consideration set.
Amadeus is the only supplier of multi-GDS advertising and the only paid media solution that allows travel brands to advertise across Amadeus, Sabre and Travelport. Capture greater travel agent demand by strategically targeting travel sellers who are ready to book a trip to your destination or who've researched your competitive set. By leveraging our leading Business Intelligence suite, drive more revenue by making informed decisions backed by proprietary forward-looking and on-the-books data.
To remain relevant and to educate the industry on their offering, destinations advertise on GDS' to reach tourism professionals from around the globe. Destination ads may include resources that will help travel agents deepen their knowledge and stay on top of industry trends. For example, DMOs can advertise their e-learning platforms geared towards travel agents and industry experts, while providing incentives to further promote enrollment.
Destinations that partner with other key industry players, such as airports, airlines, and hotels, also trust Amadeus to reinforce the value of their partnerships and make their offerings bookable through GDS.
Why Amadeus Travel Seller Media for Destinations?
Showcase your destination along the booking journey and across the three major GDS'.
Deliver targeted messaging to travel sellers at scale.
Run marketing campaigns backed by data and powered by our in-house technology.
Optimize your media investment to better reach your advertising goals.
Access our capabilities and expertise available only to the most important travel brands in the industry.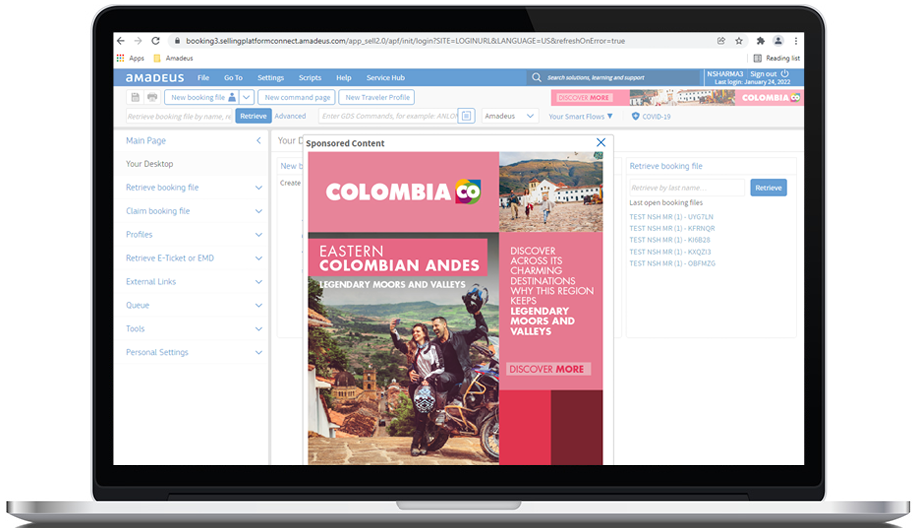 More channels to leverage
Remain top-of-mind among booked travelers with Amadeus trip documents. Be present on Amadeus GDS booking confirmations to promote services that have yet to be purchased or inspire future travel.
With a 100% open rate, use advertising on Amadeus trip documents to create brand recognition and promote your local attractions.
Travel agents that use Amadeus, leverage trip documents daily to send travelers the latest news and updates about their confirmed trip.
Back to top