Exceptional Hotel Email Templates You Need Today
Elevate your guest communication with our stellar hotel email templates. From reservation confirmations to post-stay feedback requests, we've curated a collection of pre-written hotel email samples that save you time and impress your guests.
Choose from our carefully crafted hotel email templates for a consistent and polished communication strategy.
Before we dive in, be sure to visit our ultimate guide to guest loyalty.
Hospitality specific email best practices
Crucial to hospitality's heart is email communication. Crafted with strategy, it can turn guests into loyal patrons. This art, driven by compelling subject lines and personalized content, is the game changer. Unlock the potential of email with industry-specific best practices and revolutionize your customer relationships.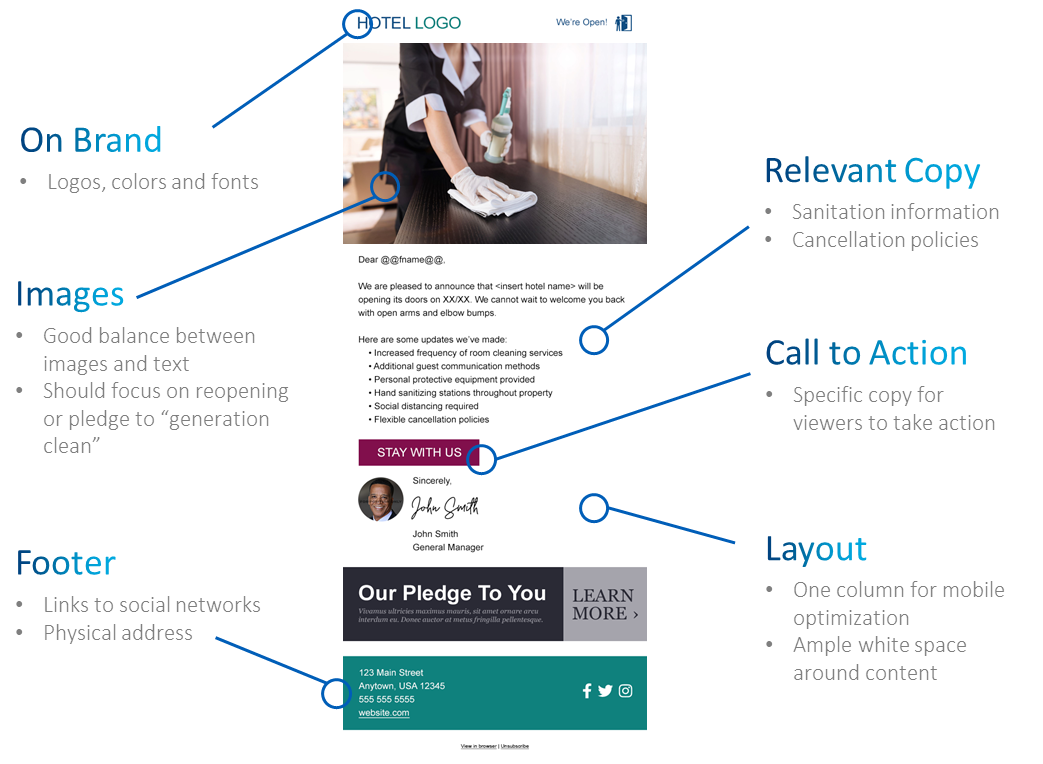 Start creating high-performing and responsive emails to support your properties' communication and email marketing needs! To help you, we have put together a repositery of downloadable, modern hotel templates, examples and designs. You can adapt them to the look and feel of your brand's colors, logos, and more while meeting key hospitality-specific email best practices.
| | |
| --- | --- |
| Access our library of hotel email templates! | |
Our library contains the following email templates:
Hotel Confirmation Email Templates
Ensure seamless communication with your guests with our well-crafted Hotel Confirmation Email Templates. These templates offer clear, precise information about their booking details and what they can expect during their stay, bolstering their excitement and confidence in their choice.
Hotel Pre Arrival Email Templates
Our Hotel Pre Arrival Email Templates are designed to enhance the guest experience even before they step through your doors. Inform your guests about exciting opportunities and amenities awaiting them at your establishment, building anticipation for their stay.
Hotel Welcome Email Templates
With our Hotel Welcome Email Templates, establish a warm, inviting atmosphere for your guests from the moment they check in. These emails serve as an excellent way to personally connect with your guests, offering them useful information about the hotel's amenities and services.
Hotel Midstay Email Templates
Keep the lines of communication open during your guests' stay using our Hotel Midstay Email Templates. These are perfect for checking in on your guests, ensuring they are having a pleasant stay and offering assistance or recommendations if needed.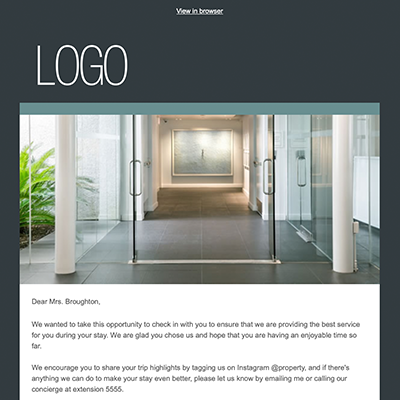 Hotel Cancellation Email Templates
Handling cancellations delicately is crucial to maintaining good relationships with your guests, and our Hotel Cancellation Email Templates make this task easier. These templates are designed to express understanding and provide a smooth process, leaving your guests with a positive impression despite the cancellation.
Hotel Post Stay Email Template
Our Hotel Post Stay Email Templates provide an effective way to maintain engagement with your guests after their stay. Whether it's seeking feedback, saying thanks, or offering incentives for future stays, these templates will keep your hotel at the forefront of their minds.
Hotel Newsletter Email Templates
Engage your audience consistently with our Hotel Newsletter Email Templates. They're designed to keep your subscribers informed about your latest offers, events, and improvements, nurturing a community of loyal patrons.
Hotel Marketing Email Templates
Boost your hotel's reach and brand visibility with our compelling Hotel Marketing Email Templates. Hotel email marketing is an essential strategy for hotels to promote their services and increase bookings through targeted and personalized email campaigns. These templates are geared towards showcasing your hotel's unique features, promotional offers, and exclusive deals, driving reservations and enhancing your revenue streams.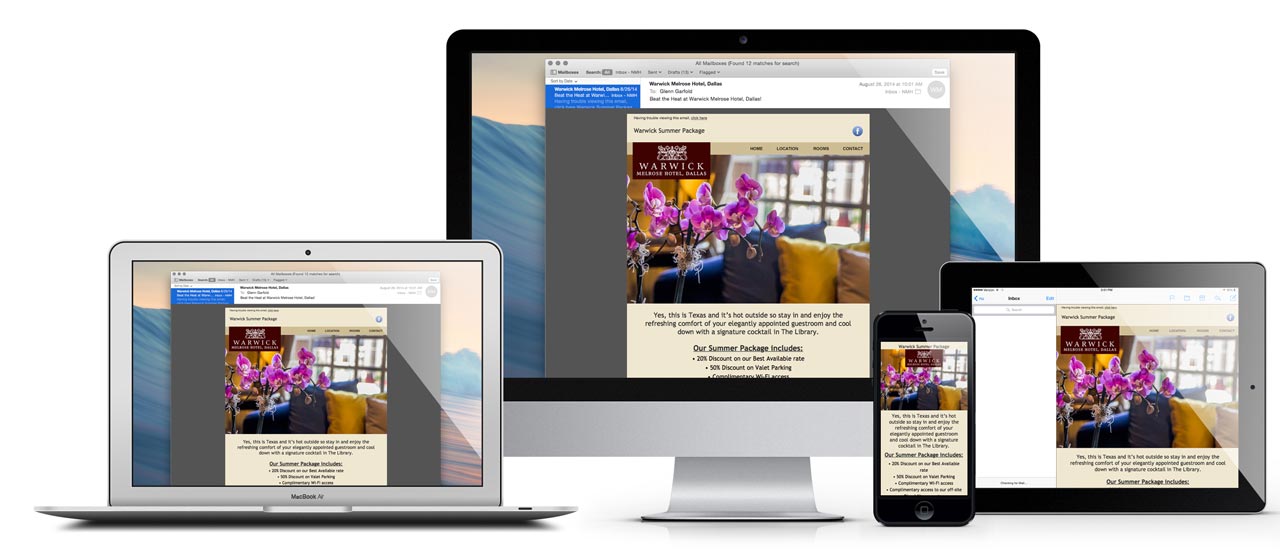 Hotel Loyalty Email Templates
Strengthen your relationship with frequent guests using our Hotel Loyalty Email Templates. These templates are designed to recognize and reward their continued patronage, enhancing guest satisfaction and encouraging their loyalty to your brand.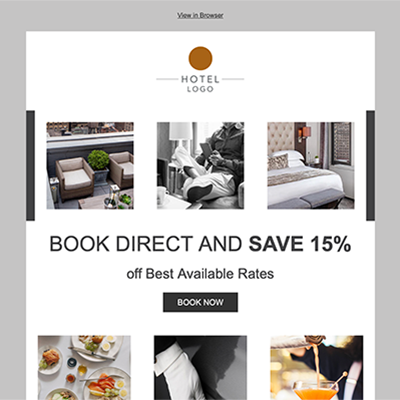 Group Meetings Email Templates
Our Group Meetings Email Templates provide a streamlined communication channel for guests planning or attending group meetings at your hotel. Whether it's confirming reservations, detailing meeting logistics, or offering add-on services, these templates help you provide a professional and comprehensive service to your group clients.
Hotel Spa Email Template
Promote your hotel's wellness offerings with our Hotel Spa Email Templates. From introducing spa amenities to sharing exclusive wellness packages, these templates help create a soothing, luxurious narrative around your spa services, enticing your guests to indulge and relax.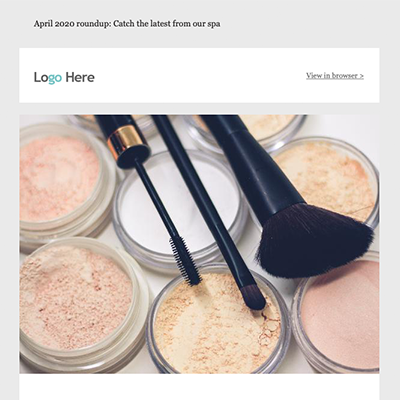 | | |
| --- | --- |
| Access our full library of hotel email templates! | |
Competition for hotel guests is more intense than ever. Understanding who your guests and prospects are and personalizing your communications with them dramatically improves your ability to build loyalty and drive repeat business – and edge out your competitors. If you would like to find out more about how to enhance your communication with guests, don´t hesitate to contact us. One of our GMS experts will be happy to guide you.
Amadeus' Guest Management Solutions (Amadeus GMS) is more than just a customer relationship management (CRM) tool, it offers a comprehensive suite of marketing automation tools to engage your hotel guests and drive incremental revenue. Target guests with the right message at the right time, even as their behaviors change, and seamlessly customize your outreach before, during, and after their stay. Maximize the value of your guest data to continuously drive revenue and engagement for your hotel.