ELEVATE GUEST EXPERIENCES
The 2023 guide to increasing guest loyalty
Understanding, assessing, and optimizing guest loyalty is critical in today's competitive hospitality marketplace. But is it a philosophy? A culture? A process or program? Is it driven by both people and technology? The answer is yes.
Hotel customer loyalty is what all hotels strive for, yet many fail to achieve it to a significant degree. And with new marketplace dynamics and evolving guest expectations to contend with, the strategies of yesterday are no longer sufficient in establishing loyalty with the guests of tomorrow.
Read on to understand the evolving nature of guest loyalty (or hotel customer loyalty) to position your brand for successful long term guest relationships.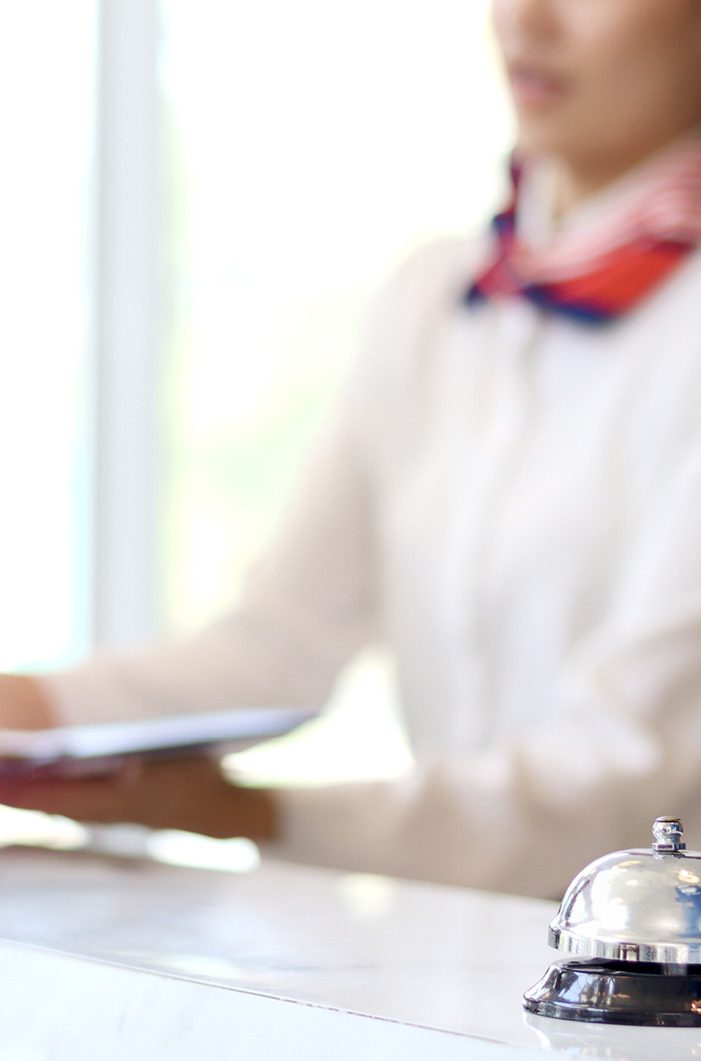 What is hotel guest loyalty?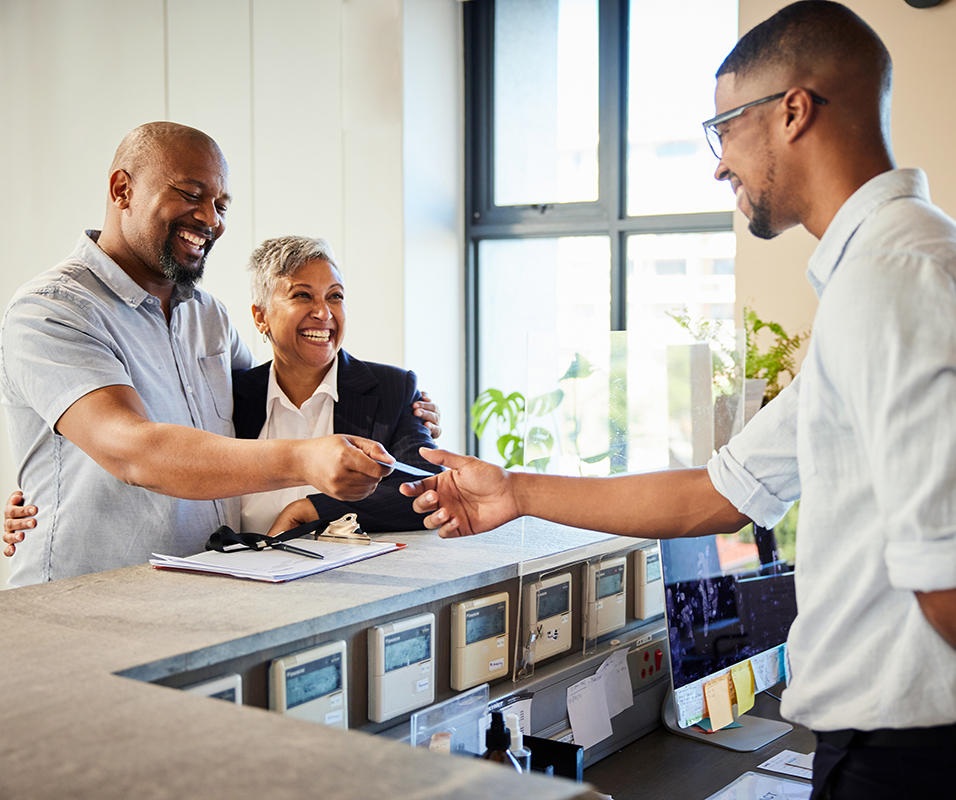 Guest loyalty refers to the ongoing emotional relationship between guests and hotel brands.
Travelers are considered loyal when they choose to stay at one hotel brand over another or when they engage with and repeatedly book from your hotel brand versus your competitors.
Hotel customer loyalty is the byproduct of a customer's positive experience across all interactions with your hotel brand and works to create trust. This can be manifested by how willing a hotel client is to repeatedly book from your versus your competitors.
In today's complex and competitive hospitality market, establishing loyalty with your guests or hotel customers has become a requirement, not an option.
Yet, hoteliers often struggle to find the right ways to create, optimize, and measure guest loyalty.
Why is guest loyalty more important than ever?
Loyal guests are imperative for every hotel because they are more likely to stay at your property repeatedly, more likely to buy ancillary products and services, and are also much more likely to recommend your hotel to others.
Beyond perks, points, and rewards, guest loyalty represents an emotional relationship between the guest and your brand. It is the culmination of the entire brand experience which yields a positive sentiment from the guest. The end result is repeat business and greater revenues from guests, increased direct bookings, positive word of mouth which can attract new guests, high ratings on travel review websites, and effective and ongoing 2-way communications with the guest that enables lasting relationships.
Guest loyalty programs are also an extension of your brand and represent a tool for aiding in guests' connection with that brand — one that is ultimately seared and sealed through thoughtful interactions that create stories worth telling and feelings worth coming back to.
Furthermore, it can cost businesses between 5 to 25 times more to acquire a new hotel customer than retain a current one (Harvard Business Review). Beyond looking solely at cost per customer acquisition, organizations should also consider the profitability of each customer over time, or customer lifetime value (CLV). And due to the pandemic, guest acquisition and retention has become even more vital.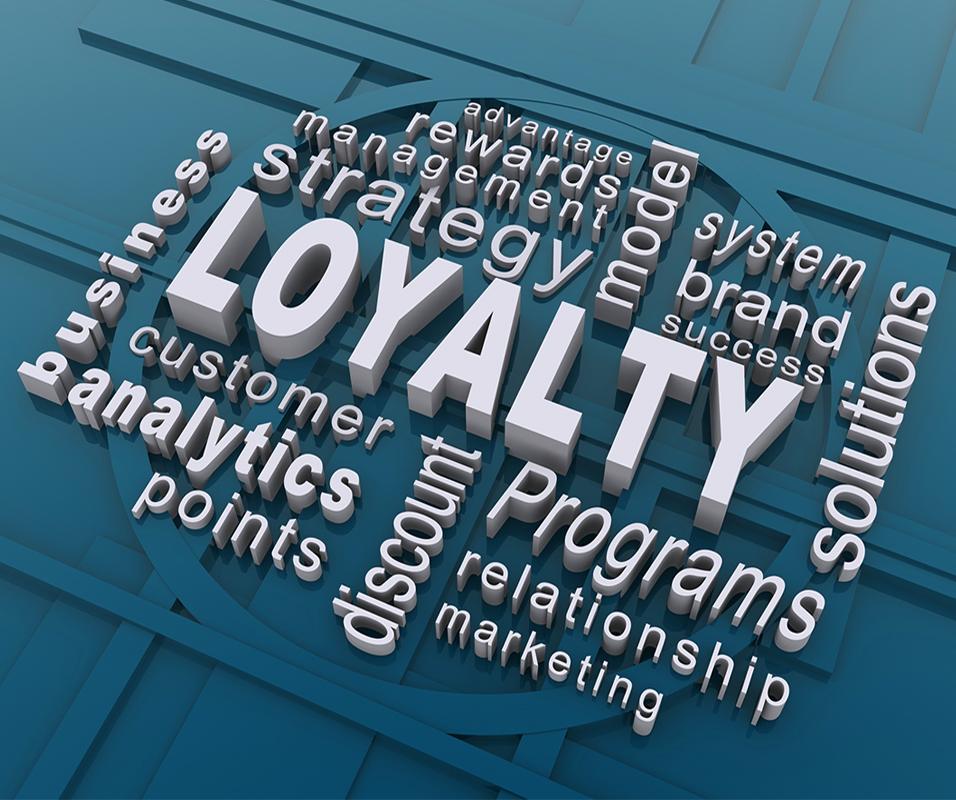 How to measure guest loyalty?
Not all loyal guests are of equal value. For instance, a customer who stays frequently but only spends on discount or budget rooms may be less valuable than a client who stays less frequently but spends more on their stay.
The same happens with a frequent client who books through your direct channel. They will typically be more valuable than a frequent guest who books through an OTA or another channel that entails commission costs.
Calculating guest loyalty involves metrics such as:
Average booking value
Booking frequency
Profitability per order
Repeat booking probability
Repeat booking rate
Guest retention rate
Loyal guest rate
Guest churn rate
PRO TIP! 
Leverage post-stay guest surveys to assess both the good and the bad of a guest stay, gauge overall guest satisfaction, and understand ways to optimize the guest experience and subsequent loyalty.
Hotel loyalty programs and examples
Hotel loyalty programs and examples
In this section we go through the most popular types of hotel loyalty programs, along with some examples, to help you figure out which type of loyalty program is right for your hotel.
Each of the following programs can serve a distinct function for your hotel, depending on your customers and the desired outcomes for each.
Hotel loyalty program types and examples
These are tactics that provide unexpected rewards as a thank you for continued business. Most campaigns involve compensations such as free gifts, upgrades, or a meaningful discount. In today's social media environment, these "unplanned" surprises can also help foster brand awareness and reach viral status as customers share their delight far and wide.
The key with 'surprise and delight' is to build a meaningful emotional connection between the consumer and the brand through the notion of "we care." You can enhance that emotional connection by providing them with personalized rewards that will matter most to them, based on data from their individual guest profiles.
Hotel loyalty program types and examples
This approach speaks to consumers who want freebies and direct cash. A common example is with credit cards: a percentage of purchases charged to a credit card come back to the customer in the form of a check, gift cards, airline tickets, or even college savings programs.
For hotels, these loyalty programs tend to be point-based with a certain number of stays or hotel spend qualifying customers for partial or full redemption toward their final bill. They can also take the form of points toward a special customer experience, such as a free spa visit or room upgrade during their stay.
Hotel loyalty program types and examples
These rewards deliver an experience with the brand that non-participants can't receive.
For hotels, this means adding value to their experiences at your location with the simplicity and ease that guests are used to in their daily lives with Amazon Prime.
For example, offering a late checkout so guests can change out of their suit in their room, rather than a cramped, public bathroom stall. By partnering with local attractions, hotels can offer another type of value-add - bespoke experiences at their destinations, such as discounts on exclusive cooking classes and local experiences or VIP tickets to shows and festivals.
Hotel loyalty program types and examples
Include a mix for the max
We've found that loyalty programs enjoying maximum success are those that incorporate a mix of all three types. While one program may be the focus, offering tastes and highlights of others is the best offering a hotelier can design.
For example, a pure points program with no "surprise and delight" moments lacks the human touch. As well, endless surprise and delight becomes repetitive and cliché with little long-term benefit.
All of these methods are developed further in our dedicated eBook below:
Building an effective guest loyalty strategy
Building an effective guest loyalty strategy
Regardless of which loyalty program or mix you employ, success comes only by delivering what the customer wants in a meaningful way, and at the right time. But how? Use technology to perform at scale.
Building an effective guest loyalty program - one that offers member's programs, encourages and enables employees to enhance guest experiences, and maintains positive two-way communication with guests in an ongoing manner - can be a powerful tool in the modern hotelier's revenue strategy.
Building an effective guest loyalty strategy
Re-engaging guests: old and new
With travelers now considering how to get the most out of their trips, from local experiences, to dining and well-being options, re-engaging guests by promoting a strong loyalty program becomes more important than ever.
Some hotels are expanding their 'tiers' at lower levels or with third party vendors, which enables guests to earn benefits at a faster rate and choose different ways in which points can be earned.
This type of fresh thinking in relation to loyalty programs has become an essential pillar of any hotel's strategy when considering how to re-engage and re-incentivize guests.
Building an effective guest loyalty strategy
Creating dynamic marketing strategies
By leveraging existing data, hotels can send targeted and effective hotel email marketing to the right guests. You can also use your knowledge of that guest to offer defined incentives such as spa or dinner vouchers.
There's room for creativity here too, with many hospitality leaders upgrading their use of imagery or even testing receptiveness to humor within their communications.
By using integrated hotel booking platforms, you can make data driven decisions to personalize communications or incentivize guests in a creative way. This is key to increase your opportunity to win customers over.
Building an effective guest loyalty strategy
Driving engagement and collecting data
Member programs are increasingly being used to drive engagement. Moving away from traditional loyalty programs with defined tiers, these programs offer the same exclusive benefits to all that join which not only significantly reduces complexity for hotels, but also improves overall loyalty.
A good example of this is Village Hotels, which demonstrated the importance of implementing inventive approaches to membership loyalty strategies, through member-only offers.
By boosting visibility of their member-only offers through transactional hotel email marketing and benefit merchandising throughout the booking flow, this UK-based hotel group generated over £1 million in revenue within just the first month of their "Booking Revolution" campaign!
Building an effective guest loyalty strategy
Leveraging your hotel CRM data
Running a successful hotel guest loyalty program doesn't mean you need to have a massive budget to compete with big brands. There are several things smaller hotels can do to attract, retain, and reward hotel guests for long term loyalty. Here are 3 CRM guest loyalty strategies to follow.
Hotels have also begun to utilize the treasure trove of data available to capitalize on inbound marketing opportunities. This means that when a guest logs onto a site, hyper-personalized offers are generated automatically, and this can be particularly effective for hotels with the flexibility to tailor to different types of guests.
The benefit of these personalized offers is that they can also discern the value of a guest within a tier and promote to those with a higher likelihood of conversion.
The changing dynamics of guest loyalty
The changing dynamics of guest loyalty
Guest loyalty has changed over the years and even more so since the pandemic. Hotel guest loyalty is becoming more and more about the actual on-stay hotel experience. In this section we will discover what are the drivers and trends shaping guest loyalty today.
The changing dynamics of guest loyalty
How COVID-19 has impacted guest loyalty
Market instability, government restrictions, and risk of infection contributed to guests cancelling or rescheduling trips, along with postponing weddings and other life events. The impact of COVID-19 on the hospitality industry has been profound, and the way we approach guest loyalty will need a rethink.
A recent article by Deloitte article on the value of loyalty in a crisis for the airline and hospitality industries emphasized the need to shift from "serving" to "adding value" for (potentially) loyal consumers. In order to do this, companies should enhance their reward and loyalty programs with an emphasis on appealing to the values of sharing (digitally) with others and trying new experiences.
Finally, in times of decreased demand (such as the pandemic), it has been proven that having the ability to segment, personalize, and deliver outstanding customer service has been even more critical than ever. A CRM solution can allow you to intelligently engage guests through thoughtful, empathetic, and personalized communications regarding your property, the impact of the crisis, and the corresponding actions you're implementing.
The changing dynamics of guest loyalty 
As the industry moves forward, a new dynamic becomes of paramount importance - the feeling of safety. During the pandemic, if you could be their calm in the storm through your COVID-19 hotel communication strategy, not only were you likely to instill your customer's loyalty for a lifetime, but they would also become your biggest (and most vocal) advocates. This strategy should remain in place for the foreseeable future. Promoting how you are implementing safety measures in your property should be part of your routine.
Guests today not only want to be updated on safety and security information but also expect thoughtful, empathetic, and personalized communications from your hotel brand. In this context, the ability to segment, personalize, and deliver outstanding customer service is even more critical to gain their loyalty. To achieve this, it is recommended to lean on your hotel CRM to help you intelligently engage and communicate with guests and reassure them.
Finally, in hospitality's new normal, holistic guest loyalty strategies are vital. They can be used to entice loyal guests back as well as encourage new bookings. The process is becoming increasingly cyclical too. Once a guest finishes a stay, hotels are already considering how to use their data to drive the next booking, and in an increasingly competitive landscape, those that fail to adopt this approach may be left behind.
The changing dynamics of guest loyalty 
The challenges with guest loyalty today
While guest loyalty is key to drive more revenue, many hoteliers struggle with obstacles to achieving a successful and sustainable loyalty strategies:
Greater competition
Competition is wider and deeper than ever, from traditional big chains to boutique brands to bed-and-breakfasts. Some credit cards also offer generic travel rewards redeemable with numerous hotel brands, making it increasingly difficult to design the ideal loyalty program for each hotel.
Guest expectations
Then there's the dilemma of determining exactly what customers want in exchange for their loyalty. For some, exclusive discounts or collecting points for a free stay is a strong driver and for others, value-add rewards such as free meals or discounts on services such as spa treatments will gain fans for your brand.
Bandwidth
Finally, for smaller hotels with limited resources, capabilities, and staff, the idea of loyalty is just one more thing to add to a task list that's plenty long already.
To address these challenges, we recommend using guest recognition and unique loyalty programs. It is important to ask yourself whether your customers are attached to your loyalty program because of what they can get from it (transactional loyalty) or are they loyal to your brand because of the experiences they receive (emotional loyalty)?
You can then start planning how to design your loyalty programs based on that distinction and use a customer relationship management (CRM) tool to make your loyalty program a pivotal part of your overall customer engagement strategy.
The changing dynamics of guest loyalty 
Looking towards the future of guest loyalty
As the industry emerges from the pandemic, some new guest experiences like contactless services will endure, but as hotels strive to differentiate, there will also be a dramatic refocusing on digital transformation to enable truly personalized offers and experiences.
The hospitality industry will become an increasingly self-service experience and technology will play a key role in allowing personalization that delivers memorable experiences that guests crave.
Today hoteliers must rethink how to adapt their strategies related to guest loyalty in hospitality's "new normal". They are more and more aware that loyalty programs are a crucial part of the holistic hotel experience.
These programs can not only incentivize return bookings and help differentiate a hotel from the competition but they are also a great way for brands to continuously engage with customers in between trips and build an end-to-end value proposition.
A personalized guest experience: the key to guest loyalty
A personalized guest experience: the key to guest loyalty
To differentiate your property in a crowded market, you must satisfy heightened expectations from guests that are seeking more unique, tailored, and tech-driven experiences on the go. Knowing your guests allows you to ensure their experience is truly personalized and meet their precise needs.
A personalized guest experience
Hoteliers are increasingly turning to technology to better understand travelers and what matters to them in order to deepen the consumer-brand relationship and personalize every phase of the guest journey – from inspiration and shopping, to the onsite experience, to post-departure.
Personalization should be a critical component of guest engagement from looking and booking to checkout and beyond (Read our article: Where everybody knows your name).
Benefits are multiple:
You can deliver the right offer, upsell, or enhancement to guests on your website and booking engine based on centralized profile data.
You can offer them additional enhancement and upsell opportunities in pre-stay communications.
Your guests remain engaged with your property or brand after their stay.
Recognize, reward, and personalize the guest experience at every interaction and you'll be well on your way to showing guests that you always know their name, and you're always glad they came.
A personalized guest experience
Pre-stay: A personalized booking experience
Your hotel website must be your best "salesperson" as it is the most profitable channel option. It must showcase your best features and be easy to navigate, especially when it comes to the booking process. This direct booking channel allows you to build a relationship with prospective guests from the first interaction, so if you are able to present your property in a highly customized way, you are setting yourself up for success.
A personalized booking experience can bring direct bookings to new heights but as the direct channel use grows, so does customer expectations. In this context, what is needed is a seamless and frictionless experience across the booking flow – from web, to booking engine and confirmation.
Discover additional strategies and tactics to make your website and booking engine a high-converting powerhouse in our latest Personalization and direct bookings playbook.
Mastering the Art of Direct Booking
Download this eBook to ensure:
Your website stands out against the competition.
You leverage practical direct booking strategies.
Your guest´s first reservation channel is Direct.
You personalize the whole booking experience.
Ideally, your booking flow also leverages upsell and enhancement opportunities at every step and delivers a more experiential booking process for your guests, which in turn increases revenue opportunities for the hotel. Here are ways you can support your hotel booking channel mix equity through direct bookings.
The market for online hotel bookings is growing fast and with more potential revenue than ever hanging in the balance, many hoteliers continue to struggle in establishing the right mix of online hotel booking channels - OTA vs Direct that not only meet the growing demand for accommodations but also maximize profits.
There are also opportunities for you to increase performance on your direct booking channels to meet elevated guest expectations by closing the integration gaps between systems. There is for instance a growing desire for greater personalization capabilities across the hotel booking engine and metasearch solutions.
Another important piece in providing a memorable guest experience is writing a compelling and personal hotel welcome letter. Find out what to include in your hotel welcome letter, how to write it and access 3 downloadable templates of succesful welcome letters to get started with today!
A personalized guest experience
On-stay: Providing a personalized experience
Hoteliers that can unlock the power of guest data are ideally positioned to create lasting, meaningful guest relationships that keep them coming back through personalized offers they want to buy. Data is the new frontier of hospitality.
Another challenge hotels face is competition from alternative accommodations such as Airbnb. To compete with these new players, hotels must capitalize on their strength - service. Indeed, hotels have a significant advantage because hotel staff are groomed in hospitality, placing an emphasis on excellent service. And excellent service is expected to be more and more personalized throughout your guest's journey. Here are 8 tips to use personalization to differentiate your property and rise above the competition.
To help hoteliers more effectively manage guests' greatest concerns and challenges, we created the `Building Data-Based Guest Personas' eBook below that includes a toolkit with nine templates for common hotel guest personas:
Building Data-Based Guest Personas Toolkit
9 templates for common hotel guest personas
Our `Building Data-Based Guest Personas' eBook
Tips on how to manage guests' concerns more effectively
A personalized guest experience
Post-stay: Keeping your guests engaged
During the last stage of the guest journey hotels can look to provide exceptional value to guests; this will not only make them happy, but keeps them coming back again and again.
The resulting loyalty is a crucial metric in today's customer satisfaction analysis processes and one common and effective way to gauge guest satisfaction in hospitality is to send post-stay surveys.
These also give guests an opportunity to shine light on the good and the bad of their stay while the experience is fresh in their mind.
Perhaps the front desk staff went above and beyond during check-in, but the guest was not able to get a reservation at the on-premise restaurant. Read more in our article: Leveraging the Power of Surveys to Drive Loyalty.
A personalized guest experience
Connecting the dots across the guest travel journey
In the same way that welcome letter emails can go a long way to increasing communication, with over 4 billion daily email users, hotel email marketing is one communication channel not to be missed throughout the guest´s stay and can go a long way to enhancing his/her experience and loyalty. Many hoteliers often under appreciate the value of a well-structured email to communicate with guests before, during and after their stay. These emails can then be automated using your Guest Management System.
Some of the best practices to follow when creating emails include:
Relevant copy and information

A clear call-to-action for readers to take

Clear layout with a balance between images and text
Find out more about how to create effective emails for different needs and explore our library of downloadable hotel email templates.
As the future of hospitality moves steadily towards personalization and guest loyalty, it remains a challenge for hoteliers to capture and apply the full value of guest data in an actionable way across disparate systems.
Amadeus is on a journey to offer a complete hotel e-commerce experience across reservations, guest management, and web, allowing users to acquire, convert, and retain guests.
Guest loyalty in a human-first industry
Guest loyalty in a human-first industry
Personal and human interactions lie at the very heart of hospitality - the art of making people feel at home. With the right technology, you can create this personalized experience to meet and exceed the expectations of the guest.
Guest loyalty in a human-first industry
Cultural guidelines for better connections with guests
The hospitality industry has always been and will always be about the human relationships and interactions between guests and hoteliers. With this in mind, you must establish cultural norms that build connections across hotel departments and employees. Everyone involved within your property or brand should commit to delivering the same levels of customer satisfaction and service.
The impact of people and culture can go in either direction. An attentive, helpful, and pleasant employee and culture that fosters such engagement enhances satisfaction and leaves the guest with a positive perception of your property or brand. An unpleasant interaction with an employee delivers the opposite impact.
Microsoft declares in their State of global customer service report that, globally, 54% of all consumers say that they have higher customer service expectations than they did just one year ago. And there are many other statistics that reiterate the importance of how a higher level of customer service satisfaction can be a vital cog in the business machine.
It only takes one misstep from a single employee to ruin the goodwill created by all others. This is why establishing cultural guidelines for guest interaction and engagement remains crucial at every phase of the guest journey.
Also, in the new contactless world of hospitality where that personal touch can be lost, technology-driven personalization can be the bridge that makes the all-important connection with the guest. If a hotel knows from its data that a couple are traveling for an anniversary, then offering an upgrade to the honeymoon suite is a simple task.
Guest loyalty in a human-first industry
Loyalty starts with recognition
The industry has talked about personalization for years, but most hotels have found it extremely challenging to roll out a fully personalized experience from looking to booking to on-property to post-trip.
Many organizations have also been limited in their ability to implement true personalization due to resource or system constraints. That's because bringing together a hotel's knowledge about a guest from the property management system to the CRM, the central reservations system and possibly others, is a real challenge.
A great way to personalize the guest experience is by leveraging your centralized guest profile and loyalty data to offer the right value-adds which in turn increases the likelihood of guest conversion, drives ancillary revenue, and also increases guest satisfaction through enhanced booking value.
Ensuring that guests are presented with the right offer at the right time, as well as the ability to differentiate the perks available are all recipes for success.
Guest loyalty in a human-first industry
Guest loyalty's "new normal"
As the industry emerges from the pandemic, many new hotel guest loyalty practices and guest experiences will endure.
But as hotels strive to differentiate, there will also be a dramatic refocusing on digital transformation to enable truly personalized offers and experiences. The hospitality industry will become an increasingly self-service experience, and technology will play a key role in allowing personalization that delivers memorable experiences that guests crave – a "must-have" in order to build lasting relationships and loyal fans.
While there is no secret recipe for success, awareness of guest loyalty dynamics and programs combined with a focused data and technology-driven strategy that aligns with your brand's vision and guest expectations can set your brand up for long lasting relationships. Recognize, personalize, and reward guests across their entire journey to deliver the experiences they crave while adding more revenue to your bottom line – it's a win-win.
Ready, Set, Drive Loyalty!
Ready, Set, Drive Loyalty!
We hope this guide on how to generate guest loyalty was useful for you.
As travel continues to rebuild globally, hoteliers are taking the time to reevaluate the fundamentals of how they've historically operated and strategize new ways to ramp up their guest loyalty efforts in unprecedented ways.
By considering the actions presented in this guide on how to generate guest loyalty, we hope hotels can find the keys to succeed in this new – and evolving – world of travel.
You can also access our other comprehensive guides for hoteliers:
We wish you a lot of success in your guest loyalty strategies and please do not hesitate to contact us if you would like to discuss how to increase your guest loyalty efforts.
Back to top