Originally published on Hospitality Net
There were a few noteworthy changes for hoteliers stemming from the COVID-19 crisis. For the first time in decades, hoteliers' direct channel was the most frequently booked channel. According to Amadeus' Trends & Market Insights data, direct bookings are making up a growing proportion of all hotel bookings, driven predominantly by leisure travelers.
With the emerging demand we are witnessing in 2022, leisure travelers are reverting to their traditional shopping and booking processes – scouring the internet for the best deal. They feel less compelled to reach out to hotels to inquire directly about sanitization and cleanliness, availability of services, local restrictions, or other major pandemic-driven concerns. Now, more than ever before, it's critical that hoteliers have a clear understanding of what is happening in their market and current traveler booking behavior. With shifts in focus across all booking channels on a week to week basis, forward-looking insight is more important than ever to stay ahead of these changing trends.
Based on the market data seen in Amadeus' business intelligence solutions, OTAs, with their powerful search engine algorithms and positioning strategies, are once again heading towards a leadership position in the channel mix. When comparing Demand360® data, the OTA share of bookings for June 2021 was 18% which surpasses 2020 and 2019 performance for the same month. And these numbers confirm hotelier feedback as they ranked OTAs as their most important distribution channel in a 2021 global survey:
Source: Amadeus Rebuilding Hospitality Survey
However, as the above research indicates, direct and Brand.com bookings were also ranked highly in importance for hoteliers. While OTAs have been and will continue to be crucial business partners for properties of all shapes and sizes, they are often a less profitable booking channel for the hotel. And while the channel mix continues to evolve and will most likely revert back towards pre-pandemic levels as demand continues to emerge globally, hoteliers now have the opportunity to optimize the number of direct bookings and potentially grow its percentage of the overall channel mix in comparison to 2019 numbers.
Simplifying Direct Bookings Strategy
While there is no shortage of information, techniques, and tools available to help hoteliers optimize their direct bookings, if you strip away all of the noise, there are really only three elements involved:
1. Understand the marketplace
Data is king. It reigns supreme as the undisputed MVP of any business strategy. And the hospitality industry generates massive amounts of data that can arm savvy hoteliers with the right insights to make informed business decisions that generate predictable outcomes. From demand and booking windows to rate assessment and competitive positioning, there is a wealth of data generated on a daily basis that can help hoteliers better understand their current and future marketplace.
And while the value of market data is clear, it's important to remember that not all data is created equal. Many hoteliers continue to rely on historical data and corresponding forecasts. If 2020 taught us anything, it's that things can change in an instant, making historical data and forecast models built on that data completely irrelevant in the blink of an eye.
DID YOU KNOW? 45% of hoteliers in the Americas say that lack of visibility regarding forward-looking occupancy data is the biggest problem they are dealing with right now.
To create an effective direct booking strategy (especially when the marketplace is unpredictable) you need forward-looking, on-the-books data. This is not a forecasted view of what to expect based on historical data – it is true occupancy data for the next 12 months so you can track who's booked, for when, at what rate, in what booking window, etc.
Armed with knowledge of what the marketplace is in the coming months, not what it might be, hoteliers can more effectively assess the right targets and timing for demand generation programs even in the face of rapid and dramatic change.
2. Target demand from a standpoint of knowledge
With the right set of forward-looking data in hand, hoteliers can pivot towards the second tactic in an effective direct booking strategy. Taking the insights gleaned from on-the-books data, you can execute highly informed and targeted media campaigns by putting the right offer in front of the right guest at the right time and in the right channel.
In fact, 60% of hoteliers we surveyed say they deployed successful new marketing strategies to drive demand to their properties over the past year:
Source: Amadeus Rebuilding Hospitality Survey
Take Welk Resorts for instance, a resort, timeshare and rental property hybrid operation with locations in California, Missouri, Colorado and Mexico. The company used data to support a digital media campaign that targeted a leisure audience within driving distance of key properties across social media, search and display. The messaging stressed discounted rates for advanced bookings and the social distancing potential at Welk's private villas with fully equipped kitchens. The result? A 200%+ increase in revenue month-over-month and a 31% increase compared to the prior year.
3. Convert demand and drive profitability
Understanding the marketplace and applying those insights to your media strategy is only part of an effective direct booking strategy. The final (and most crucial) component is the ability to "seal the deal" and turn the shopper from a looker to a booker on Brand.com.
This is where the hotelier's website experience and booking engine come into play, but due to frequently poor website design, disconnected web to booking engine experiences, and lack of enticing value along the booking path, the hospitality industry as a whole has rather lackluster conversion numbers.
 DID YOU KNOW? In hospitality, less than 2% of Brand.com visitors and less than 7% of Booking Engine visitors will convert into a booking.
Guests have been trained by eCommerce giants to expect a seamless, intuitive, and personalized shopping experience. In hospitality, however, hoteliers are challenged by disconnected web and booking engine dynamics, lack of eCommerce best practices, frustrating booking processes, and more.
What's needed is a seamless and frictionless experience across the booking flow – from web, to booking engine and confirmation. Ideally this flow also leverages upsell and enhancement opportunities at every step to deliver a more experiential stay for the guest and increased revenue opportunities for the hotelier.
The Way Forward
Luckily for hoteliers there is a path forward that delivers on all the above criteria for direct bookings success. Amadeus Demand Generation is specifically designed to deliver the data, media execution, and conversion optimization tools needed to increase direct booking profitability.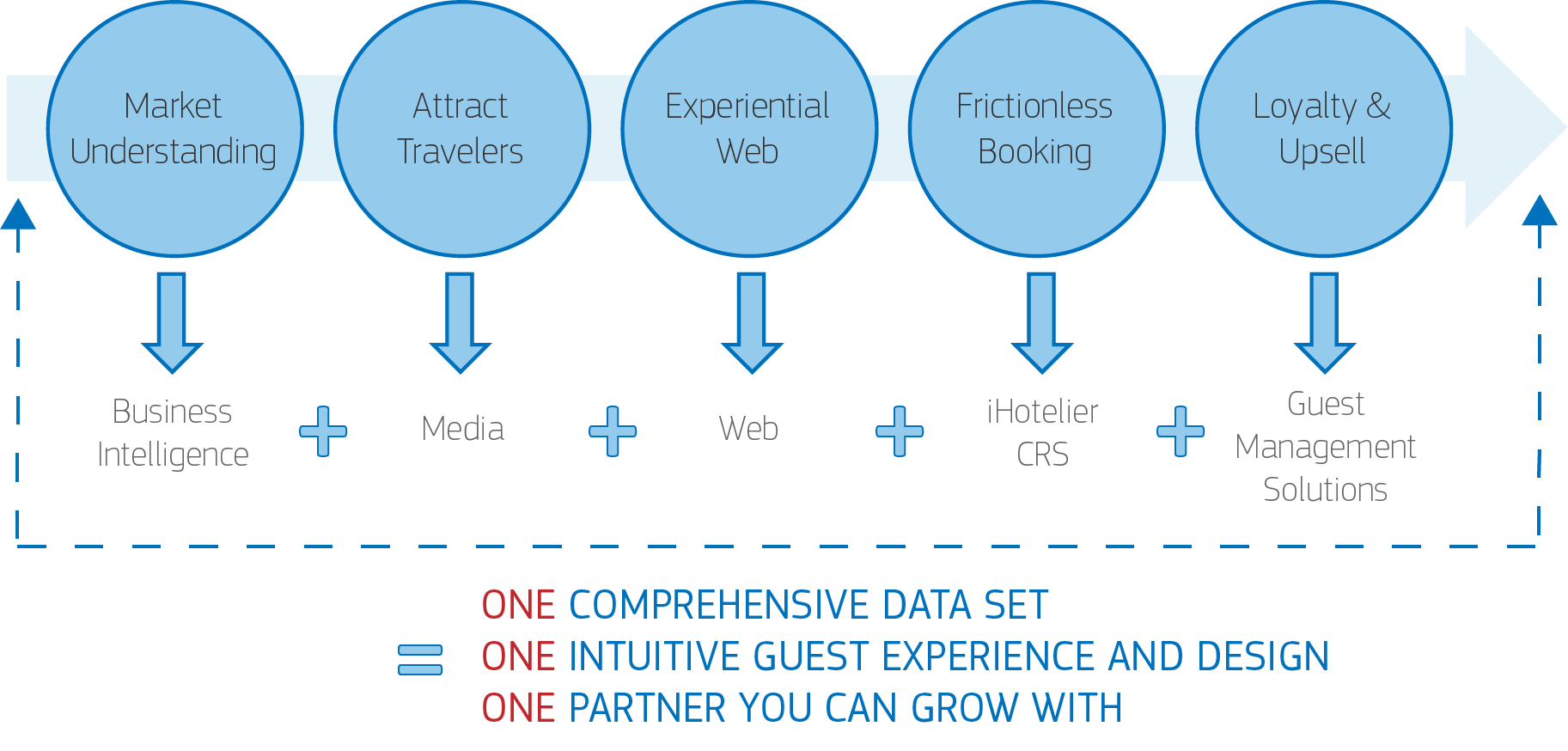 With this connected platform, hoteliers can trust one single partner for everything from business intelligence and media strategy, to distribution, web, booking engine, and loyalty. Just as OTAs are equipped with new technology and techniques, hoteliers too should arm themselves with the right partner, technique and tools. With Amadeus Demand Generation you get all this and more.
Finally, be sure to visit our:
Ultimate guide to hotel marketing to access an all-encompassing rundown of hotel marketing trends, data points, and insights
Ultimate guide to guest loyalty to access an all-encompassing rundown of guest loyalty, its evolving nature along with proven strategies to position your brand for successful long term guest relationships.