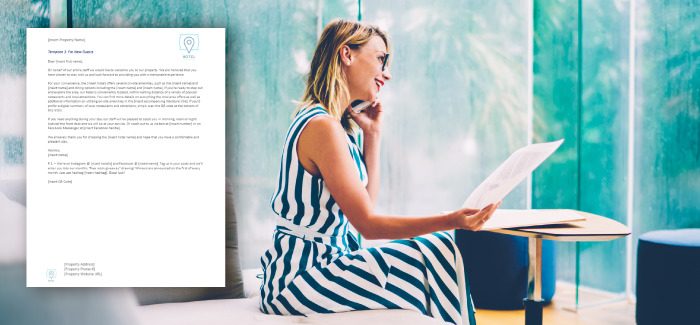 Discover the secrets to crafting a captivating hotel welcome letter in this article! Uncover essential elements, master the art of writing, and download 3 proven templates for instant success – all at your fingertips today!
Free Downloadable Hotel Welcome Letter Templates
To help get you started we have provided three complimentary welcome letter templates, each one customized for a different audience:
New Guests
Returning Guests
Group Events
Why are Hotel Guest Welcome Letters important today?
Guest expectations today are high. Which is why providing a superior guest experience is at the top of the list for many hoteliers. A personalized welcome letter is one small, but important factor in delivering the guest experience that results in repeat visits and referral business. In fact, for hotels that are looking to provide a luxury experience, the handwritten approach remains the pinnacle of the welcome letter prowess.
Also, providing a memorable guest experience is one of the most important goals for hoteliers today. To do this, hoteliers must get to know their guests and provide a personalized experience that goes above and beyond.
One small, but important piece in providing this memorable experience is writing a compelling and personal hotel welcome letter. Let's find out how!
How to Write Your Hotel Welcome Letter
Personalize the Message
Beyond addressing your welcome letter to the guest by name, you can go a step further by leveraging the information stored in your PMS or CRM system. Say for example that you have a repeat guest returning to your property. In the opening of your letter, you can say "welcome back!" acknowledging that you recognize their return. Similarly, you could offer an added benefit for the returning guest, such as a pre-emptive late checkout. You could say something like "We value your continued patronage. To thank you for being a loyal guest, we would like to offer you an extended checkout time of 2 p.m. on [insert date of checkout]." It's a minor, but proactive offer that could go a long way in creating a positive impression. The nice thing about creating personalized letters like this for returning guests is that you can still use one template for all returning guests. You can break it down any way you like, and create templates for different groups of guests, such as first time, returning, here for an event, etc.
Encourage Engagement on Social Media
Social media is an important piece of any hospitality digital marketing strategy and your welcome letter is an opportune time to encourage engagement. Throw a "P.S." at the end of your letter and let your guest(s) know how they can find you on social media. To encourage engagement, include a reason they should tag you on social media. For example, put together a contest, where you award a free night or a discount on a second stay to the guest that receives the most likes on their Instagram post using your hashtag. Of course, you would have to work out the details of the contest such as defining the timeframe and coming up with a hashtag, etc. But that's the fun part! At the end of the day, you're looking to encourage engagement and promote brand evangelism.
Make it Easy for Guests to Reach Out
Most travelers know that if they need to reach the front desk to make a request, they simply hit "0" on their in-room phone. But what if the guest is lounging by the pool and realizes they need an extra towel or would like to make dinner reservations but doesn't know the number of the on-site restaurant? You can make it easy for your guests to contact you no matter where they are by offering text messaging and social media messaging. Not only is texting convenient, it's largely preferred. According to the Pew Research Center, one-third of Americans prefer texts to phone calls. The Mobile Marketing Association reported that there are over 350 billion text messages sent every month around the globe.
After implementing texting capabilities for guests, The Breakers, a luxury resort in Palm Beach, Florida, has seen impressive guest engagement. They receive about 100 text messages per day from guests for various requests, which has resulted in a higher overall level of guest satisfaction, according to Darren Hirsowitz, director of finance and business analytics at The Breakers Resort.
The hotel welcome letter is the perfect place to introduce your texting capabilities and make it clear to guests that you are available to them via a variety of communication tools.
Be straightforward
Your hotel welcome letter should be short and sweet and to the point. Guests aren't interested in reading an anthology about your property to kick off their vacation. The letter should be helpful, informative and sincere, and should be infused with your brand's personality.
For most welcome letters, the format will be pretty straightforward. There will be an opening (the welcome), a middle (where you offer helpful information about your property and/or the surrounding area) and the end (where you remind your guests how to contact you should they need anything). If you are running a specific promotion or looking to get something of particular importance across in your letter, a postscript (or P.S.) can be a great vehicle for that. People generally remember the first and last thing they read. And since a postscript sticks out in comparison to blocks of text, it is likely to get read, especially if a guest is skimming.
In order to create a personalized stay that includes a unique hotel welcome letter (be it handwritten or typed), hoteliers need a way to collect, store and access guest information. Hotel technologies that offer guest insights and preferences will help you deliver truly exceptional and personalized experiences.
Amadeus is proud to be an industry leader in offering full and limited-service property management software used by properties in more than 150 countries worldwide. If you would like to learn more or schedule a demo, contact us and a team member will be in touch shortly.
---
Be sure to visit our ultimate guide to guest loyalty to access an all-encompassing rundown of guest loyalty, its evolving nature along with proven strategies to position your brand for successful long term guest relationships.