How Amadeus HotSOS seamlessly works with Zingle's Hotel Guest Messaging Solution to provide a faster and more personalized guest experience.
It's all about the guests! The future of hotel success heavily relies on delivering a personalized and memorable experience that keeps them coming back.
Gartner predicts that by 2018, more than 50% of organizations will redirect their investments to customer experience innovations.
Technology has truly changed the way hotels operate and serve their guests. For example, hotels are starting to install "smart room keys" that allow guests to open their room doors with a simple swipe of their smartphone. Brands such as Sheraton and Hilton has already implemented this technology in their hotels across the country.
Leveraging messaging technology and system integrations to deliver a better guest experience can be greatly beneficial for both guests and hotel staff. This is a win-win situation as guests get faster and more personalized service while hotels maximize operating efficiencies and workflows to reduce resources and costs.
For example, by leveraging guest information from a PMS or CRM system, hotel staff can send personalized messages based on guest profile and preferences and use that data to automate messages. This can help hotel staff better serve guests through more individualized communication.
Hotels are also leveraging technology to revolutionize their service capabilities through Messaging. Amadeus's Service Optimization Solution HotSOS and Zingle's guest messaging software work together to allow instant guest requests to be entered and routed to the appropriate staff member.
HotSOS is a cloud-based guest service optimization solution that helps boutique to large hotels reduce guest incidents, optimize requests and maintenance scheduling. With HotSOS it's all about streamlining requests so guests can enjoy every aspect of their stay.
Zingle is an enterprise cloud-based hotel guest messaging platform that enables hotel guest to interact with staff via SMS text message or through popular messaging apps such as Facebook Messenger. The goal of Zingle is to provide a faster and more convenient way for guests to request services or ask a question without waiting on old or long lines.
As an example, The Breakers, a luxury resort in Palm Beach Florida has seen great guest engagement and has seen about 100 text messages per day from guests for various requests. This resulted in a higher overall level of guest satisfaction, according to Darren Hirsowitz, Director of finance & business analytics at The Breakers Resort.
Here's how Zingle Messaging and Amadeus HotSOS work together.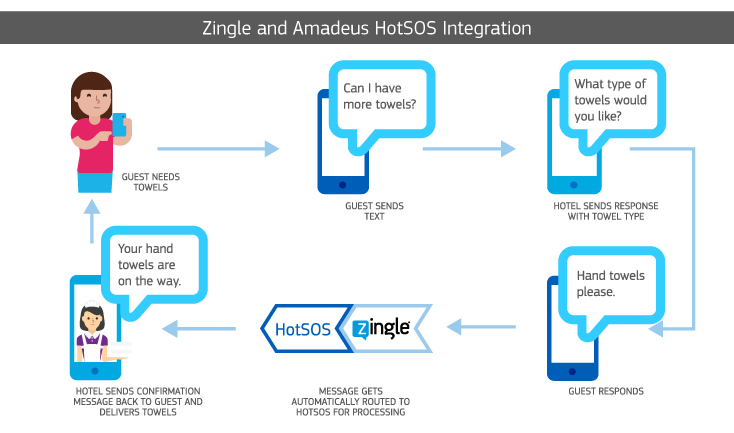 This entire process was completed without any manual work from the hotel staff and can be implemented for all common hotel requests such as room service and housekeeping.
As hotels look to differentiate themselves from their competition, simple technology solutions that connect the guest to the hotel are key to driving better experiences. How are you setting yourself apart?
Learn more about Amadeus HotSOS
Learn more about Zingle Hotel Guest Messaging