The acronym RFP typically doesn't elicit tons of excitement. RFPs can be laborious and time consuming to respond to and manage — yet they are one of the most important tools in the world of hotel management.
Fortunately, hotel RFP management tools can help hoteliers handle and respond to leads quickly and efficiently. These tools might actually get you excited about the bidding and negotiating process and can ultimately help you identify the right business for your property. In the end, you'll win more deals in less time and with less effort.
But first, you'll need to know what a hotel RFP is and what to look for when considering hotel RFP software.
Before we dive in, be sure to visit our ultimate guide to grow events and group business for an all-encompassing rundown of events, sales and catering tips, data points and best practices.
What is a hotel RFP and how to win more RFP bids?
In the hotel industry, an RFP is a request for proposal that is submitted by a buyer, which in many cases is an event planner. The RFP is intended to clearly outline everything that the buyer is looking for including meeting space requirements, the length of the event, and the expected number of attendees.
The best RFP software will let you automate the following strategies so you can respond fast and win more bids. Win more RFP Bids by following the below steps:
1. Prioritize Incoming RFPs for Faster Responses
If you're like most hoteliers and event planners, you're inundated with a huge volume of RFPs coming in from online channels like Cvent and StarCite, over the phone, via email, and even fax.
With an influx of RFPs, many hotel sales teams try to prioritize the larger, more profitable events — ignoring the growing volume of small group RFPs that could help fill function space and maximize revenue. To put this opportunity into perspective, small group RFPs represented 17% of all meeting volume in 2015, increasing to 20% in 2016.
Still, even when prioritizing the larger events, hotels struggle with response time and lack an efficient way to quickly identify the leads worth responding to. After all, not every event is the right fit for every hotel or event venue.
And if you get an RFP through Cvent or a similar channel, you know that there are at least 10 other hotels that just received the same one. With fierce competition. you need a way to quickly assess and respond to the RFPs most likely to generate revenue for your business.
Hotel RFP management software gives you this ability by helping you:
Quickly assess every incoming RFP.
Automatically route RFPs to the appropriate sales representative.
Respond to the RFPs that make sense for your business within minutes.
Speed, without sacrificing quality and accuracy, is the name of the game when it comes to RFPs. Based on a review of submissions and responses generated through MeetingBroker — an RFP management software program — 72% of first responders win the business.
2. Personalize Your Proposals
It's no secret that personalization matters in the hospitality industry. The guest experience isn't the only thing that should be considered when implementing these efforts; the RFP process could also benefit from a dose of personalization.
With so much information already available online, you must be able to provide value beyond what can be found on your consumer website. By integrating your online RFP solution with your sales and catering system, you can create auto-generated and customized proposals that include group-specific details for the business you're trying to win.
For example, hotel RFP software includes standard and customizable templates tailored for specific event types — a wedding RFP template might include different fields and use different language than a corporate event RFP template.
As research points out, consumers are spending 45% of their time independently researching their options online and offline before they reach out for more information. Additionally, the number of decision makers engaging in the process now averages at 6.8 and they're spending an additional 22% of their time discussing their options.
This is why it's so critical to respond with very targeted and personalized proposals that are written specifically for the type of event the prospective client is looking to host. This level of personalization will help the client gain a clear understanding of your hotel's ability to deliver a successful event and experience.
3. Track Customer Access in Real Time & Engage Promptly
One way to differentiate from the competition is with superior accessibility and follow-up.
Certain hotel RFP management tools give you the ability to interact with your clients in real time. Once a prospect engages with your hotel, subsequent client interaction with the RFP kicks off an alert so that you're able to respond almost immediately. This not only helps engage the client, it also streamlines the process and ensures all facts are captured correctly.
When you drive a high level of customer satisfaction through the sales cycle, you have a better chance of winning the business. Plus, this can ensure that customers not only return but share their experience with their friends and colleagues, helping you generate referral business.
4. Track All Leads & Improve Future Prospecting
Additional value can be gained by leveraging integration between your RFP management software and your sales and catering solution.
Imagine a scenario where your sales team has identified a group need period over future dates. Because you have access to historical RFP data, you can quickly identify groups that have historically shown interest in your property for this time period. Armed with this information, you can reach out to these groups to inquire about future engagements that can help fill your need period.
Or, maybe there's a particular group you were interested in booking but they signed with a competitive property in your market. By fully understanding this group's needs and expectations based on the RFP data you have preserved, you can create a "trace" in your sales and catering system to follow up with them for future business.
With all leads stored in a centralized location, your team is empowered to effectively track production, identify areas for growth, and plan for future prospecting.
5. Keep the Business in Your Portfolio: Share Your RFPs with Sister Properties
If your hotel is part of a larger hotel group, you can leverage RFP tools to share information across properties. This is often an overlooked opportunity for hotels that care about their brand portfolio and are looking to deliver superior customer service.
Say there are two large companies looking to book your property for the same dates. Either you're unable to accommodate both parties or you find it unwise to book them for the same property on the same date due to the nature of their competing businesses or ideologies. With RFP software, you can easily look at availability across properties and refer one party to that property, ensuring your hotel group still retains the revenue.
Hotel RFP management software is transforming the hospitality industry. It's now easier than ever for hoteliers and event planners to manage the RFP process and win more RFP bids.
Amadeus Meeting & Event Distribution – MeetingBroker is the industry-leading platform for group business distribution that helps venues increase their number of online leads. It enables meeting planners to use online distribution channels to submit inquiries and RFPs for their events to venues.
For more information about MeetingBroker or other software solutions that can improve your organization, contact us today!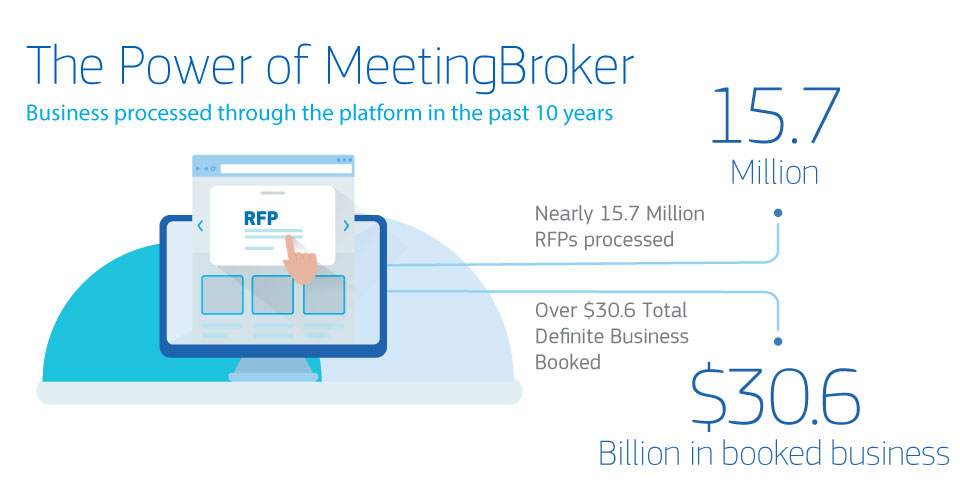 CEB (GARTNER) sales & Marketing Summit- Key Takeaways, Las Vegas 2017
Frequently Asked Questions
Q: What information is included in a hotel RFP?
A: Typically, an RFP will include items like contact information, event dates, catering requirements, technology needs, the number of rooms or meeting spaces needed, and any other relevant event information.
Q: With hotel RFP management software, how do event planners send RFPs?
A: With software like MeetingBroker, planners can submit RFPs through a hotel's consumer-facing website or even their Facebook page.
Q: What is the best way to reply to RFPs?
A: Competition in the hospitality industry is intense and static PDF replies won't cut it anymore. Proposal software, such as eProposal, helps venues create memorable RFP responses with dynamic content, rich graphics, and multimedia options. Hotels will have everything they need to make sure their proposal stands out from the crowd.