Hotel Recovery in 2022: Trends and considerations for hospitality professionals focused on sales, marketing, operations, and revenue management
Originally published on PhocusWire
Nearly two years after COVID-19 was first detected, the hospitality industry has yet to make a full recovery. Hotel occupancy rates and interest to travel have fluctuated from season to season and country to country, all impacted by government regulations, vaccine availability, and consumer confidence.
While not at 2019 levels, the good news is all regions have seen positive growth this year. According to Amadeus' Demand360® data, global hotel occupancy peaked at 60% in July 2021, nearly doubling 2020's performance for the same month. After a strong summer, bookings remain steady heading into fall in many regions, with Europe and China seeing increased demand in September.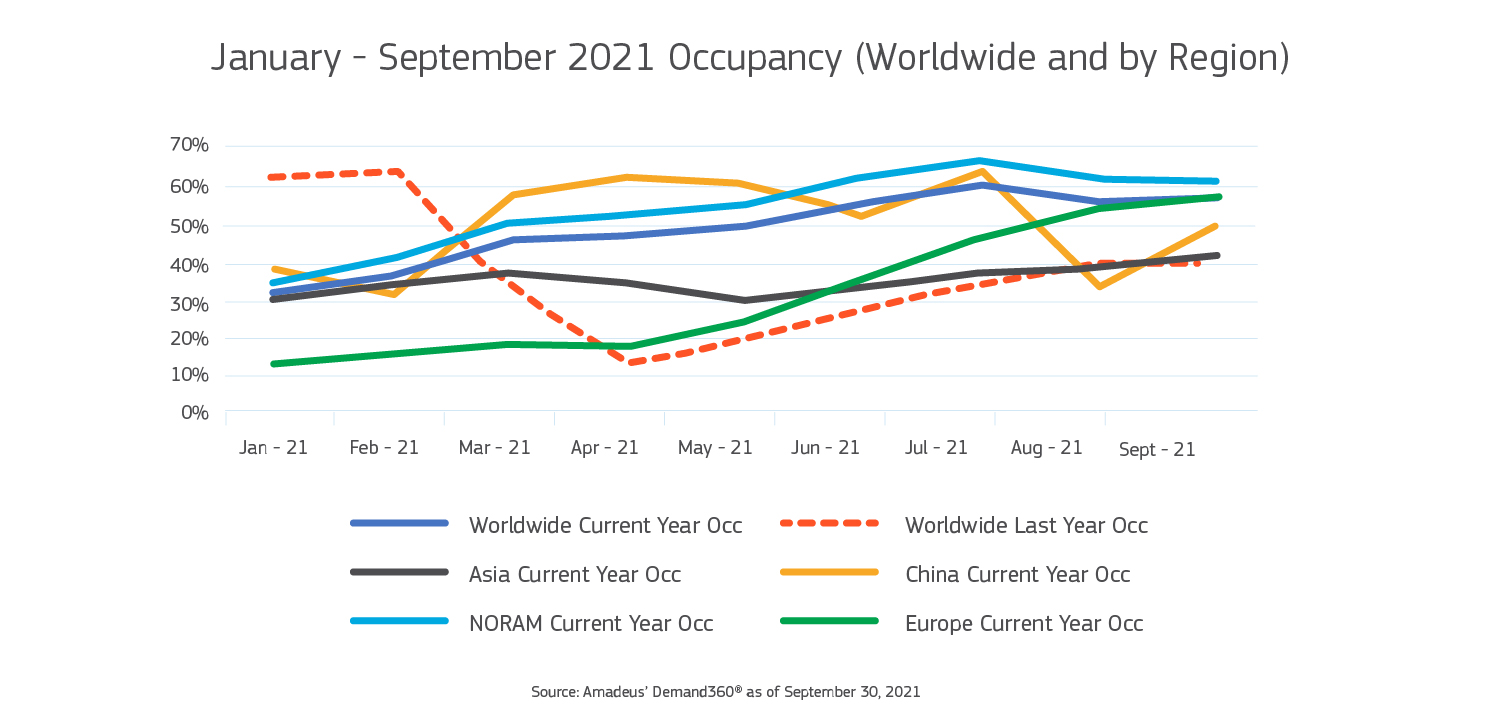 So what can hoteliers do to inspire leisure travel heading into the next few months? How will COVID-19 continue to evolve guest purchasing behaviors and lodging preferences next year?
Based on new research and industry insight, we compiled specific actionable ways for hospitality professionals to build and execute recovery plans across four key functional areas – sales, marketing, revenue management, and operations.
Here are the most important trends and considerations heading into 2022:
Adapt marketing plans to capture demand based on key market indicators
It may have been a normal process to map out business strategies on an annual basis, but the pandemic is changing the dynamic of travel too much for any decision to stay relevant long-term. By regularly evaluating key market indicators (like the booking lead time and preferred channels), hoteliers will be able to understand when and how to communicate to guests in a way that drives long-term loyalty.
For example, are most guests booking within days or even hours of arrival at the property? Do they seem to be engaging with last-minute offers or promos? Short lead time is a trend that has persisted throughout COVID-19, with nearly all reservations across the world being made within 0-7 days of travel.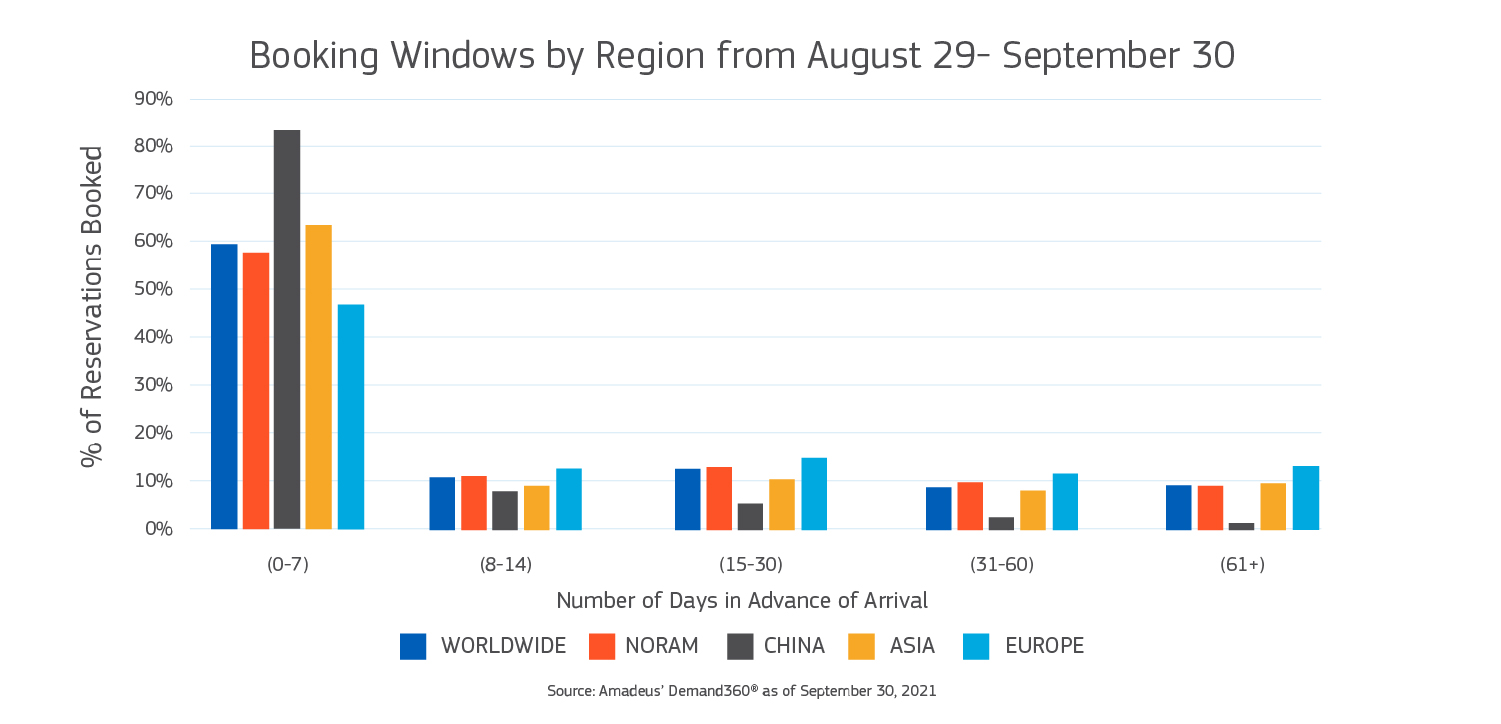 This purchasing behavior will require hoteliers to closely monitor their local market conditions and have a wide range of strategies ready to deploy. This includes digital media and advertising, which ranked as the most helpful technology during the pandemic in a survey of global hoteliers.
Pairing proactive email marketing campaigns with tailored advertising and promotions on paid search, display, social, SEO, metasearch, and GDS will keep a hotel highly visible on the channels where travelers and travel agents are looking and booking.
Keep a real-time pulse on booking channel shifts and be prepared to pivot revenue strategies
Direct bookings soared during the height of the pandemic last year as travelers looked to learn more information directly from the property on everything from available amenities to sanitization protocols. Now as travel continues to rebuild in many markets and consumer confidence returns, bookings are once again shifting back to other channels like Brand.com, OTAs, and GDS.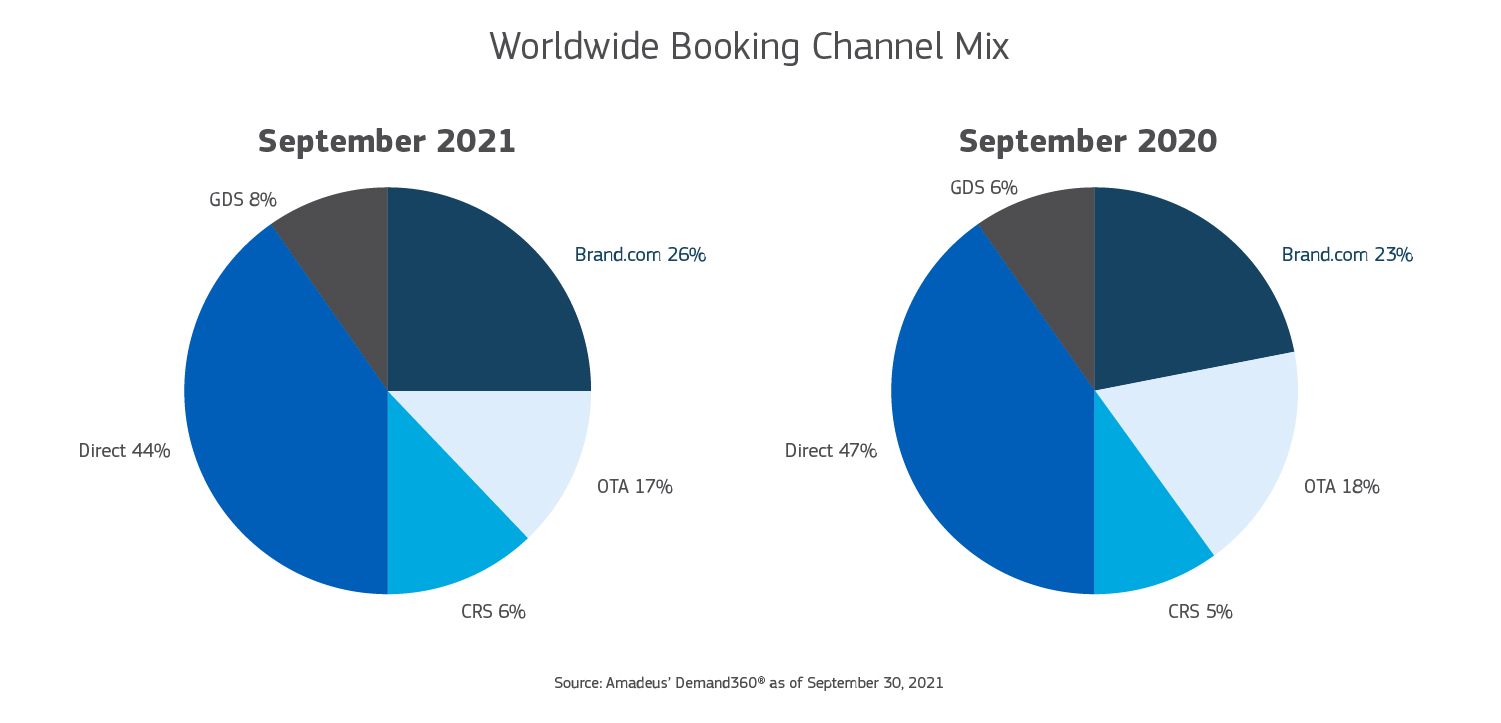 Hoteliers need to ensure their revenue strategy is powered by on the books, forward-looking data and nimble enough to pivot when needed to catch the eye of travelers and entice bookings across channels. We recommend keeping a close eye on the competition for shifts in their distribution strategies to see where a promotion or value-add offer can be introduced to differentiate the property. Don't forget about travel agents searching the GDS – this channel is another prime opportunity to highlight inventory to a key audience that often upsells experiences to both leisure and corporate travelers, resulting in a higher overall booking value.
Since 95% of global hoteliers are leveraging market performance data to monitor trends, its key for hoteliers to consult forward-looking business intelligence data to set competitive rates with attractive packages or amenities and offer flexible cancellation policies to win more business.
Automation and contactless technology will become standard in hotel operations
As travel returns, so does the need to improve operational efficiencies, as guest expectations and priorities have changed. Hotels worldwide are expected to provide a clean, sterilized environment with high service standards. But this isn't always easy in regions where labor shortages have impacted the hospitality industry.
As occupancies increase, hoteliers will need to find creative ways to meet guest requests without long wait times impacting their satisfaction scores. One way to do this could be to introduce automatic opt-out cleaning programs to avoid staffing challenges and daily room cleanings. 20% of global hoteliers that have implemented this say they plan to keep it in place long-term.
If daily room cleaning is a must to maintain a property's brand promise or star rating, automation technology that streamlines operations and improves staff productivity will be key to address cleaning or maintenance tasks promptly.
Either way, for properties both big and small, service optimization solutions are critical for hoteliers that will be forced to do "more with less" for the foreseeable future.
Among the many aspects of hospitality operations that have changed due to COVID-19 is social distancing. Even in an industry centered on the human connection, hoteliers still agree that both enhanced cleaning measures and long-term reduction in guest contact are here to stay. 30% of hoteliers in our global survey are most excited about the acceleration of new contactless tech to enhance the guest experience as we emerge from the pandemic. From temperature checks upon entering, to mobile check-in and digital keys, hotels will need to consider technology to further support a new age of contactless guest engagement. Not only do these technologies offer convenience for the guest, but more than four in five travelers feel it will increase their confidence to travel.
Sales and group business will look fundamentally different than in years past
As travel rebuilds across both leisure and business segments, sales teams have a unique role to play as a link between revenue generation and the changing needs of customers. As traditional business travel has yet to return to pre-pandemic numbers, sales teams are pivoting their strategy to focus less on prospecting corporate accounts and volume contracts, and instead searching for new creative opportunities.
Be sure to visit our ultimate guide to grow events and group business for an all-encompassing rundown of events, sales and catering tips, data points and best practices.
With optional offices and remote work gaining momentum, sales teams should consider how to position their properties as a preferred location to host meetups for remote teams or for local businesses that have closed office space but still require a physical location to meet clients. A similar approach could work for 'bleisure' travelers or digital nomads that have the flexibility of working from anywhere. They are actively looking and booking hotels as their home base to explore new cities and regions on a whim, so it's important to build messaging and promotions that connect with them.
Another important dynamic for selling group business is determining whether leisure or corporate groups feel comfortable hosting in-person events. Hoteliers can reach out to contacts to gauge their interest level in booking a meeting or event in 2021 and into 2022. Additionally, sales collateral can be updated with COVID-19 protocols to highlight attendee safety measures and investing in new technology will support the ability to host socially distanced and hybrid events to capture short-term revenue until large events return.
Although plenty of day to day challenges remain for hoteliers, the good news is the industry is making steady progress in its recovery. Global hotelier sentiment reflects this, with 53% of survey respondents expecting pre-pandemic levels of occupancy to return in 2022. In order to make the most of the current situation, we recommend hoteliers to connect with their targeted audience, provide constant communication and reassurance regarding COVID-19 protocols and available amenities, and invest for the future – whether it's in staff, business intelligence data, or technology.
These three elements will be some of the most critical to a hoteliers' ability to manage the present and grow in the future, and will ensure properties are poised to rebuild stronger than ever.
To download our full recovery guides or view fresh hotel performance insights, visit our Rebuild Travel library.