Hoteliers predict prices to increase which is especially encouraging for Limited Service hotels that depend on room rates as their main revenue driver. Offering rooms at the right price is critical – if rates are too high then occupancy drops; if the rates are too low then profits can be tight.
Before we dive in, be sure to visit our ultimate guide to grow events and group business for an all-encompassing rundown of events, sales and catering tips, data points and best practices.
How Technology Can Help Limited Service Hotels Win More Group Business
Hoteliers have a range of technology choices when it comes to marketing their occupancy and at what price. However, these tools or channels treat room rates as standalone revenue and fail to incentive guests in other ways. Having additional sources of non-room revenue can help eliminate budget concerns and set up the business for long-term success.
In our recent LinkedIn survey, hospitality professionals ranked increasing group business as the #1 sales and catering priority of Limited Service hotels in 2018.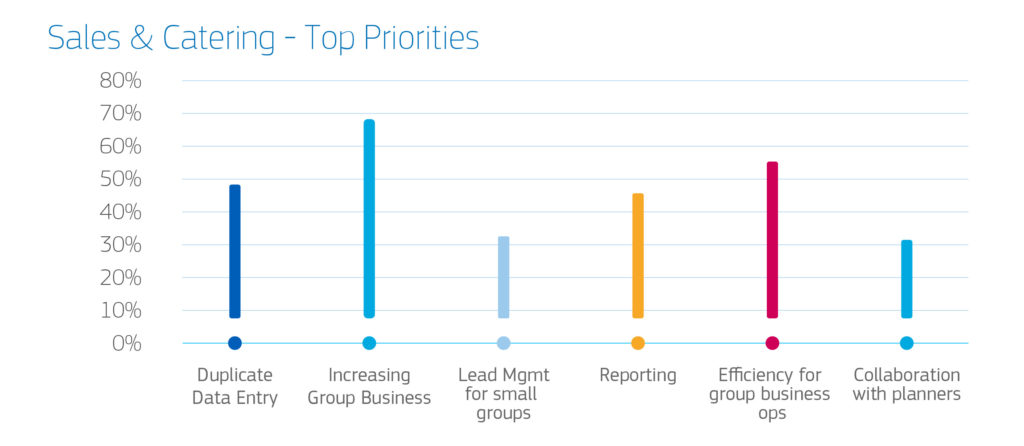 In order to do this, owners should invest in meeting and events technology to efficiently manage these complex customer relationships. The major benefits of implementing a solution include:
Upselling: Group bookings, in particular, provide clear upsell opportunities, but it can be difficult for Limited Service hotels to capitalize on them. By adding technology to automate the process, they can offer groups everything from meeting space to food and beverage throughout their stay. The right software can not only promote these additional services but unite a hotel's IT setup to enable connectivity between systems.
Connect With Planners Online: Limited-Service hotels can't compete with the budget, space, or dedicated staff employed by luxury properties or conference venues for large-scale events. However, they can use technology to their advantage to drive smaller meetings and functions away from their competitors and to their properties. A number of innovations have enhanced the digital request for proposal (RFP) process, allowing hotels to expose their available meeting space to event planners through their website or another online booking channel. Planners can book non-configurable board rooms automatically, and even add packages to include meals or audio-visual equipment.
Respond to RFPs Faster; Win More Business: Today's planners expect an immediate response to RFPs, which can slow dramatically if hotel staff is forced to manually enter data. Technology can help streamline the process and win more business by using rules set by the property to generate a quick, accurate response to an RFP.
Download our study to learn how technology can help limited service hotels win more group business, to increase revenue, reduce costs, and satisfy their customers.
[1]
American Express 2018 Global Meetings and Events Forecast