Before we dive in, be sure to visit our ultimate guide to grow events and group business for an all-encompassing rundown of events, sales and catering tips, data points and best practices.
Group business is the number two revenue driver at a hotel after transient guest rooms, yet most properties don't dedicate much of their digital presence to this valuable business line. In a recent study we conducted, the number one priority for hotels in 2018 is increasing group business. To increase your group business, you need to increase the number of qualified leads you receive and your conversion rate for those opportunities.
Your website is a great place to begin evaluating how you can increase the number of qualified leads submitted and also improve your conversion rate of those leads. In some ways, your property website isn't so different from an ecommerce website experience. We know our guests and planners are interacting with some of the best user experiences available on a daily basis. Those experiences affect their expectations of all online experiences, including how much information is available on a property website and how easy it is to make comparisons, book, or submit a request.
One of the top ways to improve your online experience and increase your group business is by investing in digital lead-generating and automation software. That being said, new technology often requires finding and making the case for the budget. In most properties and management companies, the Chief Marketing Officer (CMO) or similar role manages the website team, and thus the budget, for a hotel's website. If you're looking to make a pitch about investing in your online experience, here are a few ideas on how to pitch group and event software and for catching the attention of your CMO. It's all about return on investment (ROI).
Improved Space Details & Diagrams
Make it easy to find and visualize your meeting room information. Most event venues have room capacity charts for each room in every available layout. But do you show the layout of the entire venue? The floor configuration and what rooms are near each other can be the extra details needed to help a planner decide if your venue is the right fit for their event.
Similarly, including nearby dining, shopping, and entertainment can give planners an idea of the area without having to dig for information on their own. Knowing all the hot spots nearby can help simplify location selection.
An event space diagram can solidify a decision, allowing the planner to see how the space can be set up for their event specifically with accurate details before they even sign a contract.
What's the ROI?
Increased qualified submissions
Increased conversion by preparing a more thorough proposal
Online Booking
Do you host small, repeatable meetings with local businesses? Booking online can expedite the process, saving everyone time. When you empower planners to book events right on your website, they can make decisions on their own time, book at any hour, and confirm their date, time, and cost in minutes as opposed to days. You'll also drive more qualified business by making your space availability and costs for small meetings and events visible on your website. Planners can determine if your venue fits into their budget and is available for the time they are seeking without Sales needing to exchange multiple emails.
What's the ROI?
Sales has more time to work larger/more complex business
Increased number of small events
RFP Submission & Automation
According to a review of RFP submissions and responses generated from MeetingBroker, 72% of first responders win the business. So the only way to be competitive is to ensure your venue can respond quickly to submissions received.
Your RFP submission form should match the details you have in your sales and catering software. Then you can connect your RFP solution to your sales and catering software, inputting inquiries directly into the system. These inquiries can be set up with automation to ensure every lead is handled as quickly and efficiently as possible and no lead is left behind.
What's the ROI?
Increased chance of winning the business
Decreased number of leads missed or not responded to
Decrease time to conversion
Decreased effort to input inquiries
Dynamic, Multi-Media Rich Proposals
Once you've collected a qualified event request for proposal, you still need to "wow" the planner. Statistics show that our average attention span on any one topic is only about eight seconds, so every moment a planner looks at your proposal counts. Including beautiful photos and videos with an easily navigable online brochure could make the difference in enticing a planner to book. Your digital experience should impress a planner in such a way that they will know you'll deliver that same level of professional expertise and detail for their event.
Integrate your proposal tool with your sales and catering solution and you can quickly generate the event information dynamically to make sure you can still provide that quick response required by most planners today.
What's the ROI?
Increased chance of winning the business
Improved property perception
Decreased time for proposal creation
eSignature and Online Payments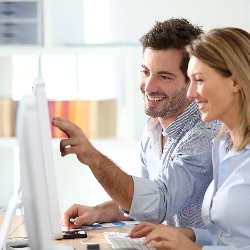 Connecting your sales and catering software with a solution that offers eSignature means you can send a contract and the planner can sign right online, even from their mobile device, without having to print and then scan or fax the contract back. It then saves you time when you have to counter-sign, scan the signed contract into your system, and send it back to your planner. Instead, the process is entirely expedited and automated, creating bookings more quickly.
The same goes for online payments. Rather than authorization forms and credit card information around the office, your planners can make payments online, wherever they may be, through a secure system.
What's the ROI?
Decrease time to conversion
Realize funds more quickly
Reduce costs (paper, ink, mailing)
Improved security and PCI compliance
If you're ready to talk further about ROI, one of our sales associates would be happy to prepare a customized business value assessment for you.