By: Katie Moro, Vice President, Data Partnerships, Hospitality, Amadeus
Originally published in HSMAI Americas Customer Insight
Before we dive in, be sure to visit our ultimate guide to grow events and group business for an all-encompassing rundown of events, sales and catering tips, data points and best practices.
Recently we reviewed the current and future state of business travel into the fall. We reported that people are still traveling for business and offered some helpful insights:
To capture this business, you need to understand who is traveling and where they're booking.
Review business intelligence booking data for your market and identify account activity in your CRM to target key accounts booking business.
Reach out to these companies to let them know you have availability and outline your COVID-19 safety precautions.
Take some time to share the latest regulations for your market to help them gain confidence that travel to the area can be done safely.
Be sure to consider the channels where these travelers may be booking as current trends show shifting booking patterns.
For this article, we talked with Kristi White, VP of Product at Knowland, to understand what meeting space and group business looks like, including where we have been and a current report on the state of group in 2021. 2020 had all the makings of another banner year as we see even in Q1 group contribution of total occupancy only ended up lagging Q1 of 2019 by 3.2%, and that's with the world/U.S. imposing travel and gathering restrictions in March.
What's Happening in Group Business?
Looking at the data, group business is following similar overall trends seen with business travel, with the second-quarter showing the lowest overall demand. What's promising and maybe a little surprising for some is group performance has been consistently improving in the third and fourth quarters.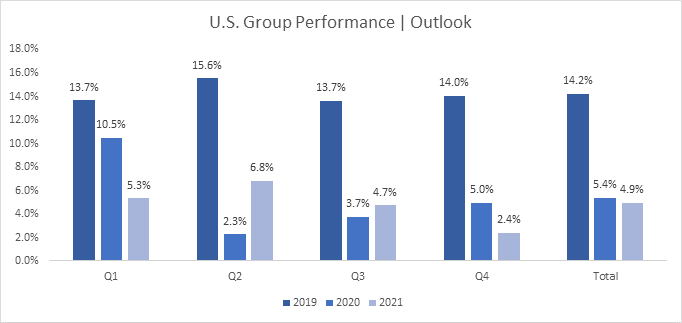 The simple answer is meetings are happening today. Though not all group meetings and events have room nights associated (yet), you can be sure that the companies having meetings today will be the companies having meetings next year.
In the last 60 days, Knowland has seen a 215.8% increase in meetings in North America. The markets with the most meetings over this time frame have driven most of these increases.
While most of these are major markets, Knowland has also seen secondary and tertiary markets with significant growth.
As you would expect, these meetings are smaller, with more than 50% of meetings estimated to have 50 people or fewer. Additionally, more than 50% of these meetings are occurring in space smaller than 2,000 square feet. Social distancing protocols drive this. However, as those relax and people become more comfortable with the Duty of Care standards hotels have put in place, these group sizes are likely to increase. And with those increases come room nights.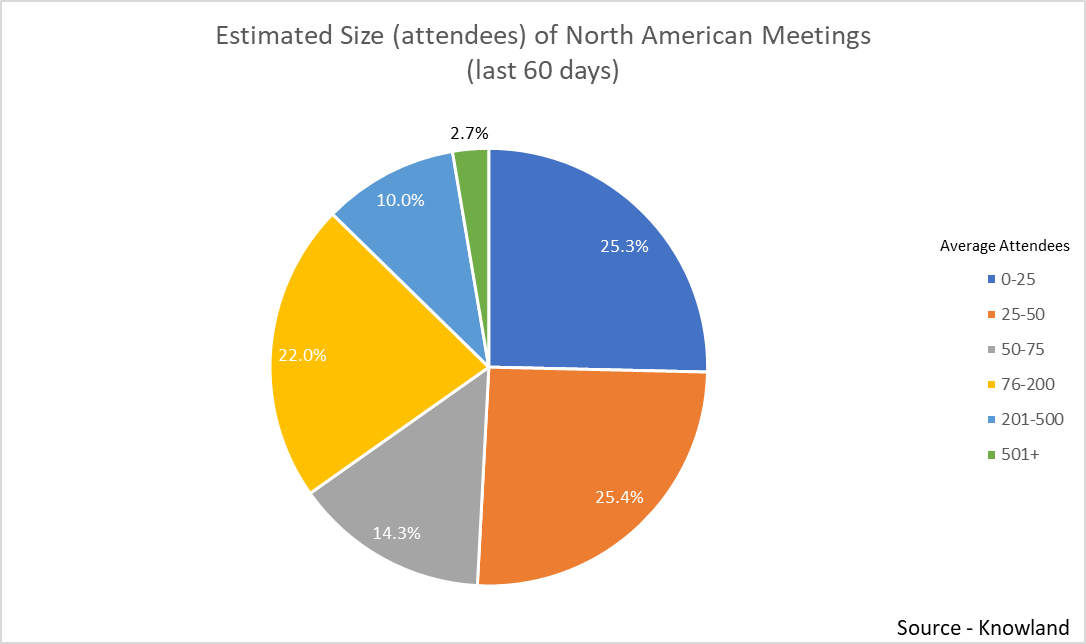 What Types of Groups Are Meeting and Where?
We know meetings are happening, and we know they are smaller in nature. But what types of meetings are happening? Or perhaps the real question, is this business a hotel can target to acquire? More than 60% of the business happening today is corporate business, which means a savvy salesperson can prospect to capture it.
2021 is off to a strong start with group occupancy contribution lagging all of 2020 by only 0.5%, and as an industry, we still have 441 days to continue to book new business. With the shift in Easter a week earlier in April and the presidential election behind us, the second quarter is by far the best performing.
As we did in the previous article on business travel, we wanted to share some insights into the country's areas showing the highest performance in the group segment. As Hawaii welcomes travelers back, it's nice to see them on the radar once again, and no surprise to see the District of Columbia top the charts in both Q1 and Q2.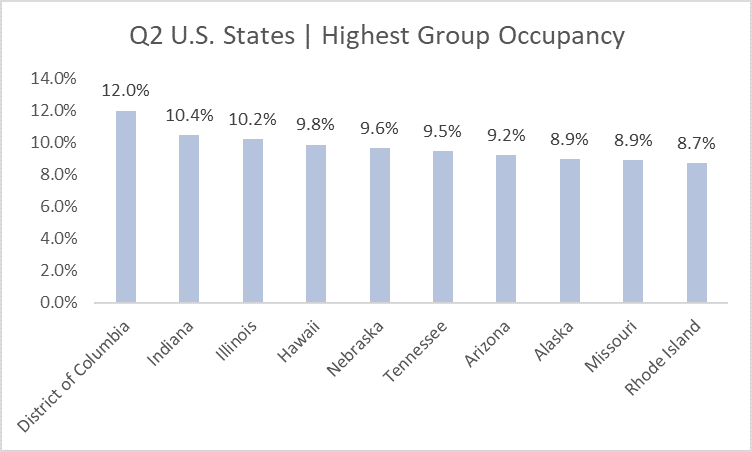 What Can You Do Next?
Now is the time to build your strategy to capture available group business in the coming months. Understanding who is meeting in your market, clearly communicating your Duty of Care processes, and maintaining strong relationships will be critical. Also, think about some of the following actions you make want to consider to help facilitate your recovery of group business:
Are you and your teams staffed to handle incoming leads?
What is your team doing to look for new business as it is happening?
Have you redesigned your meeting room capacities and diagrams?
Have you reconsidered your food & beverage options to allow group attendees to feel safe and comfortable throughout their meeting?
Are you offering PPE? Hand sanitizing stations and masks?
What about disposable flatware and china?
The hospitality industry is strong and resilient.  Are you ready to build your path to recovery?
For more best practices on leveraging data to build an effective marketing strategy, please visit our Planning for Hospitality Recovery resource center.