Covid-19 has fundamentally altered how hotels plan, manage and sell group business. Without knowing when and how a recovery will unfold, sales leaders face the difficult task of building a coherent strategy to bring revenue back in the door.
Before we dive in, be sure to visit our ultimate guide to grow events and group business for an all-encompassing rundown of events, sales and catering tips, data points and best practices.
While there is no exact blueprint for how the recovery will unfold, we have created a framework to help guide your decision-making process as you prepare your sales team for a hospitality industry recovery. To start, we recommend that you:
Identify the driving factors of hospitality industry recovery in your market, and then,
Overlay your property's group business mix and unique characteristics to identify areas of highest impact.
Think about how your unique characteristics may appeal to a new or more localized audience during a period of limited travel.
Factors Impacting Hospitality Industry Recovery
Covid-19 has created a crisis that is both global in scale and hyper-local in severity. Unlike past crises, this downturn affects every segment of group business and has an impact that cannot easily be segmented across traditional classifications. Simply trying to build a plan around the traditional labels we use for group business (such as business vs. leisure) will not provide the nuance needed to develop an actionable recovery plan.
Instead, sales leaders need to build their recovery plan around an understanding of the primary frictions that inhibit group business segments post-coronavirus. We have focused on an event's locality and its attendance size.
Locality and attendance matter because of regulatory issues as well as health and safety concerns. For example, attendees may prefer to attend a local event because they feel safer driving in a car rather than traveling through crowded train stations or airplanes. Not only that, but crossing any state, province, or international borders might involve forced quarantines or other restrictions such as mandatory testing or identity verifications.
The attendance size of an event adds further complications as venues are likely to encounter changing capacity regulation restrictions and additional investments to ensure safety. Whether it's insurance policies, fever cameras, or providing masks to participants – the larger an event is, the more time and money it will require to satisfy safety concerns.
The result is that the hospitality industry recovery will be uneven. Events and group business will recover at different rates depending on location and size. To visualize how these factors will impact the recovery timeline of events, we have created Figure 1 below. The further up and to the right an event is on this chart, the longer it will take to return to normal. Sales leaders need to understand that as event types get bigger and become more international, the time, difficulty, and investment required to recover to pre-crisis levels increases.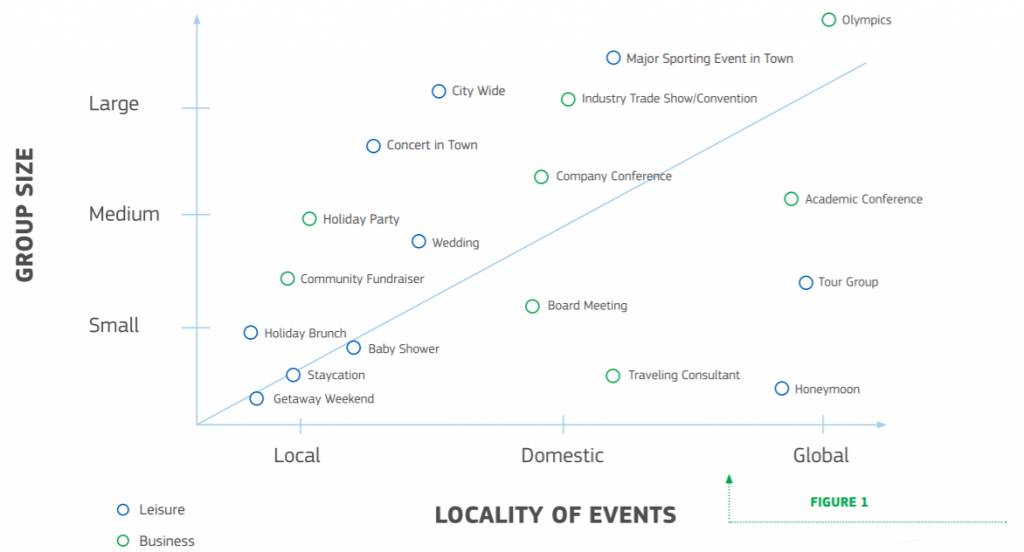 Analyzing Your Group Business Mix and Property Characteristics
Using Figure 1 as a guide, sales leaders should map out where their mix of group business clientele falls on a likely recovery timeline.
Consider a property that has a 50/50 business split between transient and group business, and that typically hosts large (250+ person) fly-in events. In this case, a large portion of the property's future revenue is highly at-risk.
In this example, the sales team must push to bring in a higher percentage of transient business while also creating offerings to sell smaller event types. Just as importantly, the sales team will need to implement retention strategies to stay in touch with their impacted clients so that they can keep their business when large events can resume.
Conversely, a property that has historically focused on local events and staycations may find that the best plan is to double down on their current strategy. They may find additional demand through increased prospecting among their target market, and they may discover new interest among groups or businesses that can no longer travel (i.e., a corporate board meeting or bachelor party).
As sales teams begin prospecting for more local business, they must start by laying the foundation for local partnerships, packages, and promotions. This requires sales leaders to evaluate the unique value proposition and assets of their property. For example, is there underutilized space (such as a penthouse, restaurant dining room, or nearby function hall) that can be used to flex capacity for socially distanced event setups or dining? Can rooms be retrofitted with better audio/visual equipment for virtual conferencing? Can partnerships (like a VIP golf experience) be created to entice destination events to stay local?
Taking inventory of your property's unique assets will determine how your sales team positions your property to meet customers' newly changed needs.
Developing Your Strategy
There is no one-size-fits-all plan to lead your sales team to success. Instead, sales leaders must understand the sliding scale of impact across their group business mix and overlay it with the unique value propositions that their properties can leverage to adapt. At the intersection of these two pieces of analysis is the cornerstone for a path forward that will enable sales leaders to motivate their team and bring revenue back in the door.
For more insights on how you can guide your sales team through recovery, read our eBook dedicated to this topic – Planning for Hospitality Recovery: Sales. With insight from Amadeus experts, our partner HSMAI, and their advisory board of sales leaders from around the world, we've provided the insight you need and an action plan to make an impact.