UK and Ireland Forward-Looking Data Insights 2020
With occupancy rising and rates falling, how can hoteliers attract profitable demand during reopening?  
As places in Europe began to open their doors, the world turned to the UK and Ireland. With cities like London typically topping the list for top European destinations, hospitality professionals waited for the green light that they too could begin welcoming guests. The good news? Since the announcement that hotels could reopen at the end of June in Ireland, and on the 4th of July in England, travellers have wasted no time booking their summer holidays. Drawing from Amadeus' Demand360®forward-looking demand data, we have seen an increase in the number of hotel reservations on the books in the first week of July.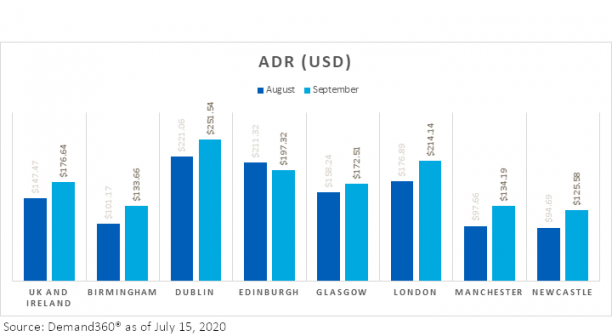 Looking ahead, keep an eye on your rates
When we look at the increase in travel demand, hotel reservations are returning faster than flight bookings. As expected, this confirms that domestic, leisure travel will begin to recover first. Fortunately, over the past few years, the UK has increasingly been known as a staycation nation with holidaymakers foregoing trips abroad in favour of exploring destinations closer to home. Though this will certainly help hoteliers, domestic demand will still be reduced due to ongoing anxiety from consumers when it comes to travel. What can hoteliers do to manage this?
The first rule of revenue management tells us not to lower prices drastically as it will cause guests to expect these rates when booking again in the future. In a COVID-19 world, price is no longer the most important factor. Instead, 72% of Brits said that they will first look at a hotel's health and safety protocols before booking (Accor, 2020). In order to attract demand, hoteliers need to ensure that they are clearly communicating and demonstrating these hygiene measures. Our data suggests that current Average Daily Rates (ADR) have dropped compared with last year across major cities.  These rates are expected to rise again as we head further into the summer, with notable increases in August for Dublin and Edinburgh. Hoteliers should seek to maintain these higher rates and focus on satisfying guest needs through a commitment to customer safety.
The process for reopening is not straightforward for anyone, and we all know that recovery will not happen overnight. In order to support you through these uncertain times, Amadeus has developed a dedicated Recovery Hub, with complimentary materials available to guide all parts of your business.