Hazem Hussein
Chief Executive Officer
Hazem's industry experience spans nearly two decades. Prior to joining the Hospitality team, Hazem managed both Eastern Europe and Asia Pacific regions as the Executive Vice President for the Airline Group.

He joined Amadeus in 2005 and he has had the unique opportunity to witness the impressive growth of Amadeus into a major player for the travel industry, demonstrating his business leadership abilities in markets such as Spain, Egypt, Middle East, Africa and North America, where he held senior management roles in both the airline and travel agency divisions.
However, his passion has always been on developing and growing business relationships with new and existing airlines and ensuring that Amadeus continues to meet the growing needs of global airline customers.

Prior to working with Amadeus, Hazem worked for First Data Corporation (1999-2004) as Regional Vice President Western Europe and MEA, responsible for the financial services outsourcing and money transfer division. He also worked for IBM WTC (1994-1998) as Regional Director of the outsourcing division.

Hazem holds dual American and Egyptian citizenship. He has been awarded a BSc in Electronics & Communications and an MBA in Sales and Marketing.
Paul Rantilla
Executive Vice President, Global Sales
Paul serves as Executive Vice President of Global Sales. With more than 20 years of hospitality technology experience, Paul has an extensive track record of leading customer focused sales teams to exceptional performance.

Prior to joining the Hospitality division of Amadeus in 2014, Paul spent 12 years as Executive Vice President of Global Sales at Passkey (now part of Lanyon), where he led sales and was instrumental in shaping Passkey's market, product and service direction. He began his career with Newmarket* in 1994, holding several positions including Managing Director, Asia Pacific and Director of Sales.

Paul received his degree in Business Administration from the University of New Hampshire.

*Newmarket was acquired by Amadeus in 2014
Tim Pelletier
Chief Technology Officer
Tim is the Chief Technology Officer for the Hospitality Division of Amadeus.

Working at Newmarket* for more than a decade, he held a variety of development and product strategy roles, including Director of Product Management, Enterprise Architect and Senior Software Engineer. Prior to Newmarket Tim was a Lead Architect with Microsoft in their Business Solutions Group.

Tim holds an MBA in High-tech Business from D'Amore-McKim School of Business at Northeastern University,an Executive Certificate in Management and Leadership from MIT Sloan School of Management and a BA in Computer Science and Mathematics from Saint Anselm College

*Newmarket was acquired by Amadeus in 2014.
Bill Sintiris
Chief Operating Officer
Bill serves as Chief Operating Officer of Amadeus' Hospitality division. In this role, he is responsible for all aspects of customer delivery and success, overseeing Professional Services, Customer Support, Data Center Operations, and Information Technology.

Since joining Newmarket* in 1995, Bill has held a variety of senior leadership, technical and operational positions. He helped architect and build a global data center delivery model that has grown to service over 150,000 users.

Bill holds a Bachelor of Science in Business Administration with an Information Technology Concentration from Southern New Hampshire University.

*Newmarket was acquired by Amadeus in 2014
Yanick Larose
Vice President, R&D-NBU
Yanick Larose was appointed VP of R&D-NBU (New Businesses) in November 2013. He is responsible for the development of products in different businesses such as (Rail, Hotel, Airport IT, Travel Intelligence, Car, Cruise & Insurance). The NBU Product Engineering Group has been created to develop emerging and high potential businesses, diversifying Amadeus' opportunities.

Yanick joined Amadeus in November 1992 and has worked in various positions in development and management of front-office, mid-office and reporting products. Before his current role, Yanick was Director, Product Development since Nov 2007; he was responsible for the development and deployment of Amadeus' Corporate (self-booking tool) & Selling Platform for travel agencies.

Prior to joining Amadeus, Yanick worked as a Research and Development engineer, both at the Bull Research Centre for Artificial Intelligence in Paris, and at the Artificial Intelligence R&D Centre of Swedish Telecom, in Stockholm, Sweden between 1986 and 1991.

Yanick holds a Master's degree in Computer Science from the University of Paris Jussieu and the Ecole Normale Superieure, St Cloud and a Graduate's degree in Business Management from the University of Nice.

A French national, Yanick also speaks English and Swedish.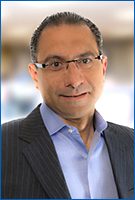 Ahmed Youssef
Executive Vice President, Marketing & Corporate Development
Ahmed currently serves as Executive Vice President, Marketing & Corporate Development for Amadeus' Hospitality Division. He has more than 20 years of executive experience in travel technology, distribution and marketing.

Having joined Amadeus in 2006, Ahmed was previously the Madrid-based Global Director for Hotel IT Business Operations and Business Development. He has also served as Regional Director - Marketing & Operations, and Regional Markets Director for Middle East and North Africa. As Head of the Arab Air Carriers Organization (AACO) Program, Ahmed and his team elevated Amadeus into a regional leadership position.

Prior to Amadeus, Ahmed worked for several global blue chip companies, including American Express Travel, as Director of Operations & Business Travel, Showtime network and Kanoo Travel.

Ahmed holds a BA in Business Administration with a major in Marketing from the University of Cairo. He completed executive management post graduate studies at Canfield University in the UK and speaks both English and Arabic fluently.
Bas Blommaart
Executive Vice President, Product strategist CRS, PMS & Channel Management solutions.
Bas joined Amadeus in 2015, and currently serves as the Executive Vice President Product Strategy for Central Reservations System, Property management systems, and Channel Management solutions. Bas together with a team of industry veterans is responsible for the direction of the Amadeus cloud platform reservation solutions. In this role Bas interacts with all C-level industry leaders and experts to determine how to unlock the brand value for hotel chains.

Bas holds two master degrees in Information Systems & Business from the European University, Antwerp,Belgium.
and a BSs in electronics of from HTS Rens & Rens, Hilversum (The Netherlands)

Prior to joining Amadeus, and as an entrepreneur Bas was the CEO of Itesso from 2010 – 2015 ( acquired by Amadeus in 2015), and prior to that he was Managing Director , Brilliant Hotelsoftware from 2008 – 2010, he was also Managing Director for Hotel Concepts from 1994 – 2010

Bas enjoys piloting an aircraft around the world when he is not on an airliner traveling to clients, partners or industry events.

Paul Barron
Executive Vice President, Client Engagement
Paul Barron serves as Executive Vice President, Client Engagement and brings over 25 years of leadership and technology experience within Hospitality and Service industries.

The majority of Paul's career was spent with Starwood Hotels and Resorts, starting in Europe and then moving to the US, where for over 20 years he was in a number of IT leadership roles. In partnership with the business operators, brand teams, and franchise holders he drove technology strategy and adoption ensuring the technology needed to grow and manage the business was in place. The last eight years at Starwood was spent in a global role with responsibilities for technology across all brands and several critical corporate business teams.

Paul also served in the role of CIO at Town Sports International, a publically traded, New York-based Health and Fitness Company where he delivered a complete technology transformation program including the replacement of the core membership and billing systems, supporting the many lines of business within the company.

Before joining Amadeus Hospitality, Paul was Senior Vice President, Head of Member Technology at WeWork, where he focused on the IT design, build, operations and support of all locations globally to enable the unique working environment created by WeWork.

Paul holds a BA Degree in Hotel Management from Robert Gordon's University in Aberdeen, Scotland.
Jo Stanford
General Manager EMEA & ASIA
Jo Stanford joined Amadeus in 2014 as Managing Director, EMEAI.

Prior to joining Amadeus, Jo served as Group IT Director for the De Vere Group, one of the UK's leading independent hospitality companies, where for eight years she was responsible for leading the strategy and deployment of IT and eCommerce solutions across the entire portfolio. During her time at De Vere Group, Jo also took on a four year tenure (2008 – 2012) as a non-Executive Director of Millenium Stadium Plc (home of Wales Rugby Football Union), where as a member of the board, she was responsible for advising on strategy and corporate governance.

Before joining De Vere Group, Jo served for six years as Group IT Director EMEAI for consulting engineers Parsons Brinckerhoff. Prior to serving as an IT Director, Jo's career was in sales & marketing, culminating in a number of senior executive roles in a variety of commercial areas including clothing manufacture, IT training and hospitality.

Jo undertook post graduate education at Liverpool University gaining a distinction in Business Administration. In addition, Jo has served time as a voluntary mentor to young entrepreneurs through the Prince's Trust.