Digital Media Reporting
On-Demand reporting for your property's digital advertising performance – whenever you need it.
Get immediate access to campaign analytics and performance, updated daily across all your Digital Media channels. Our interactive reporting dashboard gives you a summary of your campaign performance, as well as detailed performance metrics and hotel-specific KPIs.
Instantly understand the impact your advertising program has on your bottom line with reporting that shows how your ads translate into bookings.

Campaign statistics
Easily understand your campaign performance and the expense of each channel with metrics like impressions, clicks, and clickthrough rate (CTR).

Production
Understand the value that each channel is providing with hotel-specific metrics such as bookings, revenue, room nights (RN), average daily rate (ADR), and average length of stay (ALOS).

Performance
Translate campaign and production statistics into overall performance with metrics such as conversion rate (CNVR), return on ad spend (ROAS), net revenue, cost of sale (CoS), and revenue per booking (RPB).
Filter comprehensive views of your campaign's performance
Need a closer look at the data to understand the bigger picture? No problem. Our reporting dashboard allows you to filter campaign performance by channel and date so that you can easily find the information you're looking for.
Filter by channel
Drill down into performance on PPC, Display, and Social channels – and identify the most profitable platforms within each channel, as well as how bookings and revenue from these channels are trending week over week.
Filter by date
Select from pre-set time frames or manually choose the window of time you'd like to view.
Identify your highest-performing ads and keywords
Do you know which ads and keywords get you the most return on your spend? Once you know what's successful, you can expand and optimize other campaigns.
Top ads report
Get a snapshot of your top search ads – as well as why they're your top ads with a report that shows impressions, clicks, CTR, cost, CPC, conversions, and cost/conversion.
Top keywords report
Know exactly which keywords are driving the strongest performance with this report that shows impressions, clicks, CTR, CPC, cost, conversions, conversion rate, impressions (top) %, and impressions (absolute top) %.
View trending performance over the last 12 months
This trailing 12-month overview makes it easy for you to review performance in terms of bookings, ROAS, cost, and revenue.
These visually-driven reports simplify the process of determining effective months and identifying opportunities to shape a successful media strategy.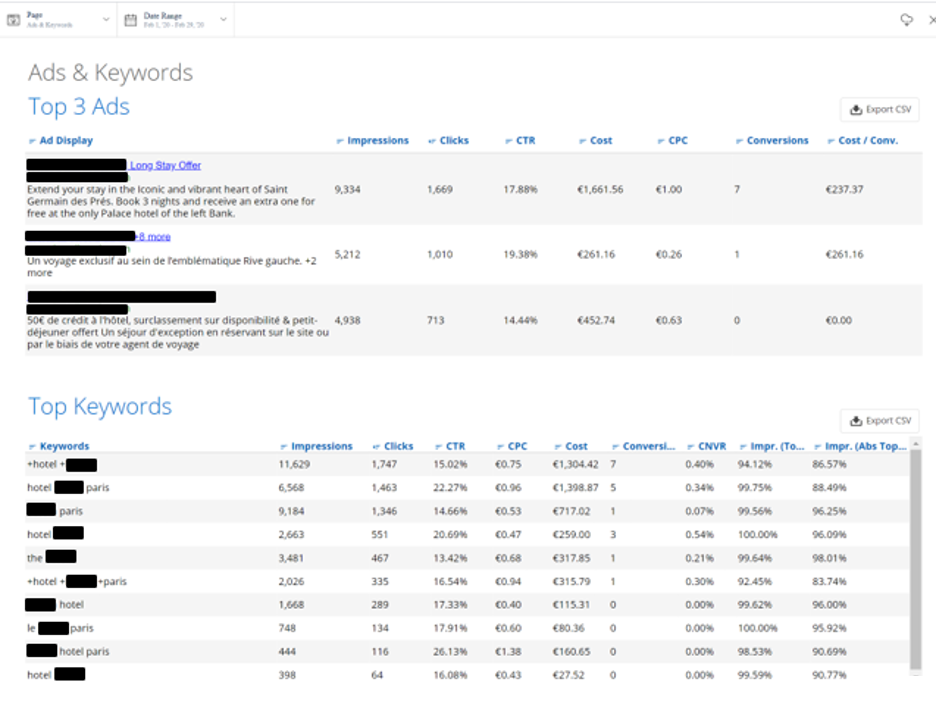 Communicate your property's digital advertising performance to stakeholders
Need to make a case for more marketing budget or support the work that you've done on campaigns so far? Just export these reports into PDFs to give key stakeholders the insights they are looking for.
You can also export any table as a CSV so that you can review the data exactly how you want before presenting your results, sending it to a more detail-oriented team leader, or sharing it with a teammate.
Want to learn more?
Contact us today to schedule your complimentary demo.