Catering and convention services managers are no strangers to multi-tasking. In addition to negotiating the complicated logistics of an event, they are responsible for maintaining clear communication with clients, managing costs, and helping their property drive group business.
In order to deliver flawless events every time, catering and convention services managers rely on one critical tool – banquet event orders, commonly known as BEOs. Yet, despite how helpful the BEO might be, they can be time-consuming to create and update. Fortunately, there are tools available – from BEO templates to cutting-edge technology — that can help you automate the process and leverage the information documented in the BEO to streamline operations and improve the guest experience. When you automate the BEO process, you'll find running successful events to be less stressful and more fun.
What is a BEO? A Quick Recap
A banquet event order is a contract that lists all the details of an event. BEOs are used at most hotels and event facilities to help ensure every detail is outlined and agreed to by both the venue and the event planner. This helps ensure event planner expectations are met and helps the hotel avoid costly room resets or concessions.
Since BEOs are created for each event, a full or multi-day booking may include multiple events and therefore multiple BEOs. The BEO packet is typically distributed a few days before the event and is reviewed and updated as necessary based on any last-minute changes to the event.
Download the BEO Template
What Should a BEO Include?
BEOs should include all the important details required to execute the event properly, beginning with dates, times, and contacts. For example:
Contact info
Space usage
Event date
Set-up and start/end times
Number of guests
Food & Beverage
The BEO should include all food and beverage details such as:
Menu – All menu items should be listed in the order in which they will be served, including optional children's meals. If there is a buffet, all buffet menu items should be listed along with the station and set position for each item.
Dietary concerns – Any dietary requests such as vegetarian options, gluten-free options or nut-free options should be included in the BEO.
Service times – Service times should be clearly listed for all meals as well as additional requests such as a champagne toast.
Special service items – This includes special requests such as wine or sparkling water on each table.
Food prices – A price breakdown for each item should be included along with a quantity for each item selected.
Room rental fees – The charge assessed for use of the function space.
Headcount details – The BEO will detail how many guests are expected, guaranteed, and the number of guests the room will be set for.
Beverage details – This includes a list of beverages to be served during the event such as coffee, tea, soda or alcohol. When alcohol is served, a list of brands is provided as agreed to by the planner.
Room Set-Up
The room set-up section will include details on the equipment required but will not include placement directives for that equipment. (See A Quick Note About Diagramming.)
Table Set-Up – This includes the number and type of tables to be included as well as the timeframe allocated for setup activities.
Décor, Linens and Lighting – Décor and accessory details (types and quantities) should be listed in the BEO.
Podium/AV – If a podium or AV is required for the event, it should be indicated in the BEO. If AV is required, the AV vendor should be listed as well.
Microphones, Screens, Speakers – Any audio-visual equipment that is required should be listed in the BEO.
Signature Lines for Customer and Property
Standard on any contract are the signature lines. Don't forget to include them for both the meeting planner and a representative from your property.
To help you organize your next event and ensure consistency we have created a BEO template that you can download for free and start using immediately.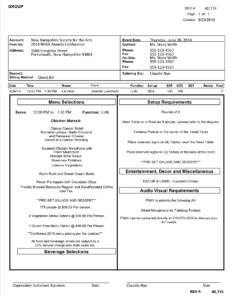 An Example of a BEO
A Quick Note About Diagramming
The loyal companion of any BEO is the diagram. The diagram is where you'll outline the placement of tables, equipment, lighting, tablecloths, etc. It's where you'll be able to visualize, for your team as well as your client, how the room will look.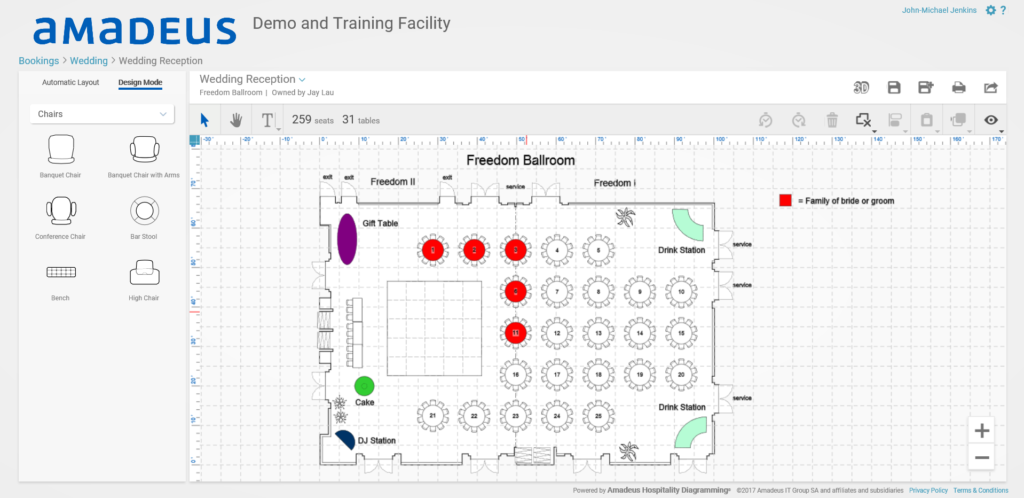 Technology Makes Creating a BEO and Managing an Event Even Easier
While a BEO template is great, what's even better is software that automates the entire process for you. Sales and catering software gives you the ability to select menu items without manually typing in each order for each event. Even better, you'll be able to merge data captured during booking into the BEO — such as contact information, menu selections, special requests, etc. To ensure consistency across property bookings you can easily populate standard and branded BEO templates. Finally, with sales and catering software you're able to use a template to create the BEO, which streamlines the entire process. Your property can then use this same automation to create a banquet check post-event to obtain the planner's signature as confirmation of services rendered and then use that to allocate charges back to the planner's master bill.
Diagramming also brings value when you utilize software that integrates with your sales and catering solution. Hotel automation software lets you create mock diagrams of a space, so that you can provide a visually stunning depiction of how the room will look before the client steps foot on your property. These diagrams can also be used to help the client communicate their event vision with you, allowing them to design their preferred floor plan, save it and then send it to you along with their RFP. Even more helpful when it comes to creating BEOs is the post-contract functionality of diagramming software — which lets you as the catering manager sit with the meeting planner to propose a diagram while simultaneously reviewing the BEO.
If you're excited about the possibilities offered by sales and catering software, particularly when it comes to creating and managing BEOs, contact the team at Amadeus. We'd love to learn more about your specific challenges and offer solutions to help you grow.
Topics: Sales & Catering