HotSOS Data & Reporting Tools
Amadeus Service Optimization
Leverage the valuable data and reporting metrics your hotel needs to succeed in 2022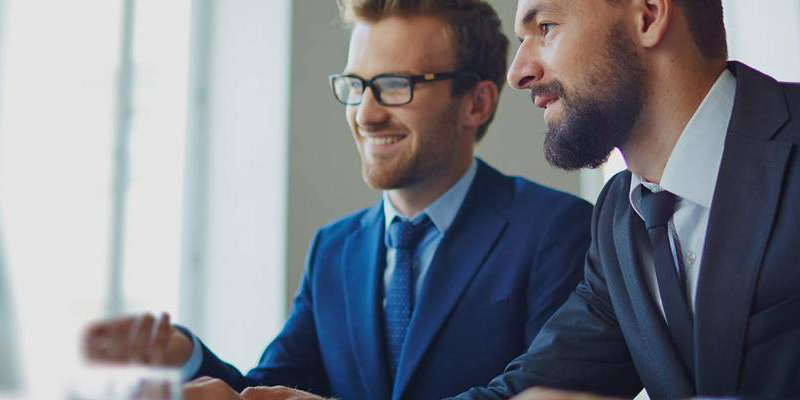 Make the Data-Driven Decisions Needed in a World of Unkowns
In this new era of hospitality, planning for recovery and beyond can be full of uncertainty. Examining the major trends and challenges your property is facing now can offer some insight for planning in the coming months and ultimately shape your strategy in the year ahead. As an Amadeus Service Optimization customer, you have access to valuable analytics tools that can help you identify key areas of improvement for bottom-line results —from knowing when to replace equipment based on repair volume to adjusting staff schedules due to demand requests. The more insights you have on your property, the more opportunity you have to make the informed, data-driven decisions needed in a world of unknowns.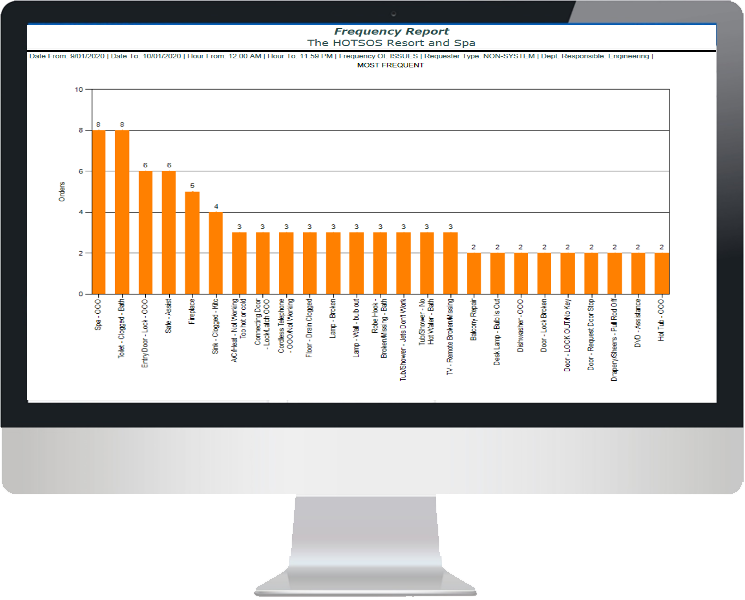 Gain Deeper Business Insight with Operational Reporting
Is your property aware of what issues guests and staff are most frequently reporting? HotSOS Operational Reports help you identify the biggest challenges your property is facing and, more importantly, understand their source. The analytics tools can help you determine what operational trends are occurring and their cost to your business. As hotels struggle to plan for 2022 with limited staff and budget, generating the following reports can help identify costly pain points and improve bottom-line results.
Executive Summary
Get a big picture look at the guest experience: pinpoint specific concerns raised and identify how you address them.
Frequency Report
Access a comprehensive list and visual graph of the top 25 issues at your property, from an internal and guest perspective, and their frequency within a determined timeframe.
Usage Review
Compare monthly property-wide progress detailing Service Optimization usage with month-to-month and year-to-year overviews.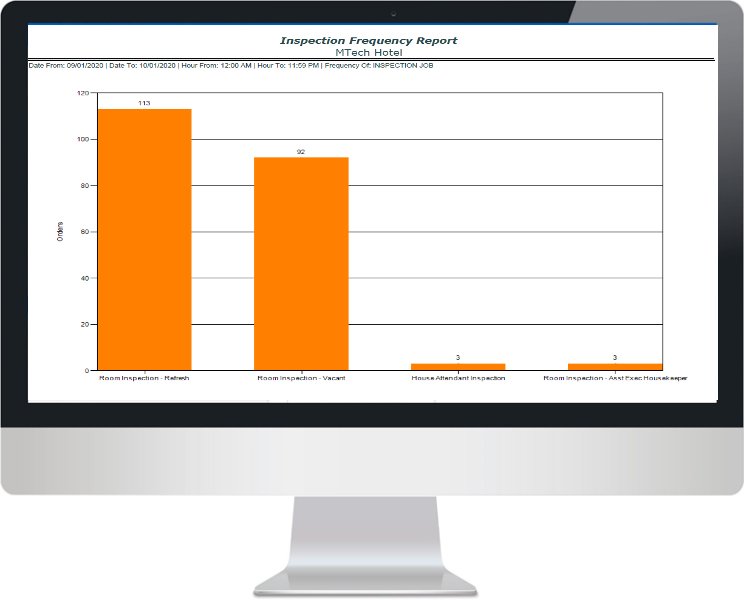 Measure Quality of Performance with Inspection and Progress Reports
Today's travelers have elevated expectations when it comes to their hotel stays. Implementing new procedures with limited resources while delivering an exceptional guest experience can be a daunting task. Accessing valuable data from your quality inspection console can help to highlight the areas where your operational teams are excelling, as well as those in need of attention. Record and analyze service audits in one centralized system to maximize your team's resources and ensure a high quality of work. Trends are easily identifiable to hold staff accountable while staying on top of your property's valuable assets and infrastructure.
Inspection Frequency Report
Show leadership how teams perform and identify which individual team members are accomplishing goals and meeting standards.
Property PM Progress Report
Measure the daily percentage of preventive maintenance projects scheduled versus completed (available in the new HotSOS Select).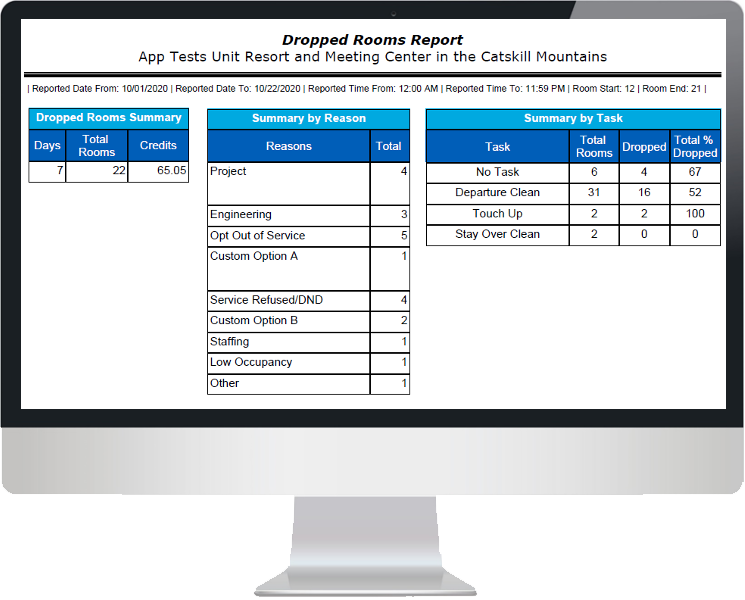 Examine Valuable Housekeeping Statistics
Never before has there been greater attention to hotel housekeeping and cleaning initiatives. From heightened cleaning protocols and sanitation seals to housekeeping on-demand, growing changes in consumer demands are placing increased pressure on operational teams. By collecting information on your housekeeping operations, ranging from attendant's yield and productivity to cleaning statistics on tasks and room categories, you can learn how much time each attendant spends in guest rooms for various tasks. Make more informed decisions by examining these reports to ensure team members complete tasks correctly and efficiently, saving your hotel valuable time and money.
Task Analysis Report
Compare the average time invested by each attendant and then break down specific tasks completed per room.
Dropped Rooms Report
Outline all rooms designated to not receive service and discloses why a room was dropped.  Click here to learn more about this new product feature and how to run reports on your dropped rooms.
Report Subscriptions and Custom Report Hours
Discovered a report commonly used?  Is there a report with specific filters you need on a routine basis? The Reports Subscription module allows properties to schedule and automate their favorite or frequently used reports to avoid needing someone to render the report manually.  Subscribed reports are delivered automatically to your inbox in your choice of format, including PDF, Excel, CSV, and Word.
Additionally, with this subscription, properties receive ten custom development hours, per year, for any customization requests.
Request a demo on how to leverage Service Optimization reporting