Group reservations 'shine' and business travel posts uptick.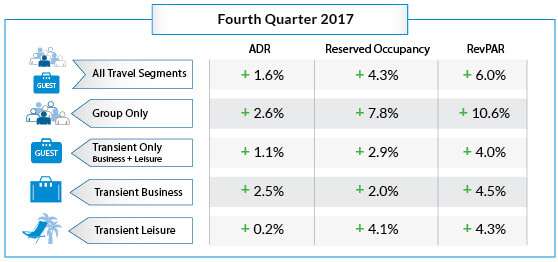 NORTH AMERICAN HOTELIERS are ending the year strong with healthy gains across all travel segments during the fourth quarter of 2017, according to TravelClick.
The company's October 2017 North American Hospitality Review, shows ADR and occupancy are both up 1.6 percent and 4.3 percent respectively.
"Group travel data, in particular, shines in the fourth quarter," said TravelClick, with ADR up 2.6 percent and bookings significantly up 7.8 percent. The transient segment is not far behind. Transient business travel is up 2.5 percent in ADR and 2 percent in bookings. Transient leisure travel slightly up 0.2 percent in ADR and 4.1 percent in bookings.
Read more at Asian Hospitality.