It's easy for hoteliers to feel overwhelmed by the popularity of today's distribution channels and metasearch engines in battling it out for bookings. Protecting every percentage point of revenue through Brand.com should be high on every hotelier's list of priorities. However, in order to gain visibility and drive demand from a wider ecommerce network, hoteliers must partner with OTAs and a variety of B2B distributors who have their own interests to win a higher share of business.
With so many factors going into key revenue decisions at the property and portfolio level, hoteliers are increasingly implementing more concentrated rate parity management activities into their overall business strategy. Here's why.
Competitive Rates Drive Revenue through Brand.com
As the most profitable conversion channel for hoteliers, Brand.com rates should always meet or beat those listed by the OTAs – especially when displayed in a side-by-side comparison like that of metasearch providers. Competitive rates have the power to provide significant benefits for hotels listing their Brand.com rates on metasearch channels, including:
Visibility: Meta algorithms display a hotel's direct rates more frequently and in higher positions when they are competitive.
Click-through rates: Consumers are 10-20%* more likely to click on the hotel's direct rate when it's competitive with other channels.
Conversion: Consumers are 20-30%* more likely to convert on a hotel's direct booking engine after seeing a more competitive rate.
Return on Ad Spend (ROAS): Greater conversion rates drive more direct bookings at a better return.
Disparity is a Major Problem
Contributing to the emergence of rate parity management as a top revenue concern is the scale of the disparity problem. Best-in-class hotels strive to "Beat" or "Meet" third-party distributors' rates 80% of the time or more (and conversely "lose" in less than 20% of impressions). Recent reports however, show that independent hoteliers and chains alike — in both North America and Europe — lose on price roughly half the time when comparing OTAs to Brand.com rates.
North America
Industry competitive data from Q2 2018 shows that almost half of independent/local chains lost to OTAs from a competitive pricing standpoint.
Europe
In Europe the problem is even more widespread, with more than half of independents losing to OTAs on rates.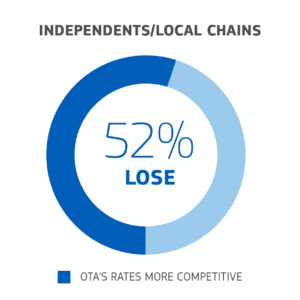 The reason these numbers should make any hotelier sweat is simple. Guests want a good deal. In fact, they are so sensitive to price when deciding where to book, that it outweighs the next most important factor 3 to 1.
Source: https://www.koddi.com/rate-parity-for-travel-brands/
And the impact of poor rate parity can be greater than the mere loss of potential profit. When your Brand.com rate appears to be higher than other channels, the disparity can tarnish your reputation, making guests distrustful of your website and even worse, your brand.
Identifying Causes of Rate Parity Issues
Although there can be a wide variety of causes for disparity, at TravelClick we commonly run into recurring culprits when helping our customers resolve rate parity concerns. The vast majority (80%) of disparity instances are due to external factors (translation: they are caused by a third-party distributor).
The remaining 20% of rate parity issues are caused by internal factors, generally relating to improper configuration within reservations systems.
Taking Back Control
The good news for hoteliers is that both external and internal rate parity issues can be resolved. It won't happen without a plan, however, and it won't happen overnight. Each of these drivers necessitates a different resolution, and no two situations are bound to be completely alike. But with some organization and process, you can begin taking the required steps to develop and maintain rate parity across distribution channels.
To help hoteliers on their journey towards effective rate parity practices, we've developed a new eBook, "The Rate Parity Playbook: Driving Revenue through Improved Rate Parity". It contains steps to measure your rate parity challenges, identify the root cause of any issues, and discover strategies to resolve those issues, whether they're external or internal.
Click here to download your copy of the Rate Parity Playbook.