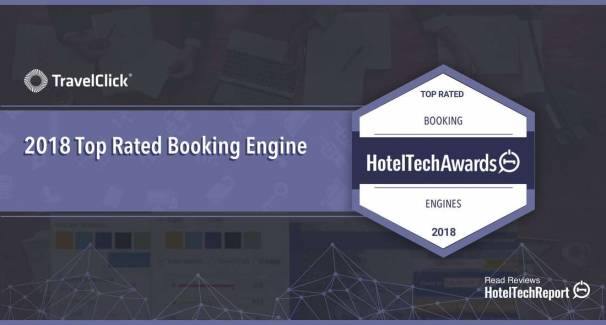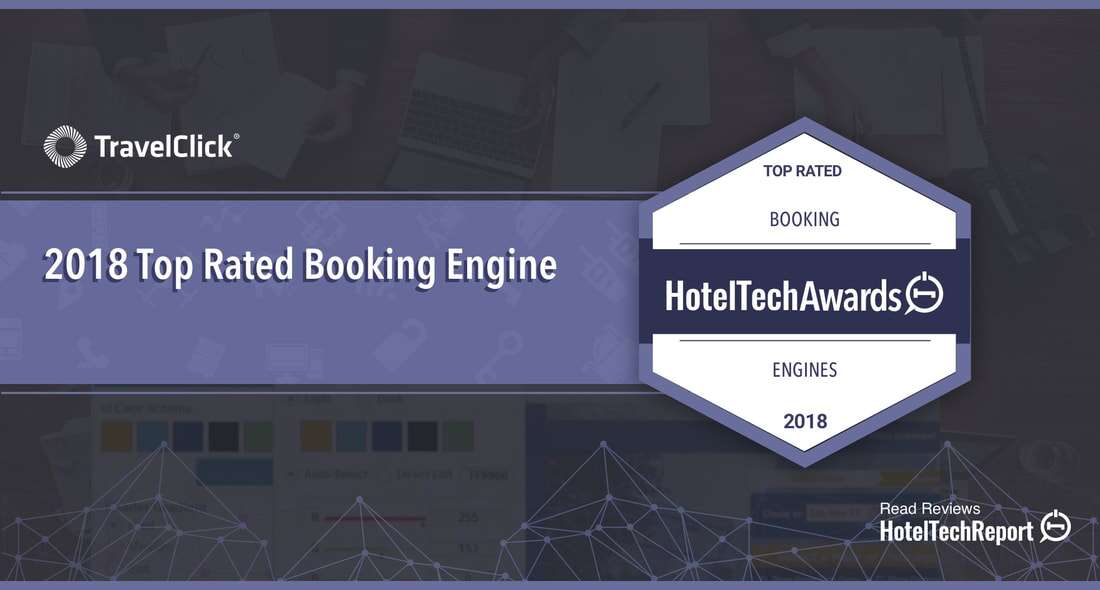 By Hotel Tech Report / Booking Engines
February 12, 2018 – Hotel Tech Report, the premiere global research platform for hotel technology globally, announced today that it has named TravelClick, a leading global provider of data and revenue-generating solutions for hoteliers, as the recipient of a 2018 HotelTechAward for its top-rated iHotelier® Booking Engine 4.0™, based on data from thousands of hoteliers in more than 40 countries. Over 100 of the world's elite hotel technology products competed for a chance to win this prestigious title.
"The booking engine is a critical component of any hotel's direct booking ratio and channel profitability," added Jordan Hollander, Hotel Tech Report co-founder. "What makes TravelClick's Booking Engine 4.0 so unique is that it not only provides an intuitive, responsive user experience across all devices, but it also guides guests seamlessly through the booking path with interactive message displays and clear calls to action. It is truly a must-have for hoteliers to be successful."
"This award is a testament to the significant investments that TravelClick has made in our recently relaunched iHotelier central reservations system," said Curtis Brewer, Senior Vice President, Reservations and Web Solutions, TravelClick. "We've made it our mission to bring a next-generation e-commerce experience to hoteliers all over the globe so that they are better able to maximize direct bookings and recapture abandoned guests at the same time."
A Brussels- based corporate Director of Distribution told Hotel Tech Report that "conversion rate results, aesthetics, flexibility of layout and functions, system support and the logic of the booking flow" separate TravelClick's iHotelier from the pack.
Hotel Tech Report's HotelTechAwards platform leverages real customer data to determine best-in-class products that help hoteliers to grow their bottom lines.
To learn more, head to hoteltechreport.com/company/ihotelier-by-travelclick.
About Hotel Tech Report
Hotel Tech Report is the premiere global research platform for hotel technology globally. We help buyers save time identifying the best technology products to run their hotel properties by easily comparing vendors based on unbiased reviews from verified users. HotelTechReport's global community consists of hoteliers spanning 40+ countries with representation from every major hotel brand and thousands of independent hotels. Our platform connects these hoteliers with hundreds of the world's top hotel technology suppliers with billions of dollars in market capitalization.
###
About TravelClick
TravelClick offers innovative, cloud-based and data-driven solutions for hotels around the globe to maximize revenue. TravelClick enables over 25,000 customers to drive better business decisions and know, acquire, convert and retain guests. The Company's interconnected suite of solutions includes Business Intelligence, Reservations & Booking Engine, Media, Web & Video and Guest Management. As a trusted hotel partner with more than 30 years of industry experience, TravelClick operates in 176 countries, with local experts in 39 countries and 14 offices in New York, Atlanta, Barcelona, Bucharest, Chicago, Dallas, Dubai, Hong Kong, Melbourne, Orlando, Ottawa, Paris, Shanghai and Singapore. The Company also provides its hotel customers with access to a global network of over 600 travel-focused partners. Follow TravelClick on Facebook, Twitter and LinkedIn.
Caitlin Kasunich / Christina Panta
KCSA Strategic Communications
212.896.1241 / 212.896.1208
ckasunich@kcsa.com / cpanta@kcsa.com