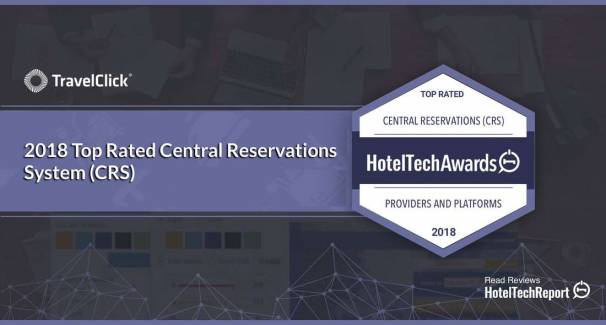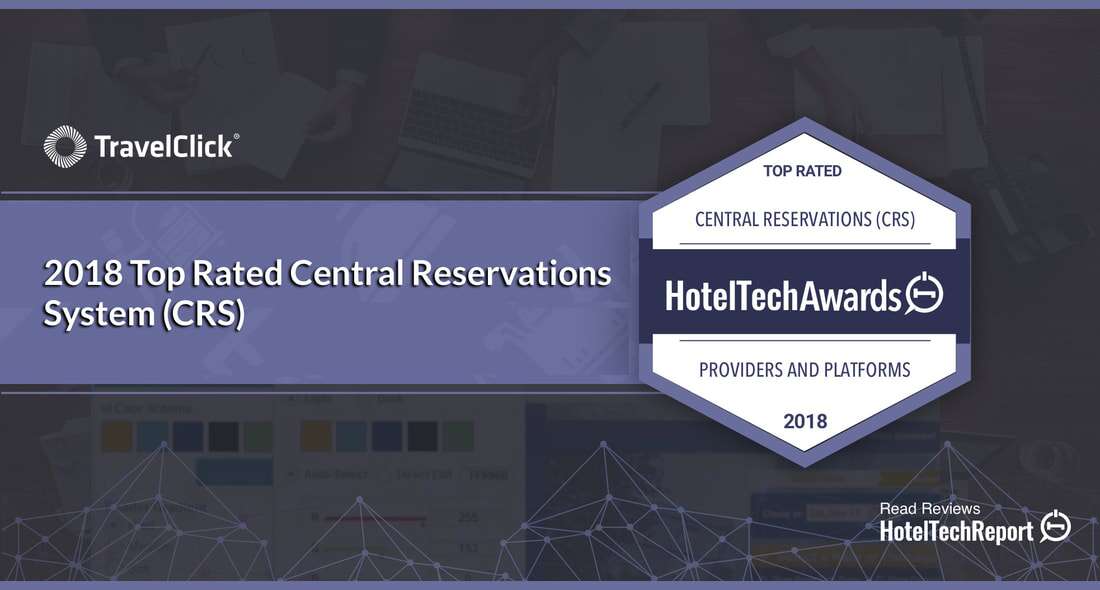 By Hotel Tech Report / Central Reservations Systems (CRS)
February 12, 2018 – Hotel Tech Report, the premiere global research platform for hotel technology globally, announced today that it has named TravelClick, a leading global provider of data and revenue-generating solutions for hoteliers, as the recipient of a 2018 HotelTechAward for its top-rated Central Reservations (CRS), based on data from thousands of hoteliers in more than 40 countries. Over 100 of the world's elite hotel technology products competed for a chance to win this prestigious title.
"The hospitality industry has one of the most complex distribution landscapes out there, and TravelClick's industry-leading CRS enables hoteliers to optimize their distribution strategies and maximize visibility across all channels," said Jordan Hollander, Hotel Tech Report co-founder. "As such, hoteliers have the ability to manage availability, rates and inventory from a single point of entry – all of the while continuously improving performance. It's a win-win for everyone involved."
"Our goal is to revolutionize reservations as we know it to maximize direct bookings and improve hoteliers' bottom lines." said Curtis Brewer, Senior Vice President, Reservations and Web Solutions, TravelClick. "We are honored to receive this award as it recognizes both the significant innovations of iHotelier and the tremendous benefit that our customers receive."
One Zurich-based General Manager at an independent property told Hotel Tech Report, "For me the biggest pro is, that even with little technical knowledge you can easily use this product. You do not rely on customer service to help you do anything, from loading rates to adding new channels you can all do yourself and someone from TravelClick will check that everything is set up correctly."
Hotel Tech Report's HotelTechAwards platform leverages real customer data to determine best-in-class products that help hoteliers to grow their bottom lines.
To learn more, head to hoteltechreport.com/company/travelclick-crs.
About Hotel Tech Report
Hotel Tech Report (www.hoteltechreport.com) is the premiere global research platform for hotel technology globally. We help buyers save time identifying the best technology products to run their hotel properties by easily comparing vendors based on unbiased reviews from verified users. HotelTechReport's global community consists of hoteliers spanning 40+ countries with representation from every major hotel brand and thousands of independent hotels.  Our platform connects these hoteliers with hundreds of the world's top hotel technology suppliers with billions of dollars in market capitalization.
###
About TravelClick
TravelClick offers innovative, cloud-based and data-driven solutions for hotels around the globe to maximize revenue. TravelClick enables over 25,000 customers to drive better business decisions and know, acquire, convert and retain guests. The Company's interconnected suite of solutions includes Business Intelligence, Reservations & Booking Engine, Media, Web & Video and Guest Management. As a trusted hotel partner with more than 30 years of industry experience, TravelClick operates in 176 countries, with local experts in 39 countries and 14 offices in New York, Atlanta, Barcelona, Bucharest, Chicago, Dallas, Dubai, Hong Kong, Melbourne, Orlando, Ottawa, Paris, Shanghai and Singapore. The Company also provides its hotel customers with access to a global network of over 600 travel-focused partners. Follow TravelClick on Facebook, Twitter and LinkedIn.
Caitlin Kasunich / Christina Panta
KCSA Strategic Communications
212.896.1241 / 212.896.1208
ckasunich@kcsa.com / cpanta@kcsa.com