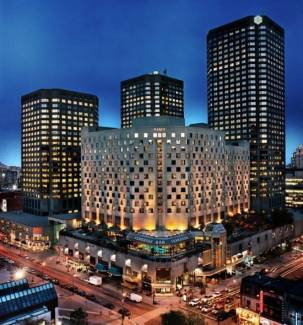 Housekeeping Productivity & Guest Satisfaction Scores Soar
Before February of 2015, the housekeeping department of the Hyatt Regency Montreal, like many others, started their day very early in the morning assigning rooms to be cleaned using manually printed Boards.  These Boards were typed with very small fonts, were hard to read, and contained minimal guest information for the room attendants. Anything guest specific (i.e., allergies, requests, group information, to linen change) was manually added next to each room entry.
These boards needed to be updated constantly and supervisors had to search for their attendants throughout the day on twelve floors and 605 rooms to notify staff of any changes, guest requests, room rushes or service room requests. This process increased wait time and check-in because it prevented the housekeeping supervisors from inspecting and delivering clean rooms on time. Supervisors were also relegated to the use of radios to communicate issues and requests with other hotel departments. 
The Housekeeping department no longer wants to say "Je me Souviens" to the old days of time and energy wasted assigning and managing their staff and guest rooms.
Today, room attendants arrive in the morning and receive an iPod with their assignments of rooms to clean, prioritized by management based on the business needs. The room attendants can read the guest names, preferences, and the history of their prior requests all on one screen. The system is customized in French (or any language!) for ease of use.  The attendants are able to report incidents and guest requests instantly and attach pictures.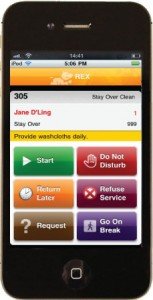 Supervisors sign onto their tablets and manage their day on the floor without needing to go back to the office. They are able to manage their sections in real time with a push of a button. They view their attendants' progress and are immediately notified of rooms ready for inspection so that guests can check-in with shorter wait times. This real time collaboration between room attendants and supervisors eliminates wasted time and allows them to achieve their full yield.
The Housekeeping Supervisors are able to rush rooms, modify room priorities, add remarks and adjust assignments immediately to help attendants move through their day more efficiently without interruption. They monitor room statuses such as DND, Service Request, and Return Later rooms to ensure prompt and time-tailored room cleaning service.
Stephane Goguely, Director of Finance, said
"The Housekeeping Department productivity has increased by 3.5 % since February of 2015. The Hotel was able to reduce their Room Attendants count by 2 on a daily basis. This calculates to an average of $462 Canadian Dollars/daily which in return saves around $170,000 Canadian Dollars/Yearly in Labor cost."
The property also saw a significant increase in their guest survey ratings for "Room Cleanliness" and "Check-in Process"
Stephane continued to say
"The Room Attendants are so happy with REX, that they were extremely upset to return to paper boards one day last month when the Wi-Fi went down in the building."
---

REX is a Newmarket customer centric solution designed to intelligently automate the room assignment process allowing better yield of clean rooms from the Room Attendant team based on business needs in real time to reduce the wait-time during the check-in process while fulfilling guest preferences and requests in advance of their arrival and during their stay.
---
About Hyatt Hotels Corporation
Hyatt Hotels Corporation, headquartered in Chicago, is a leading global hospitality company with a proud heritage of making guests feel more than welcome. Thousands of members of the Hyatt family strive to make a difference in the lives of the guests they encounter every day by providing authentic hospitality. The Company's subsidiaries develop, own, operate, manage, franchise, license or provide services to hotels, resorts, branded residences and vacation ownership properties, including under the Hyatt®, Park Hyatt®, Andaz®, Grand Hyatt®, Hyatt Centric™, Hyatt Regency®, Hyatt Place®, Hyatt House®, Hyatt Zilara™, Hyatt Ziva™, Hyatt Residences® and Hyatt Residence Club® brand names and have locations on six continents. As of March 31, 2015, the Company's worldwide portfolio consisted of 599 properties in 50 countries.
Located in the heart of the historic and romantic French City of Montreal, The Hyatt Regency Montreal was recently redesigned in a $13 million dollar renovation to enhance guest experiences with luxury and style. The hotel offers direct underground access to the Palais des Congrès, as well as Chinatown, Old Montréal, the Metro transport system and the heart of the festive Quartier des Spectacles. The Regency Club offers unparalleled service for its 605 guestrooms & suites that are tailored for business as well as leisure guests.