Events are an important revenue producer for a venue but money is being left on the table because the revenue per event is not maximized. Even though planners have budgets, the experience of the attendee is a top priority and budgets can be adjusted for the sake of creating a better attendee experience. The addition of just one additional $800 video setup per day can add an additional $208,000 annually to a single venue's group business revenue[1].
[bctt tweet="1 additional $800 video setup can add $208,000 annually. Don't Leave Revenue on the Table. #meetings" username="amadeushosp"]
Amadeus Hospitality Diagramming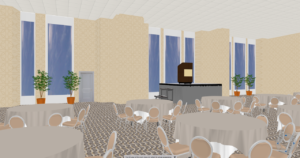 helps venues upsell at every major touchpoint to maximize revenue per event. When a planner is conducting an early online evaluation of possible venues for their event, Amadeus Hospitality Diagramming enables the planner to create a room plan online then experience it in 3D so the planner can visualize how their event would look in the selected function space. After experiencing the virtual setup of their room plan, the planner might conclude that the line of sight due to the columns in the room requires a video screen be placed in the front corners of the room versus having just one in the front middle of the room.  This is a situation where Amadeus Hospitality Diagramming helped the planner realize their planned setup would negatively impact the attendee experience and changing the plan on the fly would ensure the best experience is being delivered.
After the venue and function space has been contracted, the sales team working with the planner to create the final room plan creates another opportunity to upsell. The sales team can use the room plan created by Amadeus Hospitality Diagramming to offer suggestions to the planner on how to improve the attendee experience. For example, the combination of room size, number of attendees, and setup style might require an additional buffet setting on the opposite side of the room to reduce wait time and improve traffic flow.
By taking advantage of every opportunity to upsell, venues can add a significant revenue boost to their revenue per event and also gain the additional benefit of an improved attendee experience. Ultimately, the improved attendee experience creates a positive impression of the venue which leads to more group business opportunities and revenue.
Amadeus Hospitality Diagramming  provides venues with an online solution designed to market their venue and function space to planners in a highly interactive and visual way. It provides the critical information planners need to determine if a venue and its function space are feasible for their event. Once the business has been won, Amadeus Hospitality Diagramming creates the room plans utilized by the event staff to set up the function space and execute the event. To ensure the planner's vision of the setup is correctly captured in the room plan, Amadeus Hospitality Diagramming enables planners to experience the room setup via an interactive 3D representation of the space from multiple angles.
[1] Assumption: 260 days have events at a venue per year