New Data Shows a Significant Shift to Loyalty Program Reservations
NEW YORK – November 21, 2019 – TravelClick, an Amadeus company, has released new data from the company's quarterly North American Distribution Review (NADR) encompassing Q3 2019 performance and Q4 2019 projections. According to the data, rooms sold through a hotel's website (Brand.com), online travel agencies (OTAs), and global distribution channels (GDS) were ahead by 5.9%, 3.5%, and 1.9% respectively in Q3 2019 compared to the same time last year. The Q4 2019 outlook for hotel websites and OTAs are ahead at 7.1% and 5.4%. GDS, central reservation office (CRO) and hotel direct (e.g. walk-ins, phone reservations) demand have slowed -0.8%, -9.5% and -11.4%, respectively, from a year ago.
Across all distribution channels, the average daily rate (ADR) for Q3 2019 slowed -1.2% over the previous year. ADR for Q4 2019 is also decreasing for Brand.com, GDS, CRO, and OTA by -0.2%, -1.4%, -2.2%, and -3.1% respectively. In Q4 2019, the loyalty program customer segment shows an uptick in room nights of 5.7% and ADR is flat 0.0% compared to a year ago. Non-loyalty customer demand for Q4 is down -5.4% and ADR is down -1.1% compared to a year ago.
"For the first time in recent years there's new evidence of a significant channel shift to Brand.com hotel bookings," explains John Hach, Senior Industry Analyst, TravelClick. "The Q4 2019 results show accelerated declines in both central reservation office and hotel direct bookings. Concurrently there is an uptick in hotel loyalty program reservations which is good news for major brands with membership reward programs."
Share of Transient Reservations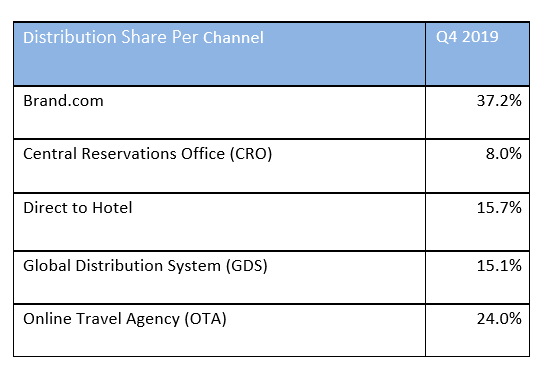 "The global distribution systems continue to be a major contributor to successful hotel channel management strategies. In addition to the worldwide presence of global distribution systems, average daily rates remain steady and provide instant access to travel agent bookings not available on other online channels," Hach added.
The TravelClick NADR is based on recent performance and outlook data for 25 major North American markets, comprising 301 million annual room nights and $53 billion in annual room revenue.
###
About TravelClick, an Amadeus Company
TravelClick offers innovative, cloud-based and data-driven solutions for hotels around the globe to maximize revenue. TravelClick enables over 25,000 customers to drive better business decisions and know, acquire, convert and retain guests. The Company's interconnected suite of solutions includes Business Intelligence, Reservations & Booking Engine, Media, Web & Video, and Guest Management. As a trusted hotel partner with more than 30 years of industry experience, TravelClick operates in 176 countries, with local experts in 39 countries and 14 offices in New York, Atlanta, Barcelona, Bucharest, Chicago, Dallas, Dubai, Hong Kong, Melbourne, Orlando, Ottawa, Paris, Shanghai, and Singapore. The Company also provides its hotel customers with access to a global network of over 600 travel-focused partners. Follow TravelClick on Facebook, Twitter , and LinkedIn.
Media Contacts 
Amadeus US press office: Grayling Communications
amadeus.US@grayling.com