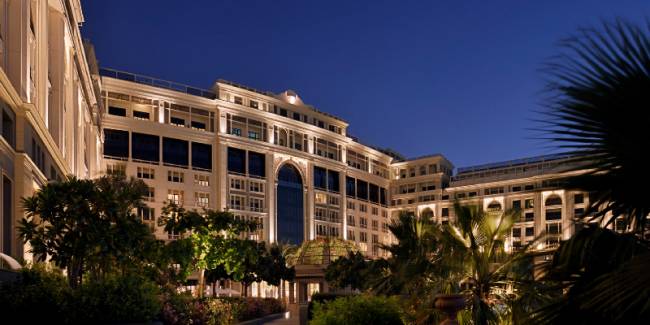 A best in class hotel deserves best in class software
With stunning views, luxurious amenities and an interior draped with handmade items by Italian fashion house Versace, the stunning Palazzo Versace Dubai has a jaw-dropping effect on its guests. In order to ensure a guest experience to rival its beauty, the hotel selected Amadeus Service Optimization as the tool to help manage operations in all 215 hotel rooms, 169 serviced apartments, 8 bars, and restaurants and event space accommodating up to 600 guests.
"Amadeus Service Optimization allows us to monitor regular guest requests which means we get great insight into what our guests really want in their rooms. Using this information, we can be proactive in ensuring our rooms are already equipped with the items that are in high demand. This not only helps to reduce the amount of requests we receive, saving our staff time, but it also means our guests have everything that they need from the moment they check in."

– Chandra Illanperuma, Director of Housekeeping
Why Amadeus Service Optimization?
The Palazzo Versace Dubai implemented Amadeus Service Optimization in 2017 and saw immediate benefits. When asked what his favorite thing about the solution is, Director of Housekeeping, Chandra Illanperuma highlights, "The ability to monitor the productivity of my team and the speed in which we can communicate is fantastic. Using a mobile device, I can always see where my team is and that insight helps me to understand their working needs and deploy each staff member to where they are required most. The fact that I can see in real-time what tasks have been completed and have the ability to run a report at the end of each day is so helpful for me as a leader and for my staff."
The reporting features have even inspired the Palazzo Versace Dubai to acknowledge staff for their hard work. "We have a rewards program in place where we use the data from Amadeus Service Optimization to recognize people in each department based on their performance."
Illanperuma also praises the reduction of guest wait times at the hotel. "When a guest checks out, our housekeeping team is notified immediately, meaning they can be deployed to clear the rooms straight away. Before, all communication would have to be done over the phone which takes up a lot of time, but, because we have Amadeus Service Optimization, we can send live updates on the app which has made a big impact on the speed in which we can work."
The Palazzo Versace Dubai is able to provide a stress-free and relaxing stay for their guests, ensure tasks and incidents are handled quickly and efficiently, as well as being sure to reward their staff and create a positive working environment, all by implementing Amadeus Service Optimization into their beautiful property.
"I was so happy to see that the Palazzo Versace Dubai already had Amadeus Service Optimization when I started, otherwise, implementing it would have been the first thing I would have done! I have spent many years in the hotel industry before technology was so advanced and have found Amadeus Service Optimization has significantly improved the speed of communication and the handling of guest requests."

– Chandra Illanperuma, Director of Housekeeping
For more tips on how to empower your staff like Palazzo Versace Dubai, check out our blog "How to Reduce Employee Turnover at Your Property."