The W Fort Lauderdale Hotel and Residences is a stylish luxury property spanning the Fort Lauderdale Atlantic shoreline. The 23-story hotel opened in 2009 and includes two towers with 346 guestrooms and 171 condo-hotel units. At its opening, Fort Lauderdale's hotel occupancy was performing at its worst levels, with the highest quarter achieving only 71% occupancy.
However, in 2013 Fort Lauderdale's hotel occupancy was at 84% which was the highest level in the past two decades. This increase was the result of a better economy and a wave of high-rise, luxury hotel brands and services available in the market.
Lydie Medley, Director of Rooms, tells me that she still cannot believe how she managed the Style department, spread out over 23 floors, in two towers, without any automation. The phone and radio were her only method of communication.
Before October 2013, stylists received their boards on paper at the beginning of their shifts and were sent to their floors to clean rooms. Management was at the mercy of stylists to get to the rooms they needed first and prayed that The Welcome Desk would not move and rush many rooms throughout the day.
Supervisors physically had to walk the floors to get room status updates and progress on their stylists.  They were left minimal time to delegate, inspect, and efficiently communicate with their stylists. Instead, over 50% of their time was spent on searching for their stylists, rushing rooms, and continuously printing and updating reports. Everything was recorded manually, and office coordinators were spending over 75% of their time answering calls and dispatching requests instead of monitoring the progress of guestroom statuses and stylists' performance.
Today the daily workflow of the Style operations is entirely automated. Stylists receive their daily assignments on their smart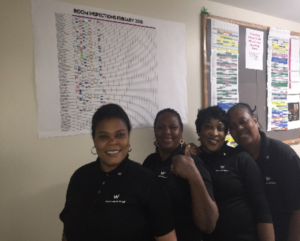 device and manage their rooms based on how management has prioritized their daily business needs. Supervisors sign onto their tablets and manage their day on the floor without having to go back to the office. They can manage their sections in real-time and view their stylists' progress. They are immediately notified when rooms are ready for inspection to maximize the number of inspections performed and allow shorter wait times for guests to check-in. The stylists' performance score is automated and shared with the stylist who can then see what areas require attention or improvement.
The Style Supervisors use Mobile Rooms Coach "MRC", a customized inspection module designed by Amadeus Service Optimization development team, tailored to Starwood properties. Management posts weekly guestrooms inspection scores in the office, allowing the stylists to view and evaluate their performance ratings. Lydie tells me that MRC allows her to better engage her stylists, identify deficiencies, and reward high performance.  Additionally, the shared performance scores create a sense of pride amongst the stylists and increased loyalty and commitment to the job.
Management was also able to observe a correlation between inspections and GEI scores. The graph below clearly shows that relationship. The GEI room cleanliness scores percent increases with an increase in guestrooms inspections performed and vise-versa over the year.
Supervisors are now able to increase priority points automatically for room rushes, service requests, add remarks and adjust assignments on-the-go, without interrupting the stylists.  Room rush volume has dropped from 20 per hour to 5 per hour between 12 noon to 4 pm daily. Moreover, a stylist is now able to start a room requesting service within 10 minutes of the request versus 29 minutes before this automation!
Since Amadeus Service Optimization – HotSOS Housekeeping inception at the property in 2013, the productivity of the stylists has soared by almost 19%. This translates to an average labor cost savings of $1.70 per guestroom. The property has averaged $110K in labor cost savings in 2014 and 2015. 
Tracking actions performed in every room is something Lydie appreciates. She says that before HotSOS Housekeeping previously known as "REX", it was hard to research if a guest complained about not receiving service, and why the service did not occur. The Hotel had to compensate for the inconvenience hoping to rectify the guest experience.
Inconvenience is now part of the past. Today the reporting functionality in HotSOS Housekeeping allows her to track actions, performance, and better forecast operational trends.
Anna MacDiarmid, General Manager, says: "Today, the Style department is not only more efficient, but also equipped with the tools to engage their Stylists to report deficiencies, and be informed of their guests' history and preferences to personalize their guests' stay and deliver the brand's promise."