The holidays are looking merry and bright, as hotels in warm weather destinations draw the biggest crowds this year
For the 2021 holiday season, warm weather destinations lead the top markets for hotel occupancy in the US. Across both weeks, seven of the top markets are common including destinations in Florida, Hawaii, and California, though ranking varies slightly.
Amadeus, as a global leader in travel technology and business intelligence, provides unique, on-the-books, forward-looking insights for hotel bookings, as well as air travel search trends in major markets around the world.
For the last two weeks of the year (Dec 19 – Jan 1), occupancy rates in the US are already expected to exceed 2019 rates with 28.7% total occupancy versus 23.6% for the same time in 2019. For the week of December 19, five of the top US markets meet or exceed 2019 occupancy and during the week of December 26, nine of the top markets exceed 2019 occupancy.
Where are travelers going this year?
The top 10 US markets for the last two weeks of 2021 based on hotel occupancy are: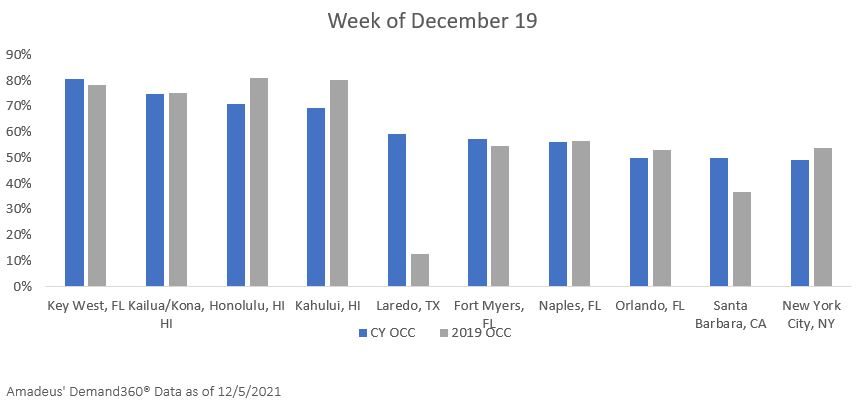 Booking lead times/occupancy pace
One of the most impactful trends throughout the last year and a half has been the short booking lead time. This indicator continues to improve, with a stronger performance than 2020. While not yet at 2019 levels, the 0-7 day booking window in the US has condensed from 72% last year to 55% this year, only 4% behind 2019. Therefore, with 55% of reservations in the US being made within a week of travel, there is significant opportunity for occupancy to continue to increase for the upcoming holidays.
"It's exciting to see so many of the top 10 markets in the US already exceeding 2019 performance. Including Thanksgiving, this is the second consecutive US holiday period where we see 2021 occupancies exceeding 2019 in the weeks leading up to the holiday. Because of the sustained shortened booking lead times, there's significant opportunity for the market to end 2021 on a high note," said Katie Moro, Vice President, Data Partnerships, Hospitality, Amadeus.
Air travel search trends
The US saw strong demand for air travel over the Thanksgiving holiday. Earlier in the year many hotel and air travel top destinations did not align as road trips remained popular for social distancing. But there are now several top air travel search markets including New York, Miami and Orlando, overlapping with the above noted top hotel occupancy markets:
Top 10 US markets searched, indicating intent for 2021 holiday air travel are:
1.      New York City
2.      Los Angeles
3.      Miami
4.      Orlando
5.      Chicago
6.      San Francisco
7.      Fort Lauderdale
8.      Washington D.C.
9.      London
10.   Las Vegas
December 23 and 26 are expected to be peak travel days in NORAM and top markets for air travel bookings are Los Angeles, Honolulu, Miami, Cancun, and London.
Source: Amadeus Air Search Travel Data as of December 3, 2021.
Car Rental Booking Trends
Top 10 US rental car markets for the holidays:
1.      Orlando
2.      Los Angeles
3.      Miami
4.      Denver
5.      Las Vegas
6.      Phoenix
7.      Fort Lauderdale
8.      Tampa
9.      Honolulu
10.   Fort Myers
Source: Amadeus Cars Eyesight as of December 9, 2021.
Your trusted source for industry-leading, forward-looking, on the books market insight 
Amadeus' Demand360® is the only business intelligence solution that provides actual on the books, forward-looking occupancies for your hotel and your selected competitive sets. The data provided is updated twice per week and occupancy information represents actual rooms sold, including market segment and channel statistics, so you know who is traveling and how they are booking their reservations. If you want to know what is happening in your market, contact us today. For more research, insight, and best practices on leveraging data to build an effective marketing strategy, please visit our Rebuild Travel resource center.
Amadeus Air Search Travel Data is the most complete suite of air data in the travel industry and includes shopping transactions performed by +2,500 customers including the world's top travel agencies. It consists of consolidated data generated by daily transactions.
Car Rental Data is sourced from Amadeus Cars Eyesight which provides a single view of all Amadeus Cars future bookings, and Amadeus AllStats.