The 2021 holiday season is shaping up to be a festive one for the hospitality industry. Based on unique forward-looking insights from Amadeus' hotel occupancy and air travel search data, more people are returning to travel and visiting warmer places.
Thanksgiving kicks off the holiday season in the US and is widely known as the busiest travel period of the year. Based on hotel booking data in the weeks leading up to the holiday, this year is on track to exceed pre-pandemic levels.
As a global leader in travel technology, Amadeus has the unique ability to track forward-looking, on-the-books hotel occupancy in markets around the world. Amadeus' Demand360® business intelligence shows that as of November 4, 2021, US occupancy for Thanksgiving week 2021 is 32.4%, surpassing 18% and 31.9% occupancy as of the same date in 2020 and 2019, respectively.
Additionally, the number of markets with occupancy over 50% surpasses the prior two years for Thanksgiving week. While the top markets have changed year-over-year, as of November 4, 2021 there are 16 markets over 50% occupancy compared to only 7 in 2020 and 9 in 2019 as of the same stay week in each respective year.
Where are travelers going this year?
The top 10 US markets for 2021 based on hotel occupancy are: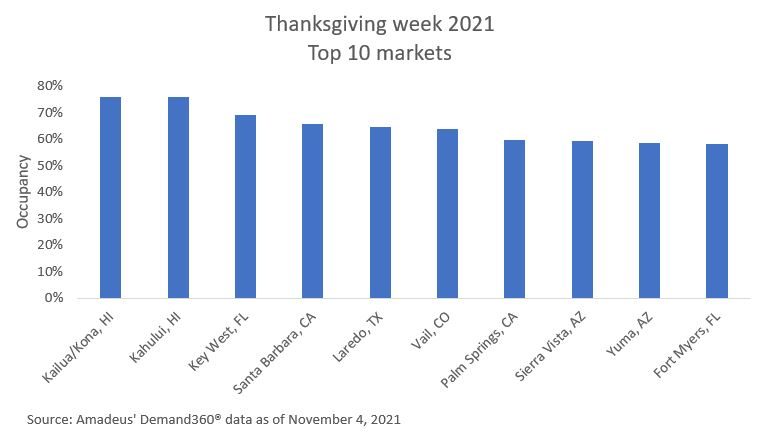 Booking lead times continue to be an important metric to monitor. Currently, nearly 55% of transient bookings are made within seven days of travel, meaning there's still plenty of opportunity for holiday occupancies to rise as we approach peak travel dates during the week of November 22, 2021.
Where are travelers coming from?
As seen in the chart above, the highest occupancy markets are predominantly in warmer climates, perhaps indicating that travelers are still seeking to participate in outdoor gatherings among family and friends for a long-overdue vacation. For hoteliers looking to capture last minute business closer to the holiday, booking data for the past five weeks shows the highest volume of departure bookings are coming from the following markets:
New York-Northern New Jersey-Long Island, NY-NJ-PA, US
Los Angeles-Long Beach-Santa Ana, CA, US
Dallas-Fort Worth-Arlington, TX, US
Chicago-Naperville-Joliet, IL-IN-WI, US
Atlanta-Sandy Springs-Marietta, GA, US
Washington-Arlington-Alexandria, DC-VA-MD-WV, US
Houston-Sugar Land-Baytown, TX, US
San Francisco-Oakland-Fremont, CA, US
Philadelphia-Camden-Wilmington, PA-NJ-DE-MD, US
Miami-Fort Lauderdale-Pompano Beach, FL, US
Where are travelers interested in flying?
Top 10 markets searched* for air travel during Thanksgiving holiday (i.e. November 24-28, 2021):
1.      New York City
2.      Los Angeles
3.      Chicago
4.      Orlando
5.      Las Vegas
6.      Denver
7.      Atlanta
8.      Washington
9.      London
10.   Miami
Top markets for air travel bookings are Honolulu, New York City, Los Angeles and Miami.
Source: Amadeus Air Search Travel Data as of November 9, 2021*.
What are the top markets for car rentals?
There appears to be continued interest in driving to destinations. With two weeks to go until the Thanksgiving holiday, based on booking lead time and volumes, rental cars bookings are anticipated to exceed 2020 performance. Top car rental markets align with many of top markets for hospitality and air travel search.
Top 10 rental car markets for the Thanksgiving holiday:
1.      Orlando
2.      Los Angeles
3.      Las Vegas
4.      Miami
5.      Phoenix
6.      Denver
7.      Fort Lauderdale
8.      Honolulu
9.      Kahului
10.   Dallas-Fort Worth
Your trusted source for industry-leading, forward-looking, on-the-books market insight 
Amadeus' Demand360® is the only business intelligence solution that provides actual on the books, forward-looking occupancies for your hotel and your selected competitive sets. The data provided is updated twice per week and occupancy information represents actual rooms sold, including market segment and channel statistics, so you know who is traveling and how they are booking their reservations. If you want to know what is happening in your market, contact us today. For more research, insight, and best practices on leveraging data to build an effective marketing strategy, please visit our Rebuild Travel resource center.
Amadeus Air Search Travel Data is the most complete suite of air data in the travel industry and includes shopping transactions performed by +2,500 customers including the world's top travel agencies. It consists of consolidated data generated by daily transactions.
Car Rental Data is sourced from Amadeus Cars Eyesight which provides a single view of all Amadeus Cars future bookings, and Amadeus AllStats.