The Ultimate Hotel Manager's Guide
Today the role of the Hotel General Manager (GM) is often all-encompassing. He or she holds the ultimate responsibility for oversight of a property, including all sales and marketing, operations, events, maintenance, and customer service. As the era of digital transformation and an intensifying focus on guest personalization continues, the general manager role will evolve as well.
In recent times, many hotels have had to face changes to the way they work. For many, this includes changes in job roles or requirements. To be successful in these changing times, exhibiting certain hotel general manager traits will enable you to be the future Hotel General Manager your guests need. We've also put together a collection of resources to help hoteliers who might be new to the industry or simply looking for more guidance on how to excel in their roles. This page particularly includes relevant resources for Hotel Managers to optimize performance across all areas of your business.
On this page you'll find:
What is a hotel manager?
A Hotel Manager is often referred to as a General Manager, or just Manager for short. A day in the life of someone in hotel management can vary greatly, with responsibilities ranging from managing overall revenues and budgets, communication and coordination with staff and ensuring the property meets changing regulations and procedures. Typically, a hotel manager is a great communicator and able to work well and take decisions under pressure.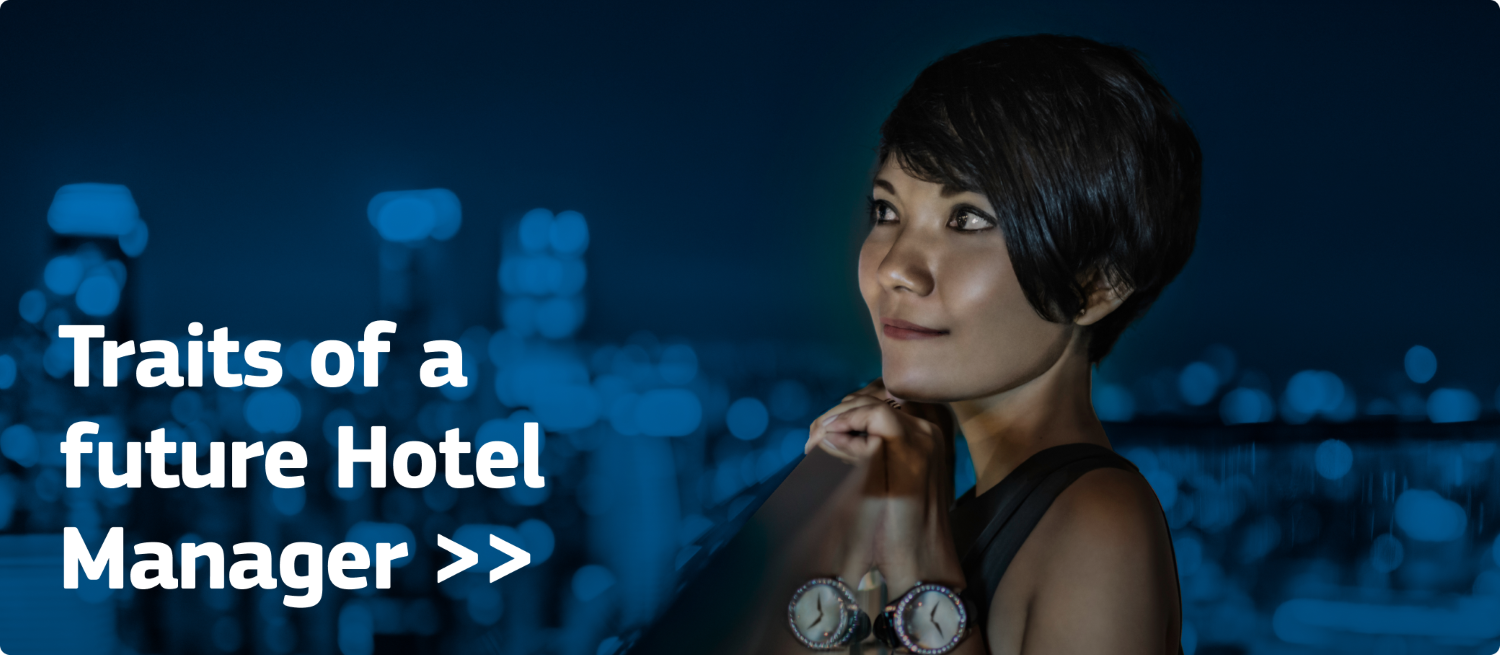 Hotel general manager skills and traits to become succesful:
Today the role of the Hotel General Manager (GM) is often all-encompassing. He or she must be able to manage company goals for several departments and they need to have practical communication skills to work with employees throughout the company.
The Hotel General Manager also requires strong leadership skills to manage resources and dynamic organization skills to maintain daily operations. All in all, he or she holds the ultimate responsibility for oversight of a property, including all sales and marketing, operations, events, maintenance, and customer service.
As a general manager, every day is different and your role often requires wearing several hats, from understanding operations, overseeing events, and delivering exceptional customer service. To help you be the best general manager you can be, we've put together a series of traits. These include:
Being creative: a successful general manager should be able to avoid inertia and think outside the box.
Analyzing and understanding data: in order to achieve success, a general manager shouldn't just review the data but should be able to analyze it and extract insights and takeaways.
Find below more traits that can help take you from a good to a great general manager:
Inspirational – As with any great leader, it's imperative that a General Manager do more than just manage. The GM needs to be someone that people want to follow and work their hardest for. An inspirational leader will bring out the best characteristics in his or her team. Having a happy and pleasant team is even more crucial in hospitality than in other sectors, and driving that enthusiasm, passion, and hustle comes from the top.
Decisive – No matter the size of the property, a General Manager has to make decisions on the fly for all kinds of situations and with a calm exterior. The GM owns responsibility for the successes and failures of a property, and while he or she should positively empower the management team to make their own decisions, there will always be situations requiring special attention. Whether it's working with the teams to help them make the best decisions for guests quickly or calling the shots herself, no GM is going to succeed if she can't think on her feet in this fast-paced and constantly accelerating environment.
Analytical – There are a lot of reports and financials to be considered in the hotel industry and that's only likely to continue to grow exponentially as data is available and can be aggregated across various systems. A GM needs to work with the team to quickly review, understand, and action on data he sees on a daily basis. There is a constant pivot to make rates and packages appealing to the right guest or planner at the right time, not just based on local competition, but on a hotel's unique offering. Seeing not just numbers, but patterns and trends will become even more necessary to be successful in this role.
Creative – While we often hear that people tend to be either analytical or creative, the future GM needs to be both. Budgets aren't growing, but the expectation of the guest is. A GM needs to be able to digest the data with an analytical mindset and then shift to a creative mindset to problem solve in unique ways. Not only that, creativity from leadership is the only way to truly create a novel experience at a property that both guests and planners will seek out and pay a premium for.
Adaptive – Despite the other traits, if a General Manager is hard-headed and stuck in her ways, she won't be successful. There is too much change in the hotel industry and really all around us at all times when it comes to technology and expectations to not be open to change. We never know when the next big OTA will pop up and affect our bottom line or when the next social media channel will change how we advertise and communicate. A General Manager needs to be bold and willing to try new things while being smart enough to change course if those trials aren't performing well. Having a plan is important, but sticking to the plan isn't paramount to success. Being open-minded will serve the future GM well.
Visionary – A General Manager sets the goals and strategy for a hotel. In order to set his property apart, the GM needs to constantly evaluate the competition, market, region, and audience. Beyond that, he needs to look to the future and envision how the property will be perceived and operate in 5 to 10 years and then determine what will be needed to achieve that vision. An excellent General Manager needs to keep a pulse on not just the hotel industry, but also the technology industry and how guests are buying and communicating outside of their travels and group business. To truly achieve success in the future, the GM will need the visionary trait, always thinking to the future for planning, budgeting, and improving the overall experience of a property – understanding what a guest wants before the guest even knows.
Want to learn more? Here are 5 tips on how to become a hotel General Manager.
Key Hospitality Acronyms
In the world of Hospitality, we're faced with different terms every day of our business. Whether you're front of house, back-end, or something in between, there's a few key terms we should all be aware of. Some of the most common ones you may encounter include Average Daily Rate (ADR), PMS (Property Management System) and GDS (Global Distribution System).
If you want to access a complete hotel abbreviations dictionary, check out these Hospitality Acronyms Defined.
RevPAR: What is it, and why is it important?
RevPAR stands for Revenue Per Available Room. It is a useful measure for hoteliers to understand the overall success of their property. When understood correctly, it can help to inform important decisions across your business, including how to manage your Revenue Management Strategy. Particularly during COVID-19, many hoteliers have faced new challenges for how to maximize the value of every guest.
Find out more about what it is, how to calculate RevPAR and other alternatives to RevPAR, such as TrevPAR in this blog.
An overview of Banquet Order Templates and how to use them
Banquet Order Templates are commonly referred to as BEO, or just event order. If you are a property with event space and are offering this space to event planner, it's essential that you receive the necessary information to deliver on expectations. This may include important dates, catering requests and more. In this blog, we share all of the details of what to expect from a BEO, and answer the most common questions that arise for hoteliers when dealing with BEOs.
One of the event management challenges we commonly hear from hoteliers is that it can be time consuming to implement new processes. Luckily, there are many tools at your disposal, such as this complimentary BEO template we've created. And in case you're ready to invest in technology to improve your operations overall, take a look at the Amadeus Sales & Catering software.
Introduction to Generation Clean
COVID-19 has created many changes in behavior world over. Since 2019, clean has been a keyword for hoteliers world over and a notable change is the renowned focus on hygiene and safety standards. Depending on geographical location, hotels must now comply with new regulations to prevent the spread of diseases such as COVID-19. On top of this, travelers now also have higher expectations of cleanliness standards. We refer to this new cluster of hotel guests as Generation Clean. In order for hoteliers to deliver on these new expectations, they will need to think about how they communicate these standards as guests shop and book trips, and how to clearly display and implement new measures throughout each stay.
One of the key differences hoteliers should be aware of is what is classified as disinfecting vs. cleaning. As you prepare your property following COVID-19, download our complimentary disinfecting checklist to ensure you're following all of the necessary steps.
Aside from this, many hoteliers may now be faced with reduced or limited resources. This might result in less time available to dedicate to cleaning every room or enough staff to adequately cover all necessary processes.  To check that everything is in order and working properly, this housekeeping checklist is a handy first step in improving your overall operational efficiency. The benefits of following these checklists include increased efficiency and guest loyalty, which can lead to more repeat bookings.
Guest welcome letter templates
In today's competitive environment, the right first impression can go a long way to increasing guest engagement and loyalty. One of the ways you can start their stay off on the right foot is by creating welcome letters. These can be used to provide:
Additional information about a guest's stay, including relevant facilities or recognition for repeat guests
Increased communication, both during and after their stay
Relevant health & safety guidelines or tips
Welcome letters can be especially powerful tools to help guests feel that you are personalizing their experience. Another good tip is to sign off the letter from your hotel General Manager to give it that personal touch.
In this blog, we share more details on what to include in your hotel's welcome letter, as well as three free templates to download and begin using at your property.
Guest Management email templates
In the same way that welcome letters can go a long way to increasing communication, and ultimately enhancing the guest experience, with over 4 billion daily email users, this is one marketing strategy not to be miss. Many hoteliers often under appreciate the value of a well-structured email to communicate with guests before, during and after their stay. These emails can then be automated using your Guest Management System.
Some of the best practices to follow when creating emails include:
Relevant copy and information
A clear call-to-action for readers to take
Clear layout with a balance between images and text
Find out more about how to create effective emails for different needs.
Looking for guidance on driving demand, generating loyalty or increasing operational efficiency?
Visit our Rebuild Travel Hub where you'll find insights, guidance, and forward-looking business intelligence data – and so much more – to help guide your path forward.