Originally published on HSMAI Insights
By: Katie Moro, Vice President Data Partnerships, Hospitality, Amadeus
Looking back at 2020, I believe the most frequently used word was "unprecedented." The impact of COVID-19 truly brought more significant global disruption to our industry than at any time in history. While we're all still navigating through what it means to live in this "new normal," it's important to understand where we ended the year as we think about moving forward into 2021 with hope on the horizon.
2020 By the Numbers – Global Perspective
Looking at 2020 full-year performance, every region of the world saw reductions in occupancy, average daily rate (ADR), and Revenue per Available Room (RevPAR) compared to 2019. Worldwide, RevPAR declined by 60% over the previous year due to a 50% decline in demand and a 21% erosion of ADR. Europe experienced the greatest impact on occupancy, while Asia the most decline from rate loss.
 Source: Amadeus Demand360® as of January 2, 2021


The Impact for the United States
Looking at the United States, the country experienced an overall decline in RevPAR of 58%, primarily through a 47% decline in occupancy and 21% decline in average rate.
Source: Amadeus Demand360® as of January 2, 2021
The introduction of COVID-19 travel restrictions created the most significant impact on U.S. hotel performance in April 2020 as occupancies dropped to a record low of 13.7%. Occupancies gradually increased following this low point with a peak of 43% in October. As we moved into November and December and a resurgence of virus transmission, we saw modest reductions in occupancy and RevPAR. ADR is holding stable following the increases coming out of the initial drops in April.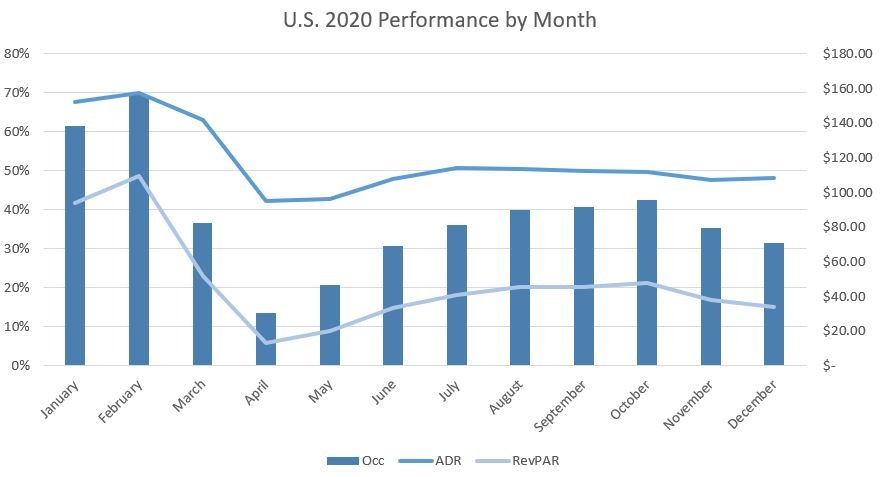 Source: Amadeus Demand360® as of January 2, 2021
The United States also saw a shift in traveler demographics during 2020. The Retail segment was the prominent traveler group in the U.S., with 34% of the consumed room nights associated with leisure travelers.
Source: Amadeus Demand360® as of January 2, 2021
Hotels also experienced a shift in booking channels. The Direct channel surpassed other booking options with 40% of room nights booked by guests calling the hotel directly, presumably to inquire about available amenities, safety policies, cancellation terms, and general COVID-19 precaution related questions.
Source: Amadeus Demand360® as of January 2, 2021
Perhaps the strongest indicator of traveler uncertainty was reflected in the significant reduction in booking lead times. With the unpredictability of COVID-19 transmission surges leading to regularly changing travel restrictions, the majority of travelers waited until the last minute to book accommodations. Data in Amadeus' Demand360® business intelligence solution shows booking lead times dwindled as 92% of all reservations were booked within 30 days of arrival, 70% within seven days of arrival, and a whopping 38% on the day of arrival.
A Look Ahead Into 2021
While we look optimistically to the future, we know that recovery will take some time. This is seen in the current worldwide occupancy at 7% for 2021.
Continuing with the trend of shorter booking lead times, the strongest performance is seen in Q1 across all regions except for Europe.  Notably, the South Pacific demonstrates the highest Q1 performance of all regions with 19% occupancy on the books, potentially boosted by hope for travel restrictions lessening in the region.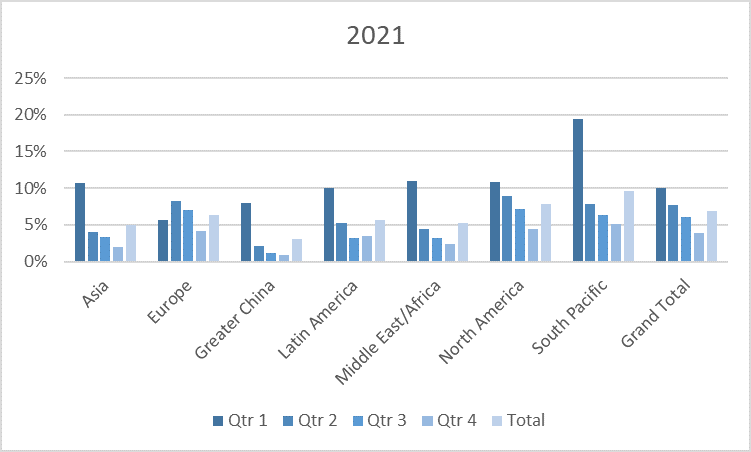 Source: Amadeus Demand360® as of January 2, 2021
Again, looking specifically at the United States, the country currently shows an overall committed occupancy of 8% for 2021, including bookings for group and individual leisure travelers.  The most significant volume is in Q1, again driven by the significantly reduced lead times as individuals navigate through changing travel guidelines, accessibility to COVID-19 testing, and the timelines for vaccine availability.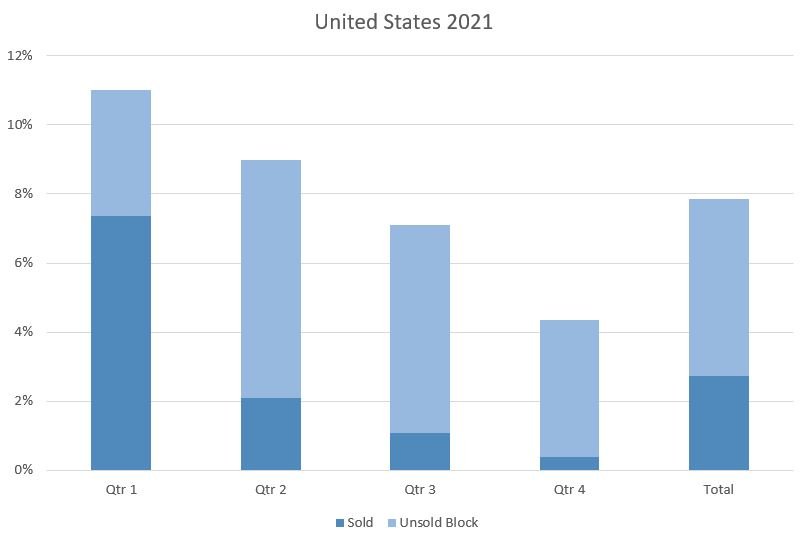 Source: Amadeus Demand360® as of January 2, 2021
Hotels also continue to see most of their booking volume through the Direct channel and lead times continue to be strongest within the 0-7 day booking window.
Knowing that the current situation will continue for the next few months, hoteliers should remain alert and monitor performance in their market.
Watch for shifts in booking channels, and lead times.  Understand who is traveling to your market and tailor your communication to address guest concerns proactively.
Sanitation and safety continue to remain top priorities. Ensure this information, along with booking and cancellation policies, are easily accessible on all booking channels.
Consider offering your loyal guests incentives to stay at your property based on their preferences.
Evaluate your rate strategy. Booking trends show a leveling off of ADR around $111 in the United States since June. Be mindful that, in the current market, lowering the rate is not resulting in increased demand.  Travelers who have the confidence to travel also have the available budget.
No doubt I'm not alone when I say that after nearly a year of limited travel, I can't wait to get back out and explore the world again.  So many people are eager for their opportunity to seek out new destinations and adventures, particularly after such a long period of isolation.  Take the time now to prepare to capture the demand that's waiting in the wings.
Your trusted source for industry-leading forward-looking market insight
Amadeus Demand360® is the only business intelligence solution that provides actual forward-looking occupancies for your hotel and your selected competitive sets. The data provided is updated twice per week and occupancy information represents actual rooms sold, including market segment and channel statistics, so you know who is traveling and how they are booking their reservations. If you want to know what is happening in your market contact us today.