The traditional summer travel season is winding down in the US, but a look ahead to Labor Day reveals a steady interest in time off and exploration. Amadeus, a global leader in travel technology, with its unique ability to track forward-looking, on-the-books hotel occupancy in major markets around the world, cites the leading markets for Labor Day travel. All top 10 markets currently exceed 55% occupancy two weeks prior to the holiday.
Current overall US occupancy leading up to the holiday is 36% which is a 71% increase over 2020. Hotel occupancy numbers are showing sustained performance and are consistent with 35-40% occupancy in 2018 and 2019, a week out from the long holiday weekend.
While reservation numbers are slowing, overall occupancy trends are steady.
Consistent with previous holidays this year, booking lead times remain short with most reservations made within a week (0-7 days) of the holiday.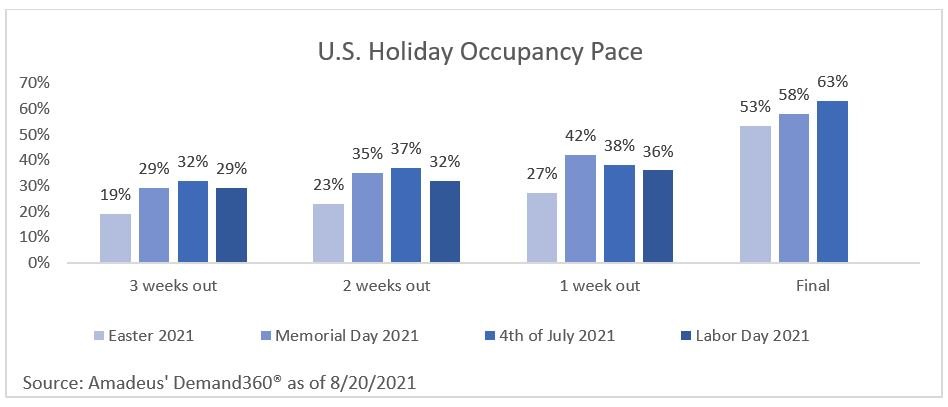 Top 10 markets searched for air travel during the Labor Day holiday
(For the week leading into the Labor Day holiday: August 29 – September 4, 2021)
New York
Las Vegas
Los Angeles
Chicago
Orlando
Denver
Miami
Atlanta
London
Fort Lauderdale
Source: Amadeus Air Search Travel Data as of 8/20/21.
The difference in top markets for hotels and air travel indicates that road trips to more local or regional destinations remain popular and a key travel trend.
Your trusted source for industry-leading, forward-looking, on the books market insight
Amadeus' Demand360® is the only business intelligence solution that provides actual on the books, forward-looking occupancies for your hotel and your selected competitive sets. The data provided is updated twice per week and occupancy information represents actual rooms sold, including market segment and channel statistics, so you know who is traveling and how they are booking their reservations. If you want to know what is happening in your market, contact us today. For more research, insight, and best practices on leveraging data to build an effective marketing strategy, please visit our Rebuild Travel resource center.
Amadeus Air Search Travel Data is the most complete suite of air data in the travel industry and includes shopping transactions performed by +2,500 customers including the world's top travel agencies. It consists of consolidated data generated by daily transactions.