Originally posted on the Amadeus Corporate Blog
There's a lot of buzz around cloud technology, open systems, and the integration of big data and social media. But the fact remains that many hotels are running on legacy IT systems. This means data fragmentation and guest centric views are not yet answered for. And when you think about the two key hospitality solutions hotel chains and properties run – Property Management Systems (PMS) and Central Reservation Systems (CRS) – many are fragmented legacy systems.
When you look at these systems, much of the functionality is the same: the guest profile, rates, inventory, and availability. So for hoteliers to deliver personalised and consistent brand experiences, key IT systems should enable these elements. Unifying hotel systems and data, means the guest profile is more complete. This empowers hotel staff not only at the property level but also the chain level to interact and create a better guest experience.
A good CRS and PMS should be, for a lack of a better way to describe it, invisible. Technology fosters an "information connection" and helps hoteliers in the following ways:
Analyse guest data in meaningful ways and share it across systems, properties, and channels
Push out more granular pricing options across all reservation systems and channels
Understand how customers choose their product based on the context of their travel
Better tailor packages and help convert lookers into bookers
Centrally store and manage guest profiles to ensure a consistent customer experience
Running key IT solutions on cloud native solutions ensures greater speed, flexibility, and stability
Ultimately, the more hoteliers know about their guest, the easier it is to deliver a personal service. A well-functioning fast and stable CRS and PMS with seamless integration of other hotel technologies, including service optimisation, and sales and catering solutions, will allow hoteliers to effectively manage all of their content from one place.
That's why we've invested so heavily in offering this unique capability in our CRS and PMS. We really think it's the way forward and a route that the hospitality industry needs to embrace.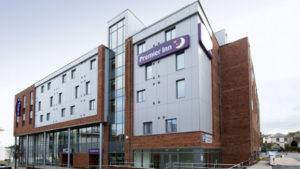 And we're excited to have already embarked on this journey. Check out our recent agreement with the Premier Inn hotel chain, owned by Whitbread Group PLC, which will roll-out Amadeus' combined Central Reservation System (CRS) and Property Management System (PMS) across its 765 properties.
---
Built with Microsoft Azure
Amadeus Cloud Property Management Solutions are built utilizing Microsoft Azure.
Learn More about Azure