Amadeus and TravelClick to Unveil Latest in Technology Innovations at HITEC Minneapolis
Amadeus Hospitality and TravelClick, an Amadeus company, will share booth #1807 at HITEC North America. In addition to networking opportunities, both organizations have exciting product updates to demo for attendees. This includes:
Alternative Accommodations Solution
Coming Soon for TravelClick Demand360 and Rate360
For the first time ever, you can soon gain even deeper insight into your entire competitive market by including the rapidly expanding world of alternative accommodations, or short-term rentals, as an integration in your Business Intelligence suite. This new solution enables you to analyze an entirely different segment of competitors in your area and comprehensively adjust your strategies beyond your immediate comp set. Product demos will be available.
Amadeus Service Optimization
Preview the New User Experience
Discover the future of task and labor management automation. Our new user experience for Amadeus Service Optimization was created with insight from our customers and partners, making it even more efficient and tailored for every user's needs.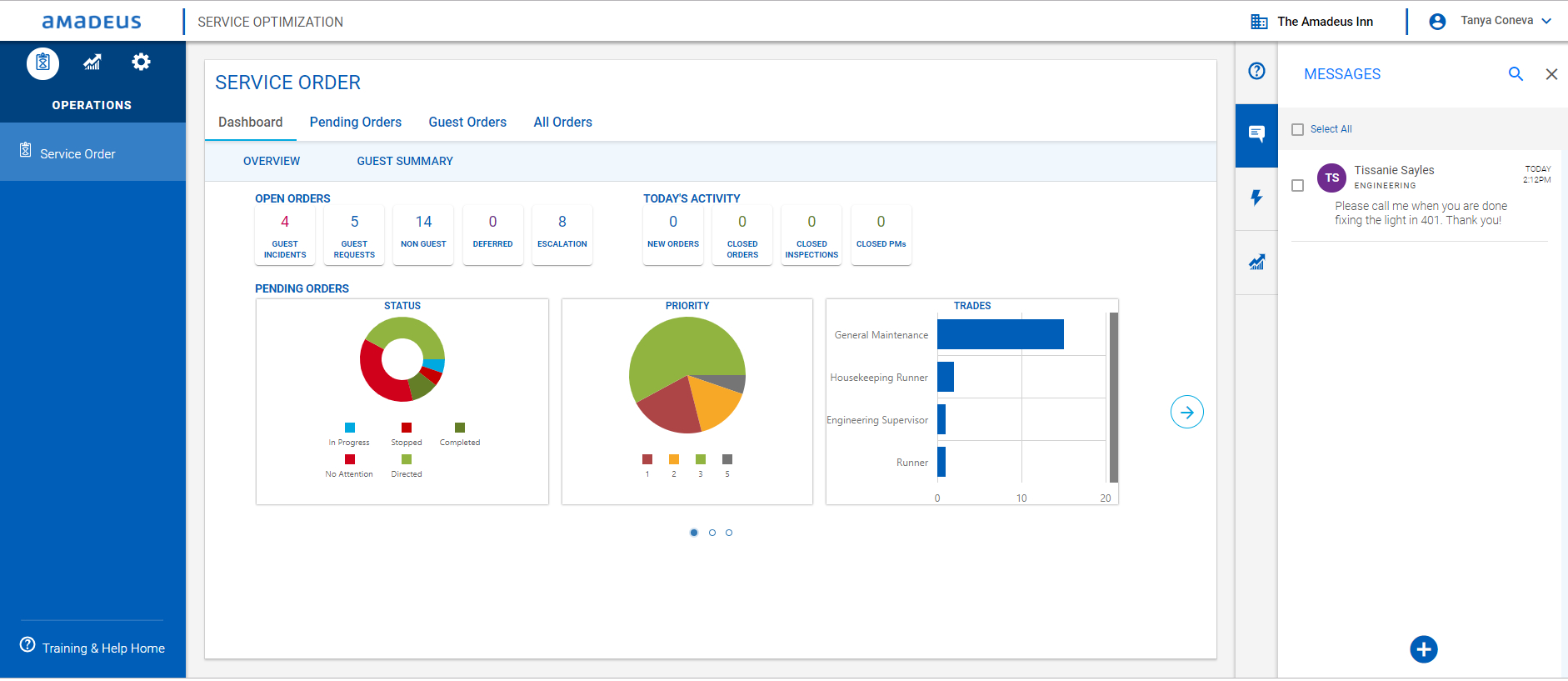 Introducing Amadeus Service Optimization – Essentials
We'll also preview our new Essentials Module designed for Limited Service properties. Take advantage of many of the same Amadeus HotSOS features at a more affordable price for smaller hotels and management groups. Come visit us at our booth for more information.
Amadeus Sales & Event Management
For Management Companies
Get to know our entire portfolio of solutions to help grow and manage your group business. Designed for management companies, Amadeus Sales & Event Management now includes two new modules, Standard and Essentials, as well as Advanced, to empower users (both above property and on-property) to organize complex meetings and events or simply manage guest room blocks. By consolidating properties into one system, you'll be able to share leads, better manage accounts, and gain holistic insight across your property portfolio from guest room only properties to full-service properties.
TravelClick iHotelier Reservations & Booking Engine 4.0
Optimize Revenue and Rate Plans with New Features
Several new iHotelier features now make it easier than ever to manage revenue and rates. See how the new Revenue Management experience consolidates all rates, inventory, and availability into a unified dashboard to simplify views and actions. Learn how redesigned rate plan screens make rate plan management fast and intuitive and how new multi-rate capabilities help improve rate parity and reduce bounce rates.
Amadeus Central Reservations System
For the Modern Hotel Enterprise
Tour the new Amadeus Central Reservations System and you'll know why we built it from the ground up. Learn about the exciting new capabilities it unlocks during an overview with a product expert, and why Amadeus CRS is poised to become the enterprise solution of the future.
Amadeus Hospitality Diagramming Complete Bundled Pricing
Event Planning Software for Venues of All Sizes
As a seamless extension to Amadeus Sales & Event Management – Advanced, we're now offering 3 tiers of Amadeus Hospitality Diagramming capabilities to fit every venue and budget. Let us show you how easy it can be to grow your group business.
TravelClick Media Solutions
Drive Booking Conversion on Digital Ads with Dynamic Pricing
TravelClick is excited to demo new Media features that allow ads to be automatically updated with rates pulled directly from the iHotelier Pricing Engine. With integrations to Google and Facebook, targeted rates and promotions will help you increase your online conversions.
Amadeus is once again a proud sponsor of the HITEC E20X Startup Competition that's open to all conference attendees. Here's what you can expect.
Are you heading to HITEC Minneapolis? Schedule a meeting with us in advance to make sure we reserve time for you to speak with a product expert.