As the school year winds down in many states, Memorial Day starts the summer vacation season in the United States.
Amadeus, a global leader in travel technology, with its unique ability to track forward-looking hotel occupancy in major markets around the world, is seeing continued positive momentum in hospitality based on hotel occupancy for Memorial Day weekend.
The top five destinations based on hotel occupancy are:
Moab, Utah
Key West, Florida
Sierra Vista, Arizona
Destin, Florida
Hilton Head Island, South Carolina
All five destinations are tracking over 80% occupancy for the weeks leading up to the holiday, which reflects an increase for each major U.S. holiday since Memorial Day last year.
Top five markets by occupancy (all 80% or higher)
Leading up to the Memorial Day weekend, there are 97 markets at or over 50% occupancy which is a 194% increase from 33 markets over 50% occupancy just two months ago for Spring Break in March 2021.
The majority of the markets with over 50% occupancy are popular summer destinations that have plenty of options for outdoor activities. Florida, Texas, and California have the highest number of markets over 50% occupancy.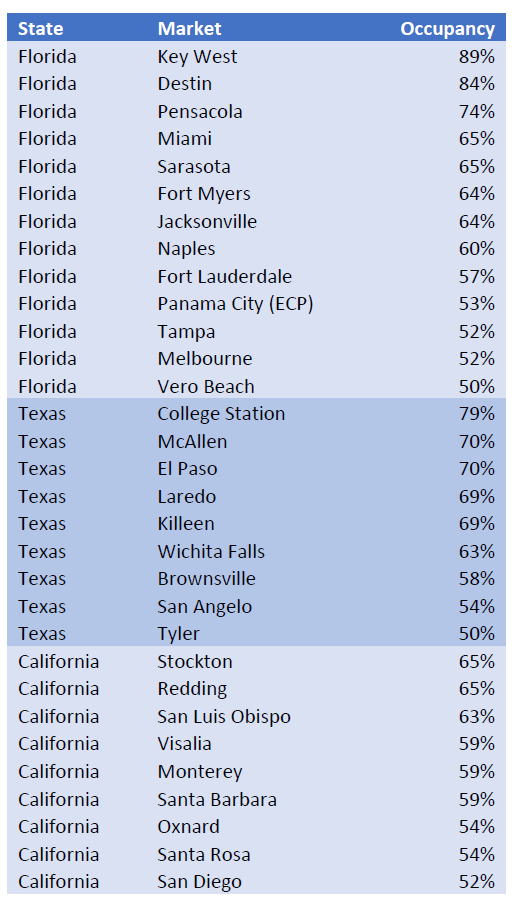 Likely driven by increased confidence to travel, the number of bookings made 31+ days prior to the holiday is expanding. In the weeks leading up to Memorial Day 2021, there is a significant increase in booking occupancy compared with all previous holidays in the past year reflected in the chart below.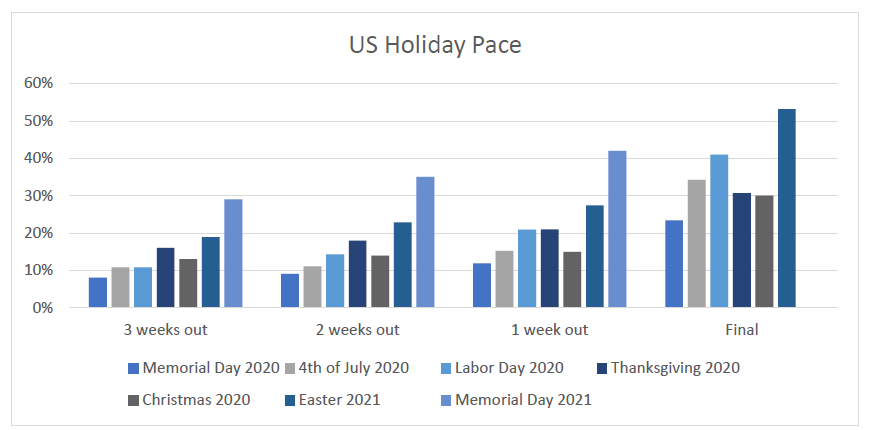 Top destinations where U.S. travelers are flying for Memorial Day:
In addition to insight on hotel occupancy, Amadeus has identified the top destinations for Memorial Day weekend based on air travel searches. Travelers are flying to:
Miami
Fort Lauderdale
Orlando
Atlanta
New York
Los Angeles
Las Vegas
Source: Amadeus Travel Intelligence Portal as of May 20, 2021
Top destinations outside of the U.S. where American travelers are headed for the holiday weekend are Cancun and London.
Note that hotel and air travel top destinations may not align because driving remains a preferred method of transportation for many.
Your trusted source for industry-leading forward-looking market insight
Amadeus' Demand360® is the only business intelligence solution that provides actual forward-looking occupancies for your hotel and your selected competitive sets. The data provided is updated twice per week and occupancy information represents actual rooms sold, including market segment and channel statistics, so you know who is traveling and how they are booking their reservations. If you want to know what is happening in your market, contact us today. For more research, insight, and best practices on leveraging data to build an effective marketing strategy, please visit our Rebuild Travel resource center.
Amadeus Air Search Travel Data is the most complete suite of air data in the travel industry and includes shopping transactions performed by +2,500 customers including the world's top travel agencies. It consists of consolidated data generated by daily transactions.