Is your hotel capturing the rising demand through Metasearch?
Before we dive in, be sure to visit our ultimate guide to hotel marketing to access an all-encompassing rundown of hotel marketing trends, data points, and insights.
By Scott Falconer, Executive Vice President, Media Solutions, Hospitality, Amadeus 
In this new world of travel, the digital experience along the customer journey is critical to acquiring the next generation of customers. Understanding and adjusting to the consumer's online journey will now be more important than ever as borders begin to open and restrictions ease. Fortunately, as a hotel, you have a wide range of distribution and communication channels at your disposal to support your overall marketing strategy.
Metasearch—a search engine where third-party suppliers such as OTAs, brands, and independents are aggregated and compared—has particularly gained popularity in recent years due to its ability to simplify the online shopping process and aggregate competitive hotel prices.
To continually innovate and face the challenges presented by COVID-19, some of our preferred Amadeus metasearch partners, including Google, have been developing new features to support a hotel's potential to drive bookings and maximize revenue in an evolving online ecosystem and Amadeus has implemented them for the benefit of our hotel customers.
"It is exciting to see Amadeus Hospitality adopting the new Google metasearch features quickly for the benefit of its hospitality clients. We have a strong long-lasting partnership with Amadeus Hospitality, and we are looking forward to continuing to bring innovative solutions to the travel industry," said Finnbar Cornwall, Google Industry Leader, Travel.
Here are some of the top consumer-facing changes Google has released recently and how your hotel can incorporate them into your forward-looking digital marketing strategy.
I. Destination-specific Travel Features
Google has released new travel features, based on Google flight or hotel ad data, to communicate important destination-specific insights. These include travel advisories and local conditions reporting such as the percentage of open hotels with availability or flight operating at a city and country level. Google is planning to add information about trends in search queries to gain a better sense of travel activity in that market.   
Since COVID-19, travelers also want evermore flexibility and refundable options when making travel plans. Many hotels now offer free cancellation to give travelers more confidence to plan a trip, and consumers can select the free cancellation filter in the Google hotel search to only see hotels offering this policy.  
II. Property Promotion Ads
Property promotion ads allow hotels to drive incremental demand in such cases as low occupancy periods or new property openings. Property promotion ads are designed to increase exposure, boost your offer to a top fixed position on the search results page, and encourage users to book directly on your hotel's highest revenue-generating channel, your website.
The product enables hoteliers to bid on placement at the top of the hotel details page where the property listing is then marked with an "ad" mention to distinguish it from traditional auction results. Although property promotion ads are a new ad format, Amadeus Hospitality has been beta-testing with Google for some time as part of our preferred partnership to help further support our hotelier partners around the globe.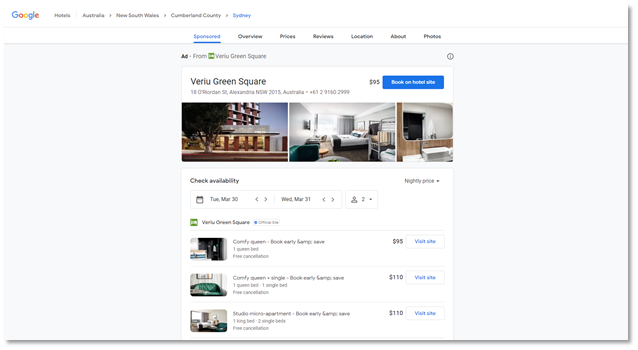 III. Free Booking Links
Google has also recently launched Free Booking Links, which are new complimentary hotel website listings visible on Google's search results page. Free booking links appear on Google's hotel booking module below hotel ads when travelers are searching for hotels. Travelers will now have more options for booking a hotel at the best rate available, while hotels have a new way to drive more bookings.  
It's important to note that a hotel's feed and content, as well as pricing, can significantly influence the rankings. With only a portion of listings being free booking links, standard Metasearch auctions are still running, which capture most of the consumer engagement. Free booking links may also resemble hotel ads, but "Ads" are clearly marked with a badge in the hotel booking module. 
How it Works as a Metasearch Customer
As preferred partners, Google and Amadeus Hospitality work hand-in-hand to offer customers quick and easy access to these new free booking links directly through the Amadeus Metasearch platform –iHotelier® Demand Services. In order to appear in free booking links, hotels simply need to be connected to the Google Hotel Ads feed, managed by Amadeus Hospitality. Google's price accuracy regulations and valid rate plan requirements for the free booking links experience are managed for Amadeus customers through the iHotelier Demand Services platform.  
At Amadeus Hospitality, our partners are constantly evolving their user experience to quickly adapt to changing consumer behaviors. Through our preferential relationships, our team of experts can help hoteliers rapidly adjust to these market changes to build innovative, performance-driven, strategic media campaigns to capture the coming wave of travelers.  
Maximizing Your Hotel's Potential for Success
Changes in our industry are driving innovation and the world of Metasearch is more dynamic than ever. By building a digital media plan that leverages Metasearch as a key strategy, hotels will have an opportunity to capture a greater share of the market as demand returns. And at Amadeus, we are continually staying abreast of the latest developments in the online sphere, in order to offer the best service to our customers.  
To learn more about how to leverage metasearch as part of your direct booking strategy, reach out to your Customer Success Manager or download the Ultimate 2023 Hotel Marketing Strategy Guide to help build out your hotel's marketing plan and save time planning.