To improve staff productivity and event execution, Amadeus Delphi Diagramming has been deeply integrated into the Amadeus Sales & Catering – Delphi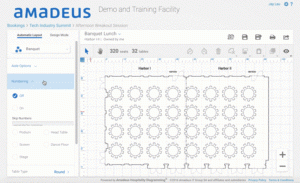 This new integration eliminates the need for staff members to enter booking data into two systems. With just a single click of a button, booking data entered into Delphi is sent to Amadeus Delphi Diagramming to start the creation of the room plan. With this seamless integration, errors caused by duplicate data entry are eliminated and users complete their work faster allowing them to focus on tasks that really matter.
Additional enhancements in this release provide users with improved usability and responsiveness, making it faster and easier than ever to create a room plan. Even complex room plans containing many objects can be manipulated without an impact on performance. The result is more productive users, a better user experience, successfully executed events, and happier planners.
The new release of Amadeus Delphi Diagramming is currently available as a cloud-based, mobile-enabled solution. It is automatically deployed to all existing customers without the need for additional hardware or action by personnel at the property or corporate level.